In a move full of symbolism Prime Minister, Alexis Tsipras, appeared in an event for the Eurogroup deal wearing a tie. A red tie. When he to power in 2015, he had said, he would not wear a tie unless Greece gets a debt relief and exits "the memoranda," the bailout programs. As this day seems extremely long, sometime in 2060, the Prime Minister decided to celebrate the extension of the interests repayment with a red tie.
"I  wear a tie, but I fought wearing a worker's out fit," he said.
"Greece is getting to be a normal country again. The day belongs to all those hit by the crisis," Tsipras stressed. "Greece is taking back its political and economic sovereignty, Greece stands on its feet again. We have succeeded where other governments failed," he said among others.
He stressed that the surveillance after August 2018 will not be the same as "the supervision we experienced" during the bailout program.
He announced that there will be some tax relief as of 2019.
"Social justice replaces austerity, " he said among others but the tie fan did not last long. Just 25 minutes.
"We own a battle, but the war is out there,  there is injustice we will restore and we will wear also a tie every time we win a battle," Tsipras said laughing while he was stripping the tie off his neck, members of the coalition government applauded.
SYRIZA and ANEL members had gathered at impressive Zappeion Hall next to Syntagma in downtown Athens on Friday evening to celebrate the deal with the Eurogroup.
Taking the floor, ANEL leader and Tsipras' coalition partner, Panos Kammenos, praised Tsipras as "the best prime minister of metapolitefsi.*"
Kammenos said that SYRIZA-ANEL parntership now vindicated. "We did not reach the end as some people had hoped for. This collaboration was and is a honest collaboration for the benefit of our homeland and its people," he said.
Now many wonder whether Tsipras wore the tie FROM Prime Minister, Zoran Zaef gave him as a present last Sunday, during the ceremony of signing the Macedonia Agreement.
It was certainly not the tie ex Italian PM, Matteo Renzi, gave him one, as this one was blue with dots. or black.
Some could not resist the temptation and commented the live tie strip was hot!
"Caption, please, because all I can think is of  some sexual ones :P" -via @Gath_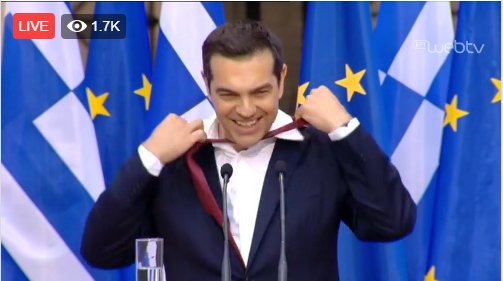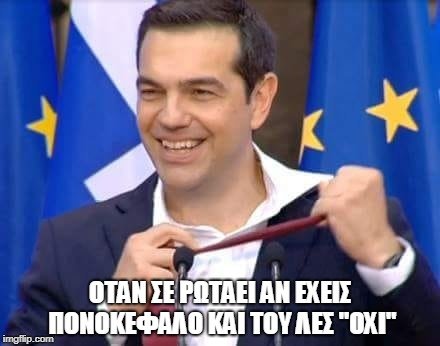 "When he asks you whether you have headache and you say No." via @YgritteSnow
And some are sure main opposition leader, Kyriakos Mitsotakis, will start wearing bermuda shorts for the sake of PR….
*Metapolitefsi – regime change – is the time after the military dictatorship (1965-1974) and the transition of restore democracy.