Coronavirus infections spiked again to 2,327 in the last 24 hours based on what Greece's health authorities announced on Saturday. Two Covid-patients lost their lives in the same time, while the number of intubated in hospitals ICUs stands at 142.
The average age of the 2,327 new cases is 28.5 years old, EODY said in a statement.
An one-year old baby from Russia is hospitalized in the ICU of the Children's Hospital in Athens. The baby was tested positive to Covid-19 after it developed some breathing problems. The family was spending summer vacations in the country.
Several crew members of frigate Aigion have been reportedly tested positive to Covid-19 and are in isolation at the Navy Hospital of Souda on the island of Crete.
Coronavirus Daily report July 10
Tests in last 24 hours: PCR 14,075 Rapid 64,311
Positivity rate PCR and Rapid: 2.97%
blue: tests red: posititivy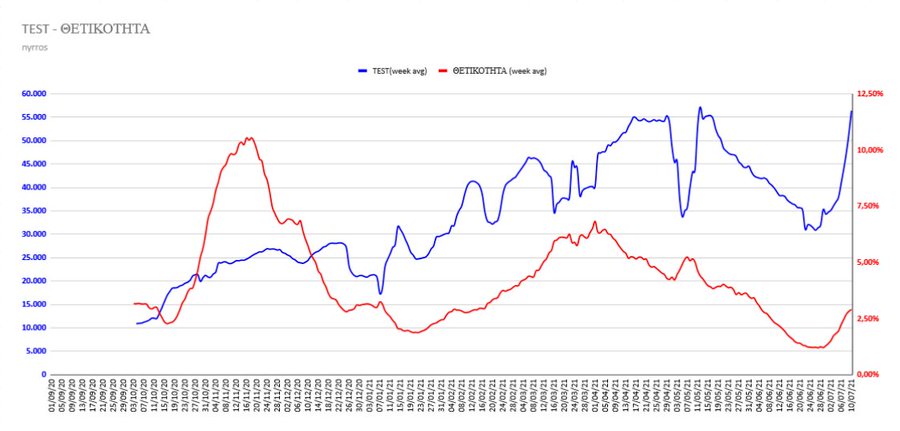 The total number of patients admitted to hospital for Covid-19 in the last 24 hours: 68
Total number of confirmed cases of Covid-19 since the start of the pandemic: 437,345 (daily change +0.5%) of which 51.2 pct were men.
Based on the number of confirmed cases in the last seven days, 153 are considered linked to travel from abroad and 1,986 are linked to an already known case.
Of the intubated patients 142 in ICUs, 67.6% are men, while their median age was 66 years old. 86.6% have either an underlying disease or are aged over 70.
2 patients died and raised the number of fatalities since the start of the pandemic to 12,787. Of them 95.2% had either an underlying condition or were aged above 70 years old.
2,735 patients have been discharged from ICUs since the pandemic start.
New hospital admissions showed a daily rate of change of 15.25% with the rolling average for admissions in the last seven days at 56.
The median age of new cases was 42 and the median age of people that died was 78 (ranging from 0.2 to 106 years old in each case).
Geographic distribution July 10
Top regions in the last 7 days – infection cases per 100,000 population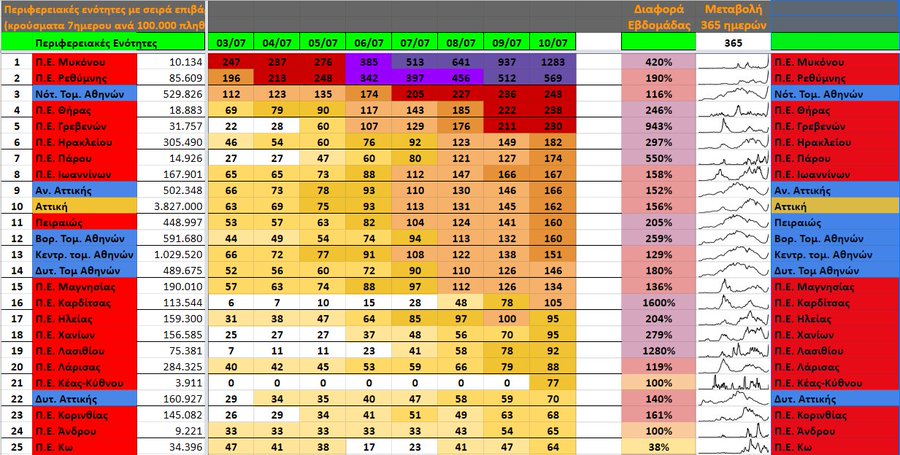 Of the 2327 new coronavirus cases, 6 were detected at the country's entry gates and 8 among travelers already in the country.
The remaining cases are:
1239 Attica
117 Thessaloniki
126 Heraklio
94  Rethymno
53 Larissa
49 Achaia
Each 48 Ioannina, Chania
46 MAgnisia
39 Mykonos 33 Karditsa
30 Messinia 29 Kozani
18 Ilia 16 Evia
Each 15 Viotia, Corinth
Each 10 Thira, Lasithi, Preveza
Each 9 Aitoloakarnania, Paros
Each 8 Arcadia, Corfu, Pieria
Each 7 Grevena, Trikala
Each 6 Argolida, Kos, Rhodes, Pella
Each 5 Lesvos, Fthiotida, Florina, Halkidiki
Each 4 Evros, Kavala, Lakonia
Each 3 Zakynthos, Imathia, Thesprotia, Kefalonia, Kilkis, Andros, Kea/Kythnos, Xanthi, Serres
Each 2 Drama, Evrytania, Milos, Naxos, Syros
Each 1 Arta, Kalymnos, KAstoria, Tinos, Lefkada, Sporades, Fokida, Chios
111 under investigation
EODY daily report in Greek here.
More information on coronavirus in Greece here.