Greece's health authorities announced on Thursday 2,604 new coronavirus cases and 5 Covid-related deaths in the past 24 hours. The number of intubated Covid-patients in hospitals Intensive Care Units stands at 126.
As the infections today are little over 2,500, it looks as if the head of EODY was just scaremongering earlier today when he warned of over 3,000 infections today.
Live Briefing
At the live briefing on Thursday, health experts said that a vertical increase in coronavirus hospitalizations, especially for citizens over 40 years old, has been recorded.
Member of Epidemiologists' Committee and professor of Pediatrics – Infectious Diseases Vana Papaevangelou said that   admissions have increased by 70% last week with the result that today there are at least 1000 people treated for coronavirus in the hospitals across the country.
The average hospitalizations per day are now 129.
She noted that while a few weeks ago the coronavirus was affecting young children, now it starts hitting those who are between 40 and 60 years old and who also have low vaccination coverage.
"The specific age group has been vaccinated only by 65%," the professor added.
Papaevangelou noted, though, "the positive thing is that at the moment the increase of admissions is not accompanied by increase of intubations."
She urged those over 40 years old to get vaccination immediately and young people to keep up with protective measures when they return form vaccations and have Covid-19 tests in order to avoid spreading the virus within the family.
That is why the committee of experts once again called on those over the age of 40 to be vaccinated immediately to be protected.
At the same time, Professor Vana Papaevangelou noted that young children when they return from vacation should be tested in the laboratory, so as not to spread within the family.
Regarding media reports that the health Ministry will start texting citizens for the 3rd dose of vaccines from September, Papaevangelou clarified that the 3rd dose will be for specific groups like immune-compromised, over-aged citizens or doctors who are exposed to high epidemiological load.
Head of Civil Protection Nikos Hardalias said at the same briefing that it is too early to say whether emergency measures on island of Mykonos will be extended after Monday, July 26, 2021.
The civil Protection updated the Covid-MAP and placed more regions and islands on "higher risk level." More details on a separate post.

Vaccinations
Stand July 21, 2021: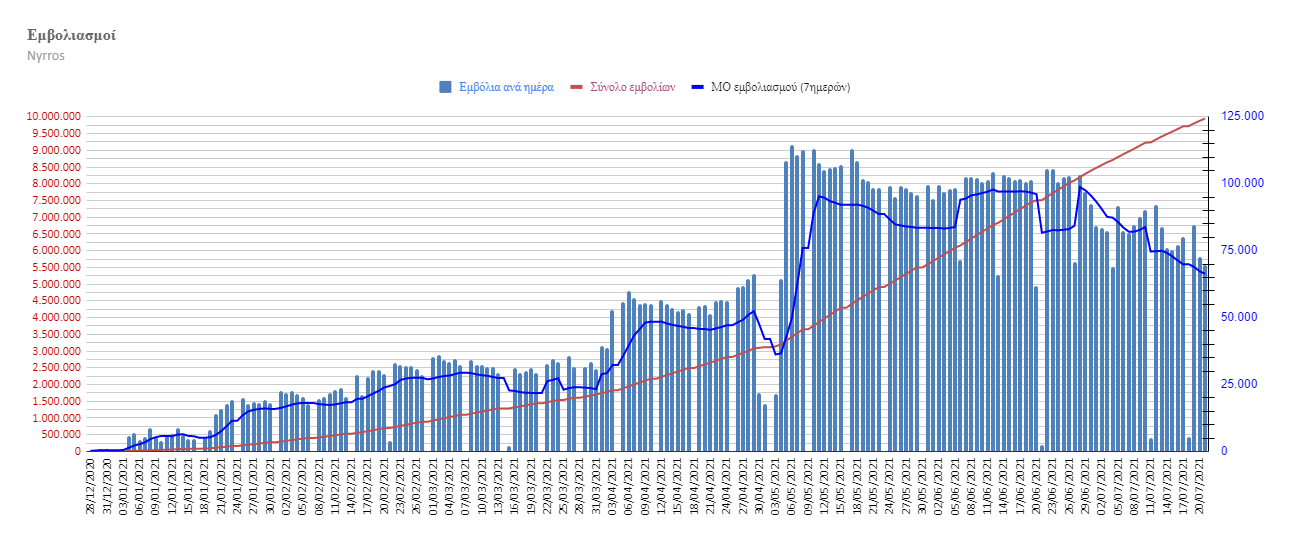 Of the 5,525,866 vaccinated citizens (53% of population with at least one dose):
791,463 Partially vaccinated (some 7.7%)

4,734,403 Fully vaccinated (45.4%)
Vaccinations tracker per region here.
Official coronavirus data, July 22

Tests in the last 24 hours: PCR  15,328 Rapid tests 69,296
Positivity of PCR & Rapid: 3.08%

blue: tests red: positivity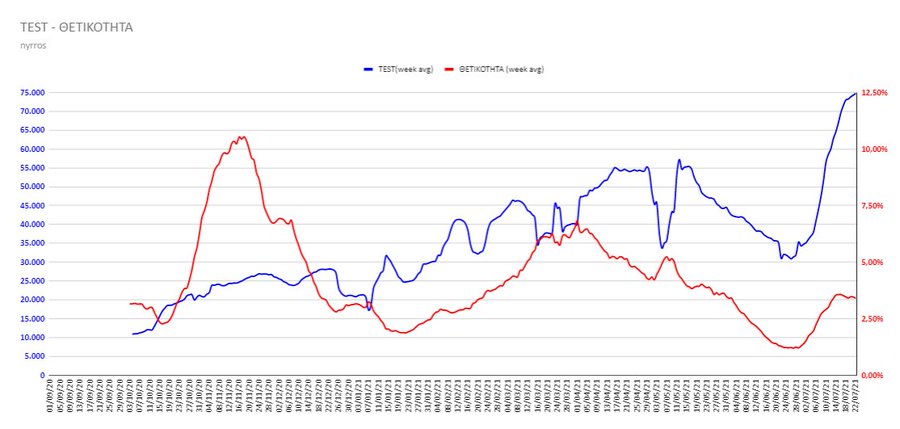 Rt: 1.23 from 1.38 last week.

Since the pandemic began, Greece has confirmed 469,042 infections (daily change: +0.6%). In the confirmed cases of the last 7 days, 131 infections are related to travel abroad and 1325 to other confirmed cases.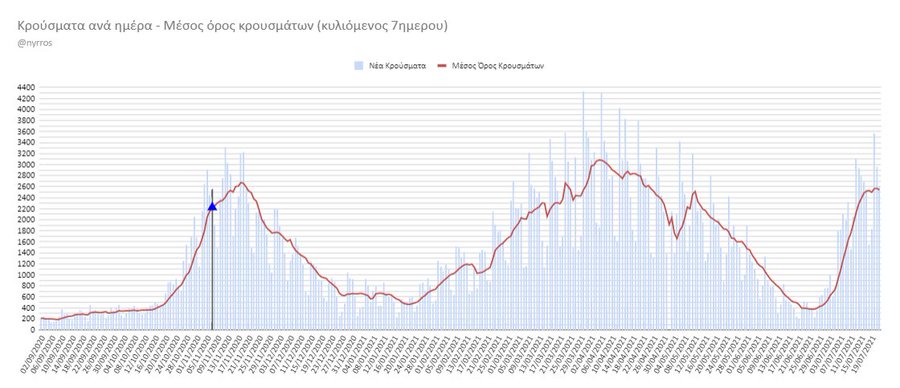 Rolling average: 2541 (2385 previous week)
51.2% of the infected are men.
There are 5 deaths recorded in the last 24 hours, the total of pandemic victims to 12,875.  Of these, 95.5% had an underlying condition and/or were 70 years old.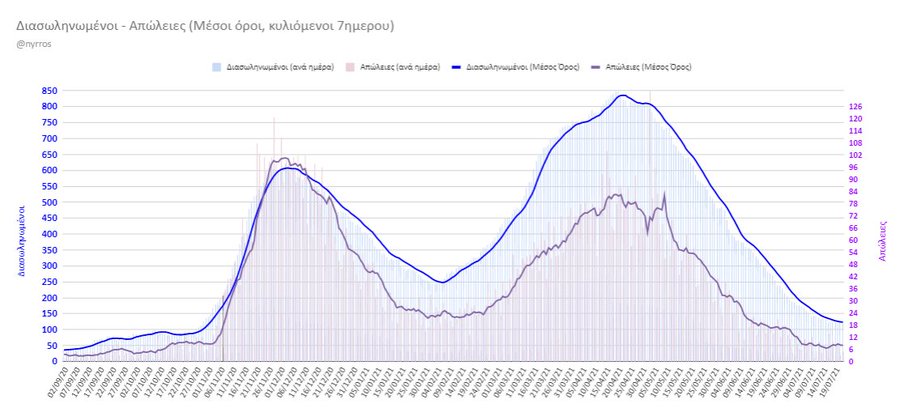 A total of 126 Covid-patients – from 125 a day earlier – are on ventilators in hospitals. Their median age is 66 years. 60.3% are men. 89.6% have an underlying condition and/or are aged 70 or more.
2,774 patients have been discharged from ICUs since the pandemic began.
173 Covid-19 patients were admitted to hospital in the last 24 hours (daily change: +7.45%). The average admission of patients with Covid-19 to hospitals over the last 7 days was 138.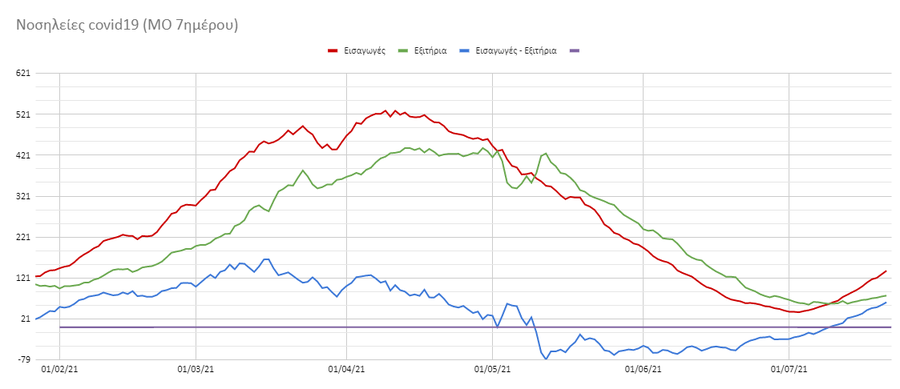 The median age of new infections is 41 years (range: 0.2 to 106 years), while the median age of the deceased is 78 (range: 0.2 to 106 years).
Geographic distribution July 22

Regional units epidemiological load: last 7 days – infections per 100,000 population.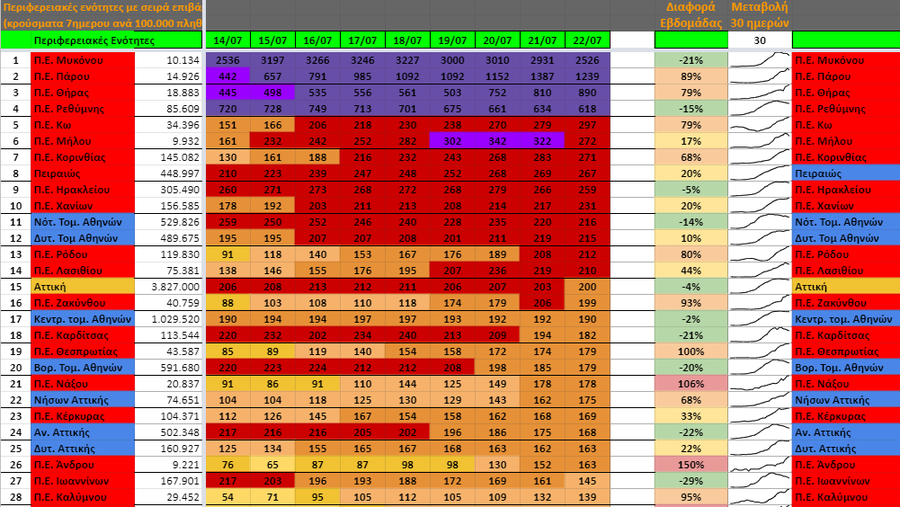 Of the 2604 new cases, 7 were detected at the entrance gates of the country and 4 among travelers already in the country.
The remaining cases are:
1066 Attica
243 Thessaloniki
129 Heraklio
82 Rethymno
62 Achaia 61 Chania
48 Larissa 47 Rhodes
45 Mykonos 40 Evia
Each 33 Corinth, Thira
Each 31 Corfu, Kozani
Each 30 Viotia, Messinia
Each 28 Evros, Ioannina
27 Magnisia 25 Halkidiki
24 Karditsa 21 Fthiotida
19 Kos 17 Paros
16 Florina
Each 15 Aitoloakarnania, Argolida
14 Lasithi
Each 13 Lefkada, Drama, Chios
Each 12 Arcadia, Kavala
Each 11 Imathia, Kilkis
Each 10 Lesvos, Pieria
Each 8 Ilia, Kalymnos, Trikala
Each 6 Zakynthos, Thesprotia, Rodopi, Serres
Each 5 Xanthi, Pella, Preveza, Fokida
4 Syros
Each 3 Arta, Grevena, Kastoria, Milos, Naxos, Lakonia, Samos
2 Limnos
Each 1 Andros, Tinos
117 under investigation
Coronavirus Infections Maps to compare
Greece's Covid-map of confirmed infections in the last 14 days, based on permanent or temporary residence.
Official data by EODY Daily Report in Greek
here.
More information on coronavirus in Greece
here.