Forest fires Greece: Locals and tourists in Rovies, Evia were urged to rush to the sea on Wednesday afternoon as the big fire front was heading to the village. Hardly had dozens of people reached the beach to be transferred to safety with coast guard vessels and the blames started to swallow one after the other the houses of the village in central Evia.
Two videos below shot by rescued on a fishing boat.
Πριν λίγο από την παραλία #Ροβιές
Είναι με καΐκι και ενημερώνουν για οποίον χρειάζεται βοήθεια.
Πηγή Σταυρούλα αναγνώστου/. Απο Forecast Weather pic.twitter.com/jBoJDe4MRC

— Spyros. ♋🌨️❄️⛈️🪐 (@spyros78043899) August 4, 2021
Καταστροφή.#φωτιες #Πυρκαγια #Ευβοία #ροβιες pic.twitter.com/JNdMUoIGif

— Spiros Grammenos (@DjSpirosG) August 4, 2021
Rovies was only one of the 13 villages in Evia that have been evacuated since Tuesday evening when the forest fire broke out.
Η #Ευβοια και οι #ροβιες ζουν έναν εφιάλτη από την #Πυρκαγια . Πάνω από 85 άτομα που ήταν στην παραλία- ή έφτασαν εκεί την τελευταία στιγμή- απομακρύνονται και ετοιμάζονται να επιβιβαστούν σε σκαφοι του @HCoastGuard @SkaitvGR pic.twitter.com/O32iFLiNKx

— Miltos Sakellaris (@MiltosSak) August 4, 2021
85 people were rescued from Rovies with coast guard vessels and private boats that brought them to a local ferry and ultimately reached the port of Aidipsos in the north of the island.
The blaze was spreading fast, burning through a pine forest with flames reaching 20 meters, police reported.
Evacuation via the sea was the only way out as the flames had reached the road from the coastal town of Limni to Rovies, and police had banned traffic there.
The fire broke out in Limni on Tuesday night and worked through pine forest, villages and settlements, spreading panic and despair.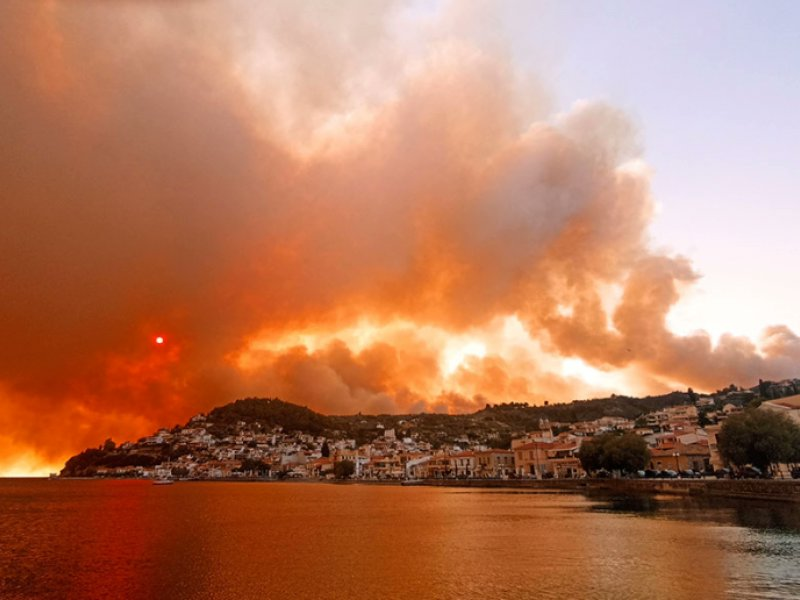 The mayor called through TV for aerial means to be deployed first thing in the morning. The help was little and locals complained later to media that there were no aerial means to assist the fire fighters on the ground.
State ERT TV broadcast live Rovis locals in outrage who claimed that they [authorities] deployed all aerial means to Varimpompi in North-West Attica, and they rescued neither Varimpompi nor Rovies. They swore at the prime minister.
Νομιζω οτι αυτες τις μερες το γνωστό σύνθημα αφορα εναν συγκεκριμένο Μητσοτακη και πλεον το φωνάζουν και αλλοι πολιτες , οχι αναγκαστικά πανω σε μηχανηhttps://t.co/ArNrZQlTr1 pic.twitter.com/lMdccW4P3W

— pamevolta (@pamevolta) August 4, 2021
Three fire fighters were reportedly injured while they operated in Kourkouli village. They were treated for slight burn injuries in the health center of Mantoudi.
Evacuated are among others the villages of Retsinolakko, Kalamoudi, Chronia, Sipiada, Kourkouli, Skepasti, Damia, St David, Koulouros, Marouli, Rovies and Paleochori, according to media over 1,500 people.
On social media, there are posts calling for volunteers to help combat the fire, others post about an elderly that needs to be evacuated here, a chained dog that needs to be set free there. At the same time, there are people who offer help like transport or other essential given the circumstances.
Ancient Olympia
A huge blaze has been approaching the archaeological site of Ancient Olympia in Ilia, Peloponnese, and houses in villages nearby are in flames already.
Over 13 villages and settlements near Ancient Olympia have been reportedly evacuated, however, there are locals in the rural regions who refuse to go leaving behind their properties and animals.
Evacuated have been also the archaeological site from visitors and staff, a hotel nearby where tourists were accommodating as well as the village.
⚠️ Ενεργοποίηση 1️⃣1️⃣2️⃣

🆘 Αν βρίσκεστε στην #Αρχαία_Ολυμπία εκκενώστε τώρα προς #Μουριά από Αρχαία Πίσα και Ε.Ο. Τρίπολης Ολυμπίας

‼️ Δασική πυρκαγιά στην περιοχή σας

— 112 Greece (@112Greece) August 4, 2021
According to Open and Alpha TV, fire trucks have been deployed along the archaeological site to protect the ancient treasures.
OPEN TV showed locals trying to extinguish a house on fire with own means like a …tractor. See the video below.
Καίγονται σε ζωντανή σύνδεση σπίτια στην αρχαία Ολυμπία. Η πυροσβεστική άφαντη και οι κάτοικοι ρίχνουν νερό από τα τρακτέρ. Ποιος θα λογοδοτήσει για το έγκλημα; pic.twitter.com/kX88zptMKm

— Ακραίος συνταγματολάγνος (@constads) August 4, 2021
Pictures shot at 4:30 pm from near Ancient Olympia.
Η φωτιά στην ολυμπία κινείται με πολύ γρήγορο ρυθμό ανεξέλεγκτη. Αυτή τη στιγμή είναι πάνω από τον Πλάτανο και κινείται ανατολικά. Οι φωτογραφίες είναι από φίλο μου που εκκένωσε το σπίτι του τραβηγμένες 16:23/16:40/16:50 για να καταλάβετε την ταχύτητα #φωτιες #Ολυμπια pic.twitter.com/9biVV8K52T

— estélios (@SteliosSmar) August 4, 2021
A local told Open TV at 8:30 that the blaze has reached the village of Ancient Olympia. The woman said that the whole village was forced to evacuate early evening.
Αρχαία Ολυμπία: Η #φωτιά πλησιάζει επικίνδυνα τον Κρόνιο λόφο που είχε υποστεί σημαντικές ζημιές από τις πυρκαγιές του 2007. pic.twitter.com/YzPTcCHkdS

— NEWS 24/7 (@News247gr) August 4, 2021
118 forest fires in 24 hours
At an extraordinary briefing on the forest fires, head of Civil Protection Nikos Hardalias said that 118 forest and wild fires occurred in the last 24 hours.
He underlined that 7 forest fires in Ilia, south Peloponnese, broke out almost at the same time.
He warned that the next days are crucial as the prolonged heatwave that has created 'ideal' conditions for forest fires due to dryness.
PS I must say all these years I cover forest fires, I've never seen so many houses on fire as in the last 24 hours. Climate change or not, there is something not properly working with the fire combating mechanism.