Greece's  Civil Protection announced emergency measures for Attica late on Thursday due to bad weather front Ballos that is forecast to strike again from the early morning Friday, October 15, 2021. Measures have been announced also for regions forecast to be hit Ballos, too.
The measures were decided during an extraordinary meeting with several ministers and the Minister for Civil protection Christos Stylianidis. He said there were serious indications that the storm will hit Athens, Attica and the suburbs at 3 a.m. and until 6 a.m.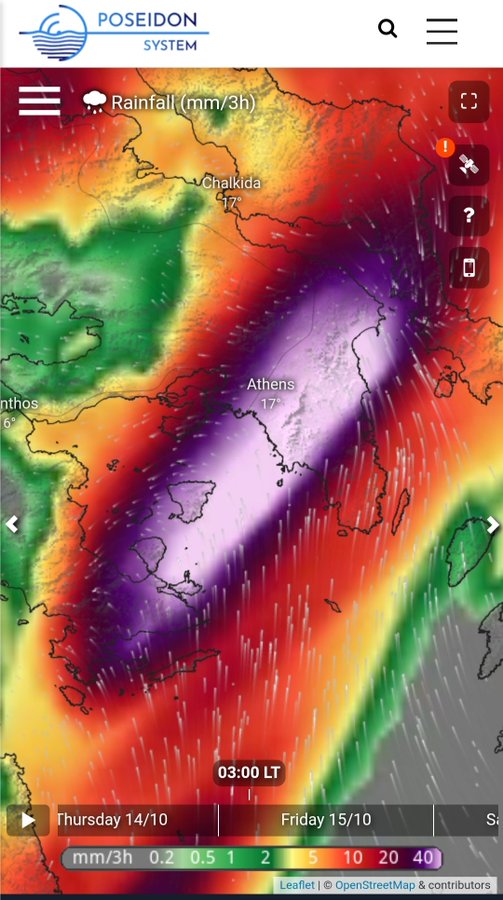 The measures include traffic ban on crucial roads, teleworking for the private sector, shut down public services.
Analytically the measures are:
Traffic ban from 1 a.m. until 8 a.m. for cars and public transport mean along the Kifissos river/end of national highway Athens-Lamia and along the coastal road in Athens Riviera. For trucks the situation will be assessed depending on the evolution of the phenomenon. There will be announcements in consultation with the Traffic Police.
Minister Stylianidis did not specify which part of the coastal road or whether the whole 50 km will be closed for traffic. Later it was clarified in the media that the ban affects the coast road _ Poseidonos Avenue – from Kifissos interjunction in Neo Faliro up to Crossing with Vouliagmenis Street in Voula/Kavouri.

Public services in Attica are closed, except for the ones necessary for the management of the phenomenon and the local government services.
Teleworking in Attica is encouraged throughout the private sector that will contribute to the decongestion of roads.
Schools are closed in Corfu, Samos and Ikaria, Attica, Halkidiki and Evia, as well as the kindergartens and the structures for the disable
All the necessary means will be utilized through private companies so that the private sector can assist with its machinery.
According to media reports before the measures announced, Stylianidis had also proposed the deployment of Police and the Army to secure that citizens obey with the measures, but apparently the Minister of Public Order and the Chief of General Staff reminded him that Greece is not a Middle East country…
Kifissos river earlier on Thursday.
Bad weather front Ballos struck Athens, Piraeus and the suburbs with torrential rains on Thursday, causing floods in many areas and even schools. chaotic conditions on the streets and power outages. So far, the Fire Service has received more than 1,146 calls to pump water, cuts down trees and rescue motorists trapped in the waters.