For second consecutive day, coronavirus infections broke a new record since the pandemic began in Greece with 6,700 cases confirmed in the past 24 hours. 59 patients died due to Covid-19 complications also in last 24 hours. The number of intubated Covid-patients in hospitals increased further 434.
Next to Attica also Thessaloniki exceeded 1,000 confirmed infections on Tuesday, while the number of regional units with 3-digit cases reached 13.
In an effort to contain the spread and "protect the unvaccinated" as Health Minister Thanos Plevris announced, a negative RAPID or PCR test is mandatory for unvaccinated citizens to access several private and public services including their work places. Exemption are to access churches, supermarkets and pharmacies. More details here.
Official EODY data Νοbember 2
Tests in past 24 hours:
PCR 22,008 RAPID 397,400
Positivity PCR+RAPID: 1.6%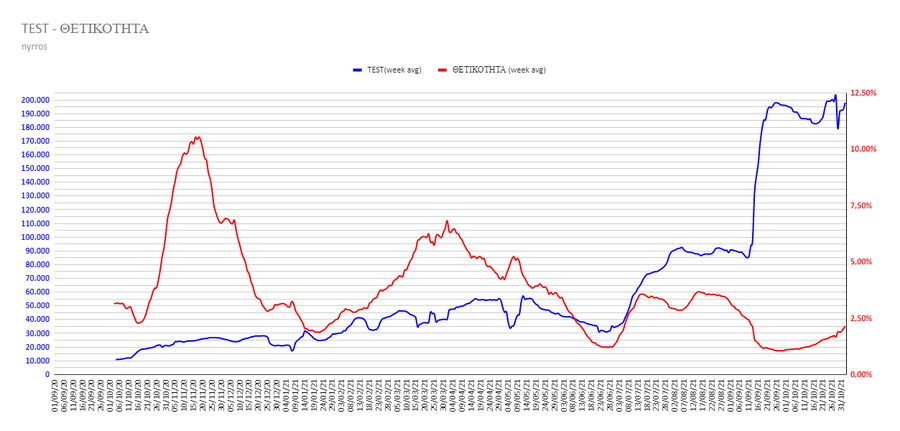 Since the pandemic began, Greece has confirmed 754,451* infections (daily change: +0.9%).
*156 confirmed cases from previous days added to EDOY's data on Tuesday.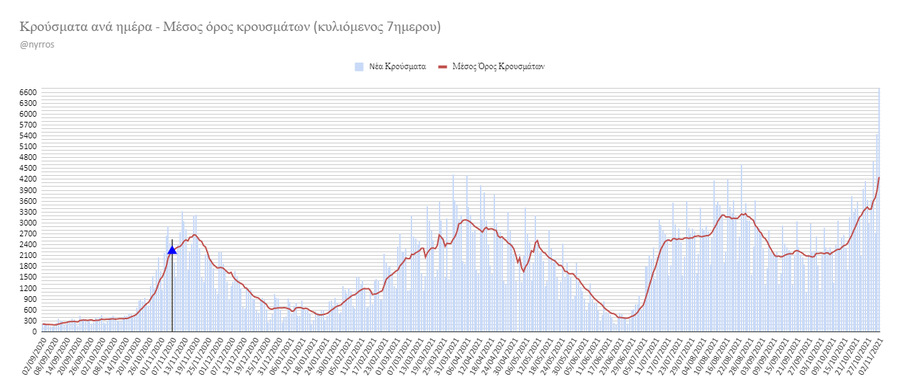 Of the confirmed cases of the last 7 days, 143 infections are related to travel from abroad and 2,568 to other confirmed cases.
Rolling average 4,262 from 3,381 last week.
59 deaths recorded in the last 24 hours, brought the total of pandemic victims to 16,050*. Of these, 95.4% had an underlying condition and/or were aged 70 or over.
*1 death from previous days was added on EODY data on Tuesday.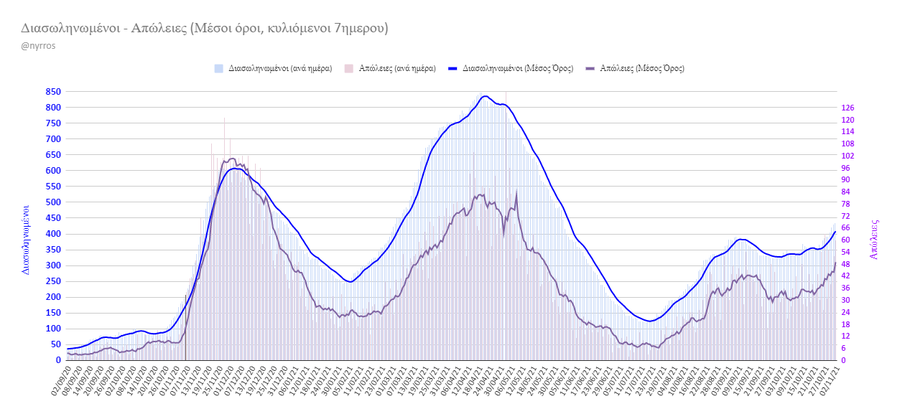 434 Covid-patients are on ventilators in hospitals from 430 a day earlier.. Their median age is 64 years, 60% are men. 79.5% have an underlying condition and/or are aged 70 or over.
Of the total patients on intubation, 370 (85.25%) are unvaccinated or partly vaccinated and 64 (14.75%) are fully vaccinated.
3,324 have been discharged from ICUs since the pandemic began.
321 Covid-19 patients were admitted to hospital in the last 24 hours (daily change: +28.92%). The average admission of patients with Covid-19 to hospitals over the last 7 days was 286.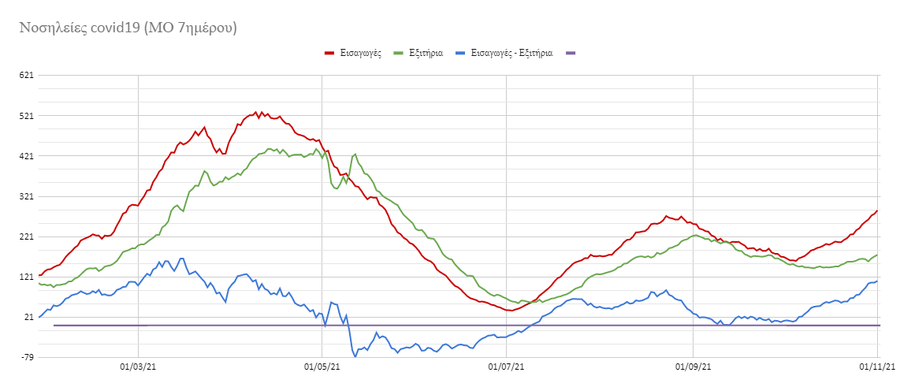 The median age of new infections is 39 years (range: 0.2 to 106 years), while the median age of the deceased is 78 (range: 0.2 to 106 years).
Vaccinations
Stand Nov 1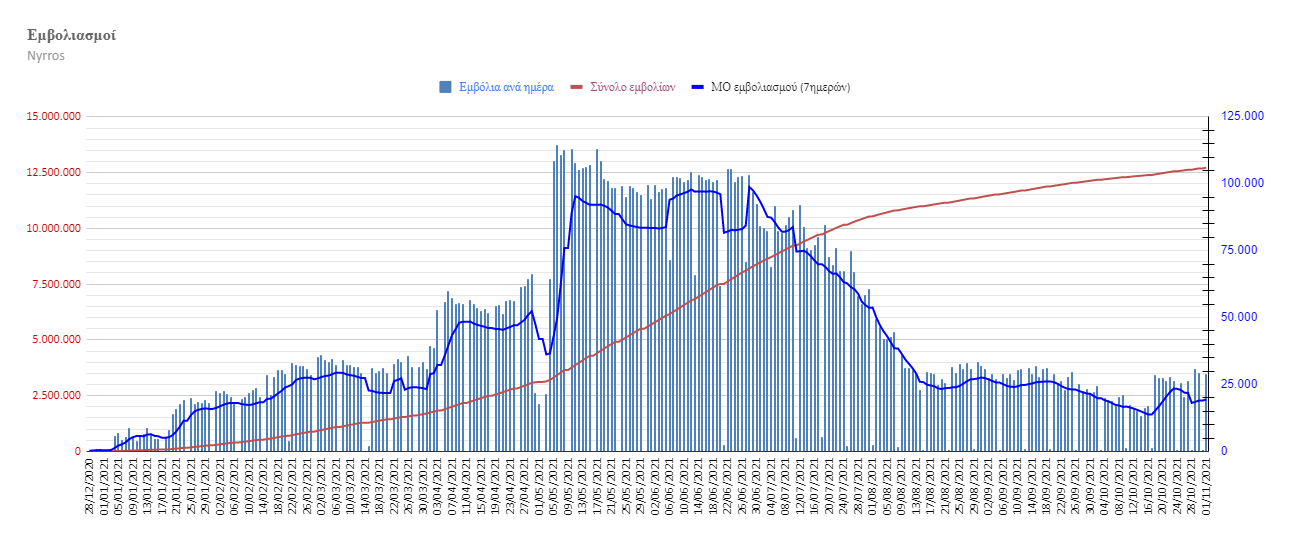 Party vaccinations 63.8% of the population
Fully vaccinated: 61.2%
Booster shot since Sept 13: 355,317
Vaccination tracker per region in Greek here.
Geographic distribution Νovember 2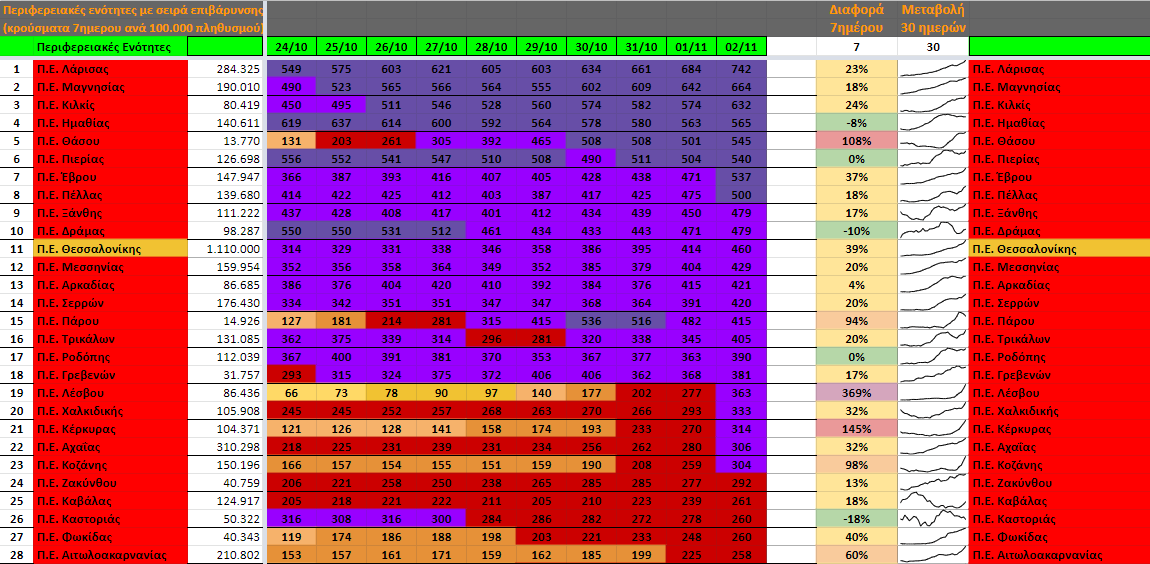 Of the 6,700 new coronavirus cases, 16 were detected at the entry gates of the country and 10 among travelers already in Greece.
The remaining cases are:
1329 Attica
1108 Thessaloniki
514 Larissa
264 Magnisia
204 Achaia
190 Evros
159 Pieria 158 Pella 153 Serres
143 Imathia
134 Messinia 133 Trikala
128 Aitoloakarnania 124 Kilkis
119 Xanthi 107 Kozani
93 Fthiotida 92 Halkidiki 91 Rodopi 90 Heraklio
88 Lesvos 89 Drama
76 Ioannina 74 Corfu 73 Arcadia 71 Kavala
68 Corinth
57 Karditsa 53 Argolida
49 Chania 45 Viotia
38 Evia
Each 34 Ilia, Lakonia
33 Rhodes
28 Lasithi
Each 27 Zakynthos, Florina
26 Rethymno
Each 22 Grevena, Preveza
19 Kastoria
Each 16 Thesprotia, Fokida
15 Thassos 14 Arta 11 Kefalonia 10 Chios
Each 8 Kos, Samos
Each 6 Evrytania, Syros, Lefkada
Each 5 Kalymnos, Thira
Each 3 Ikaria, Naxos, Tinos,
2 Mykonos
Each 1 Andros, Sporades
157 under investigation
MAP: Infections last 14 days per 100,000 population
More details on EODY daily bulletin in Greek here.
More information on coronavirus in Greece here.