Greece's health authorities announced on Thursday, 6,565 new coronavirus cases and  78 Covid-relared deaths in the past 24 hours.The number of intubated Covid-patients in hospitals has increased further to 621.
At the weekly Live Briefing on Thursday on the course of the pandemic, health experts said that the pandemic is stabilizing but at a high level.
, said the professor of Pediatric Infectious Diseases and member of the committee of experts, Vana Papaevangelou.
M. Gaga: In time to the doctor if we have symptoms
The active cases are 54,000 and the pressure on the health system will continue for several weeks.
According to the data, high mortality is observed in areas with low vaccination coverage.
An important weapon is the testing that is done.
Professor of Pediatric Infectious Diseases and member of the Epidemiologists' Committee, Vana Papaevangelou stated that the exponential increase has been stopped in the last 10 days.
She emphasized that no one was immune to the virus, stressing the importance of vaccination.
Special mention was made of the third dose, which protects against serious illness. She stressed, however, that vaccinated people must also comply with the protection measures.
Deputy Health Minister Mina Gaga advised citizens to seek a doctor in time if they have symptoms.
Official EODY data Νοbember 25
Tests in past 24 hours:
PCR 19,125 RAPID 323,582
Positivity PCR+RAPID: 1.92%
Since the pandemic began, Greece has confirmed 908,222 infections (daily change: +0.7%). Of the confirmed cases of the last 7 days, 96 infections are related to travel from abroad and 2,412  to other confirmed cases.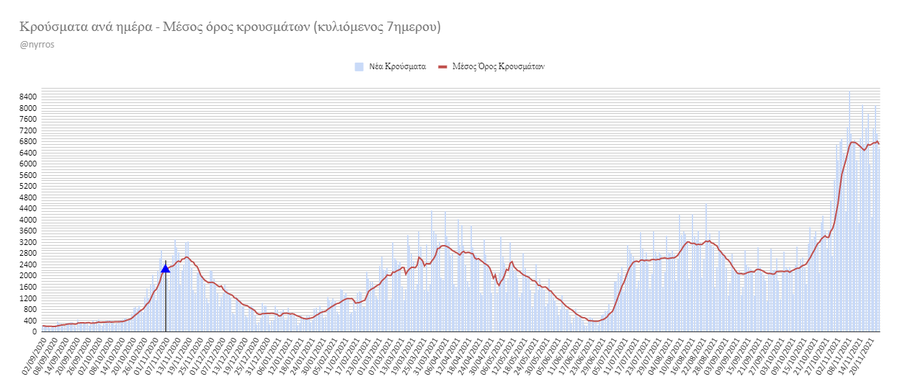 Rolling average 6709 from 6566 last week.
Rt: 1.13 from 1.11 last week
78 deaths recorded in the last 24 hours, brought the total of pandemic victims to 17,693*. Of these, 95.4% had an underlying condition and/or were aged 70 or over.
*3 deaths from previous days added on EODY bulletin on Wednesday.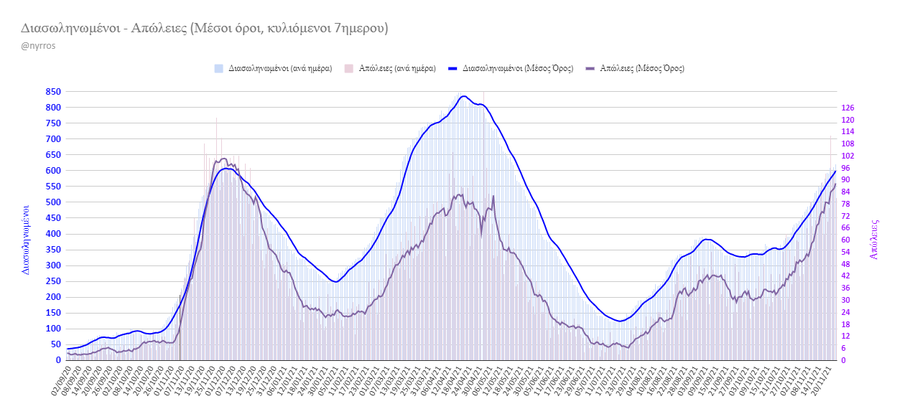 621 Covid-patients are on ventilators in hospitals from 612 a day earlier.. Their median age is 65 years, 58.8% are men. 80.7% have an underlying condition and/or are aged 70 or over.
Of the total patients on intubation, 503 (81%) are unvaccinated or partly vaccinated and 118 (19%) are fully vaccinated.
Intubated Covid-patients per age group:
0-17: 2
18-30: 24
40-64: 272
65+ : 323
3,474 have been discharged from ICUs since the pandemic began.
511 Covid-19 patients were admitted to hospitals in the last 24 hours (daily change: +4.29%). The average admission of patients with Covid-19 to hospitals over the last 7 days was 447.
The median age of new infections is 38 years (range: 0.2 to 106 years), while the median age of the deceased is 78 (range: 0.2 to 106 years).
Vaccinations
Stand Nov 24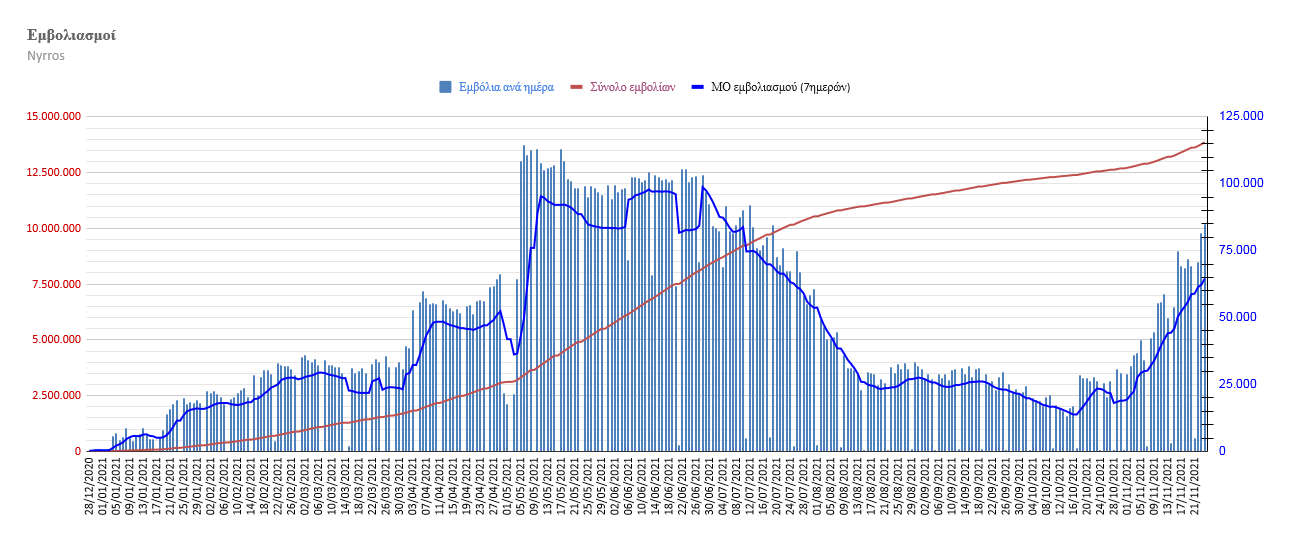 Party vaccinations 66.8% of the population
Fully vaccinated: 62.8%
Booster shot since Sept 13: 1,062,274
Vaccination tracker per region in Greek here.
 Geographic distribution Νovember 25

Of the 6,565 new coronavirus cases, 8 were detected at the entry gates of the country and 9 among travelers already in Greece.
The remaining cases are:
1750 Attica
1148 Thessaloniki
253 Achaia 208 Larissa
172 Heraklio
162 Kozani
158 Magnisia 156 Evros
146 Aitoloakarnania
133 Fthiotida 124 Serres
114 Imathia 111 Pella 104 Ioannina
85 Corfu 84 Karditsa
77 Corinth 74 Pieria
Each 71 Messinia, Xanthi
70 Rhodes
69 Trikala 68 Evia 67 HAlkidiki 66 Rethymno
Each 65 Viotia, Drama
63 Kilkis 60 Chania
57 Rodopi 51 Lesvos
49 Ilia 44 Florina 41 Kavala
39 Argolida 38 Preveza
Each 36 Arta, Kastoria

30 Arcadia
21 Grevena 19 Lakonia
Each 17 Evrytania, Lefkada
16 Zakynthos 15 Fokida
Each 14 Thesprotia, Kefalonia
11 Samos
Each 9 Thassos, Kalymnos
8 Kos
Each 7 Naxos, Lasithi, Sporades
Each 5 Mykonos, Paros, Limnos
Each 3 Thira, Chios
2 Mt Athos
Each 1 Syros, Ikaria
117 under investigation
MAP:  Coronavirus Infections last 14 days per 100,000 population
Nov 25 same status as on Nov 22
Nov 24 same status as on Nov 22
Nov 23 same status as on Nov 22
More details on EODY daily bulletin in Greek here.
More information on coronavirus in Greece here.