Greece's health authorities announced on Saturday 5,157 new coronavirus cases and 88 deaths in the last 24 hours. the number of Intubated Covid-patients stands at 697.
Among the pandemic victims on Saturday is also a 14-year-old girl in Lamia, Central Greece. The girl was confirmed positive to Covid-19 on Nov 29 and was in treatment and isolation at home. She was rushed to the city's hospital by her mother in the morning. She had chest pain and suffered several cardiac arrests. The doctors intubate her but she passed away before she was taken to ICU, media reported. An autopsy is to be carried out do determine the exact causes of the girl's death. Suspicion is on a heart issue caused by the coronavirus.
The health minister said on Saturday that two cases suspected of the Omicron variant are under further investigation. The Patients are not related to zero patient on Crete, however, they had returned from a south African country before the ban on Nov 26. The results are expected on Monday. The patients are in Attica.
Nine unvaccinated pregnant women are hospitalized with Covid-19 in Ippokratio hospital in Thessaloniki. Three of them are intubated.
Official EODY data Dec 4
Since the pandemic began, Greece has confirmed 962,695 infections (daily change: +0.5%). In the confirmed cases of the last 7 days, 99 infections are related to travel from abroad and 3,290 to other confirmed cases.
88 deaths recorded in the last 24 hours brought the total of pandemic victims to 18,516. Of these, 95.4% had an underlying condition and/or were aged 70 or over.
697 patients are on ventilators in hospitals. Their median age is 65 years and 80.8% have an underlying condition and/or are aged 70 or over.
Of the total in intubation, 555 (79.63%) are unvaccinated or partly vaccinated and 142 (20.37%) are fully vaccinated.
3,554 have been discharged from ICUs since the pandemic began.
455 Covid-19 patients were admitted to hospital in the last 24 hours (daily change: +7.82%). The average admission of patients with Covid-19 to hospitals over the last 7 days was 450.
The median age of new infections is 38 years (range: 0.2 to 106 years), while the median age of the deceased is 78 (range: 0.2 to 106 years).
Geographic distribution Dec 4
Of the 5,157 new coronavirus cases, 11 were detected at the country entry points and 6 among travelers already in Greece.
The remaining cases are:
1537 Attica
818 Thessaloniki
129 Serres
126 Achaia
124 Larissa
122 Evros
116 Heraklio
102 Magnisia
Regions with 2- or 1-digit infections: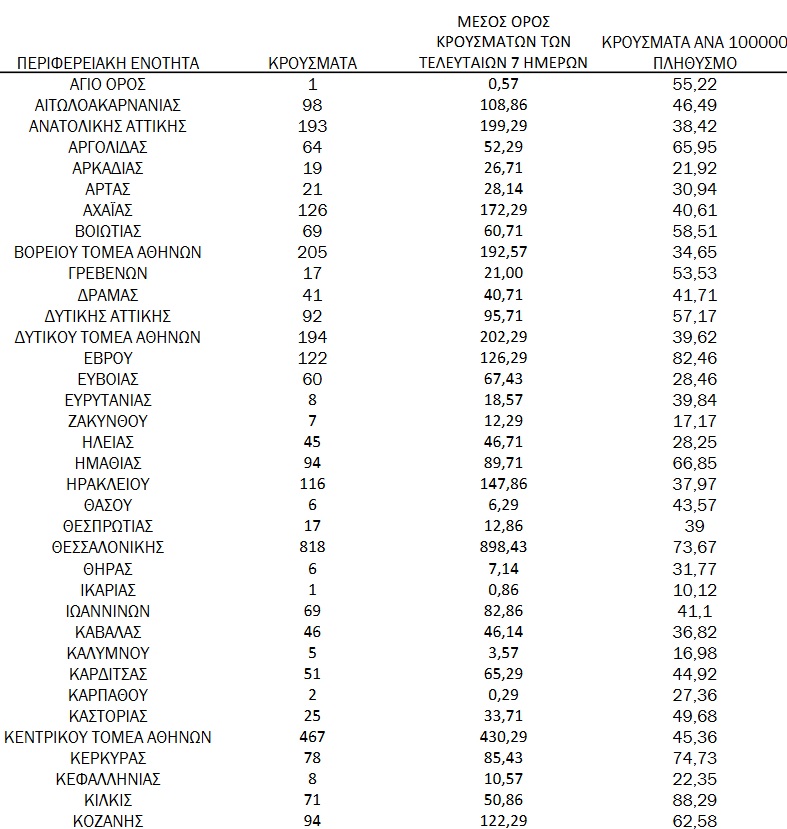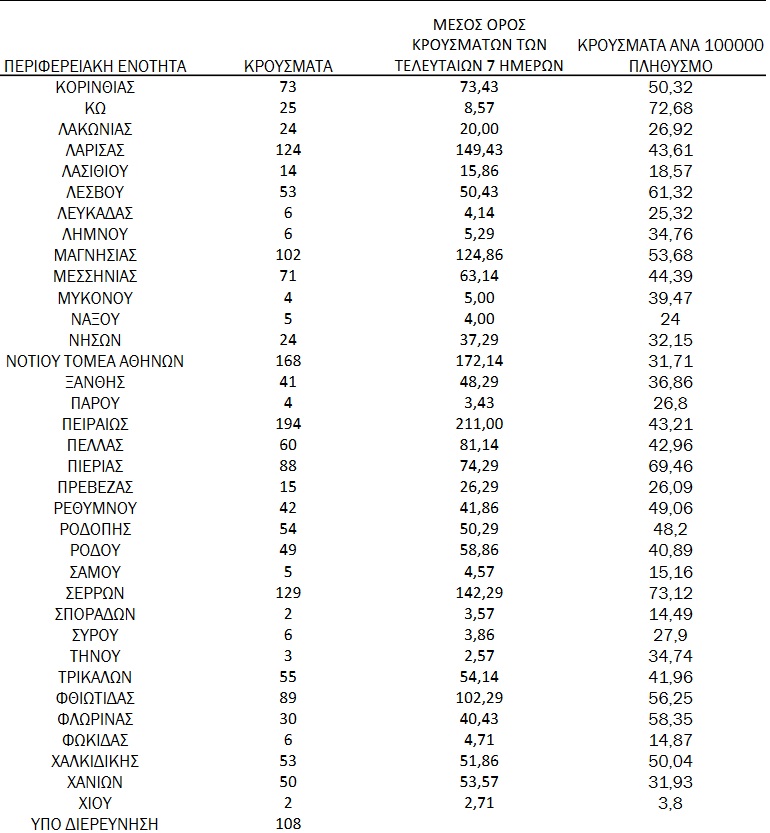 108 under investigation
EODY bulletin on Dec 4 in Greek here.
More information on coronavirus in Greece on KTG here