Greece's Civil Protection has sent SMS to residents of several regions across the country on Sunday evening warning them to avoid "unnecessary movement" in the next 48 hours due to dense snow falls.
Using the EU-wide emergency number <112>, the Civil Protection warned in Greek and English people in parts of central Greece and Attica of "dangerous snowfall in your area over the next 48 hours. Avoid unnecessary trips. Use snow chains. Follow authorities instructions.".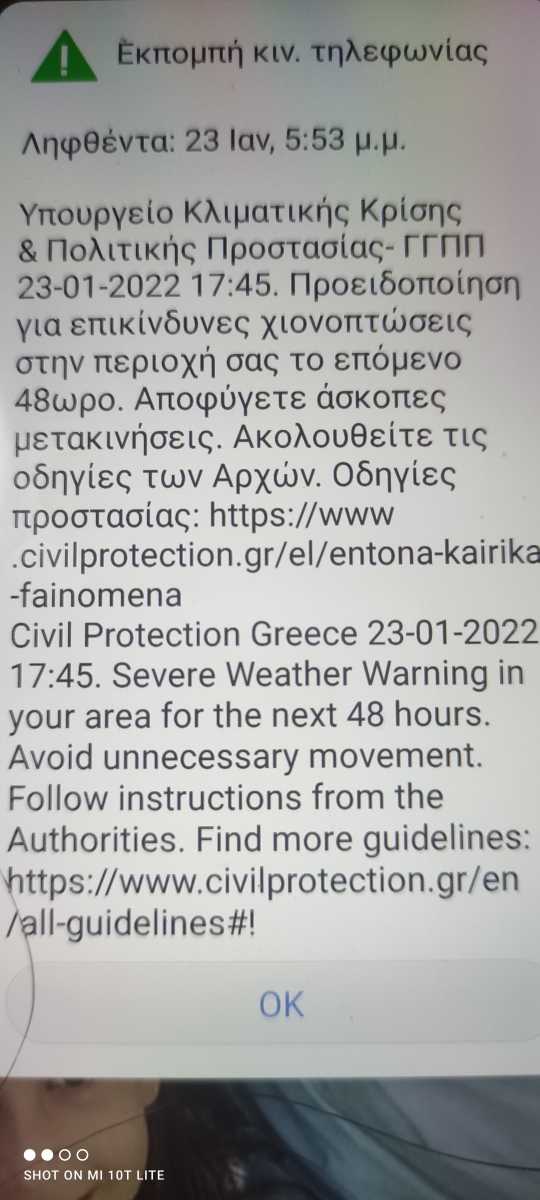 The message was sent to residents of Attica on Sunday afternoon and to those in Magnisia, Sporades, Fthiotida, Evia, Viotia, North-Cyclades and Limnos.
⚠️Ενεργοποίηση 1️⃣1️⃣2️⃣

Προειδοποίηση για έντονες χιονοπτώσεις το επόμενο 48ωρο σε #Μαγνησία #Σποράδες #Φθιώτιδα #Εύβοια #Βόρειες_Κυκλάδες #Λήμνο

❗Αποφύγετε άσκοπες μετακινήσεις
❗Χρησιμοποιείτε αντιολισθητικές αλυσίδες
❗Ακολουθείτε οδηγίες Αρχών

— 112 Greece (@112Greece) January 23, 2022
According to latest information by Greece's national Meteorological Service EMY, very strong weather phenomena with unprecedented heavy snowfall are forecast in several areas on Monday and Tuesday, Jan 24-25, 2022.
The Civil Protection named these areas on Sunday evening as:
islands in central and northern Aegean Sea, the Sporades islands, Evia, eastern Thessaly – mainly Magnisia -, eastern-central Greece, Attica, eastern Peloponnese, Cyclades and Crete.
In Attica, the extreme weather phenomena are expected early Monday noon.
Affected will be also the southern parts of Halkidiki and the Dodecanese. More details on EMY's weather warning here in English.
Popular tourists destinations in the central Aegean Sea, like Mykonos, Santorini, Naxos and others were covered with snow on Sunday morning and snowfalls continue Sunday evening.
Motorists will not be allowed to use the Athens-Thessaloniki highway if they have no snow-chains, stet broadcaster ERT reported on Sunday evening.
In several regions including Attica, schools and kindergartens will be shut down on Jan 24-25.