Greece's health authorities announced on Monday 19,731 coronavirus cases and 119 deaths in past 24 hours. The number of intubated Covid-patients in hospitals stands at 576.
Much fewer tests were carried out due to the weekend.
In January alone a total of 2,710 citizens in Greece died of complications due to Covid-19. The number of deaths in the first month of 2022 exceeded also the record number since the pandemic start, in December 2021 with 2,633 deaths.
A total of 7,562 people has reportedly died of Covid-19 in Greece in the last three months.
since the start of the pandemic a total of 23,500 people have died in the country. 95% had underlying health issues and was over 70 years old. Average age of the dead was 78 years with a range 0.2 to 106 years old.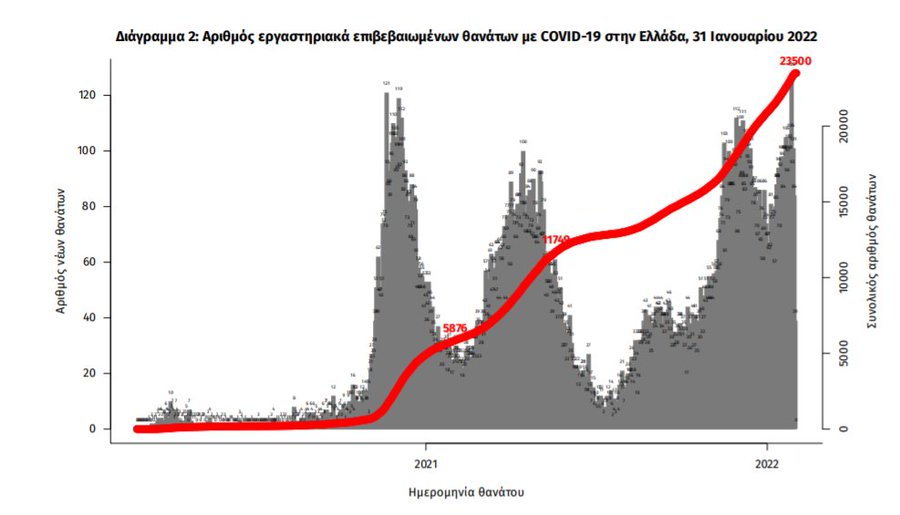 A logical question is: Why an average of 100 deaths per day when 88% of the population has received two doses of vaccination and 72% those over 60 also the booster shot.
The answer may be in the understaffed hospitals, at times the shortage of ICU beds and the intubation in normal wards as well as the fact that some people seek the hospitals when it's too late?
EODY Data Jan 29-30
Saturday Jan 29
New infections: 19,584 Deaths 80 (78+2 from previous days)  Intubations 583
TESTS: PCR 30,138 RAPID: 274,119 – Positivity PCR+RAPID 6,44%
Sunday, Jan 30
New infections: 11,124 Deaths 97 Intubations 571
TESTS: PCR 15,100 RAPID: 162,860 – Positivity PCR+RAPID 6,25%
Official EODY data January 31
Tests in last 24 hours
PCR 10,431 RAPID 102,560
Positivity PCR and RAPID: 17.46%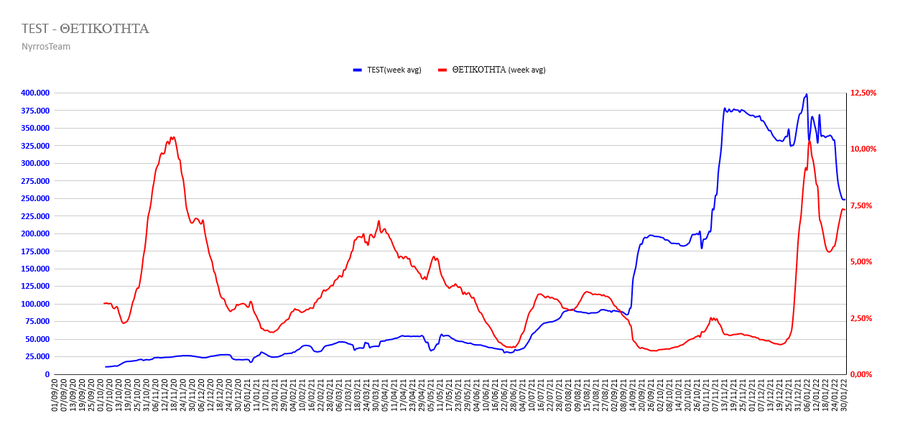 Since the pandemic began, Greece has confirmed 1,940,723 infections (daily change: +1%). In the confirmed cases of the last 7 days, 431 infections are related to travel from abroad and 1,856 to other confirmed cases.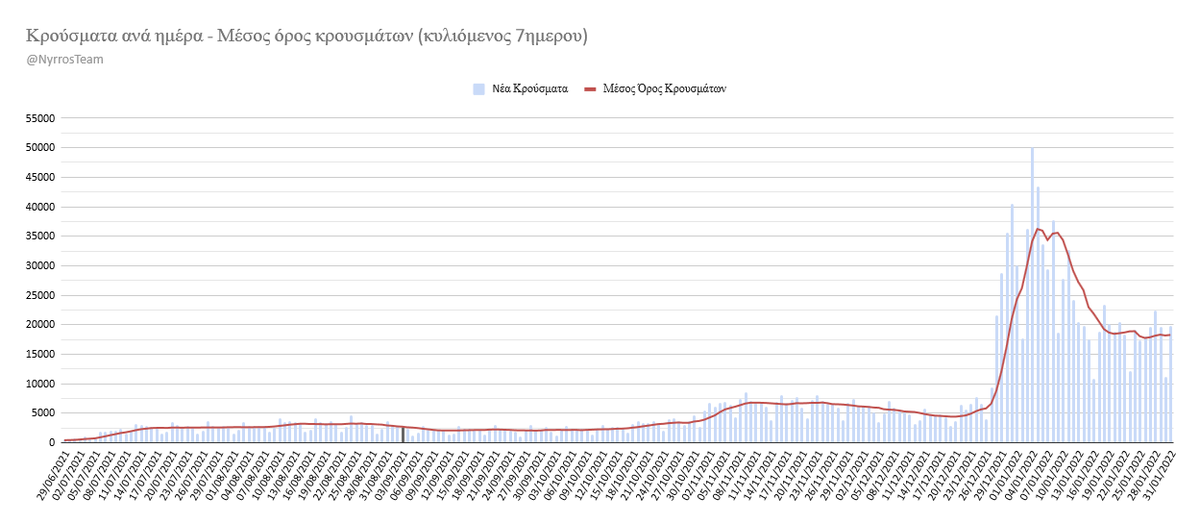 119 deaths recorded in the last 24 hours, brought the the total of pandemic victims to 23,500*. Of these, 95% had an underlying condition and/or were aged 70 or over.
*9 deaths form previous days incorporated to EODY data on Monday.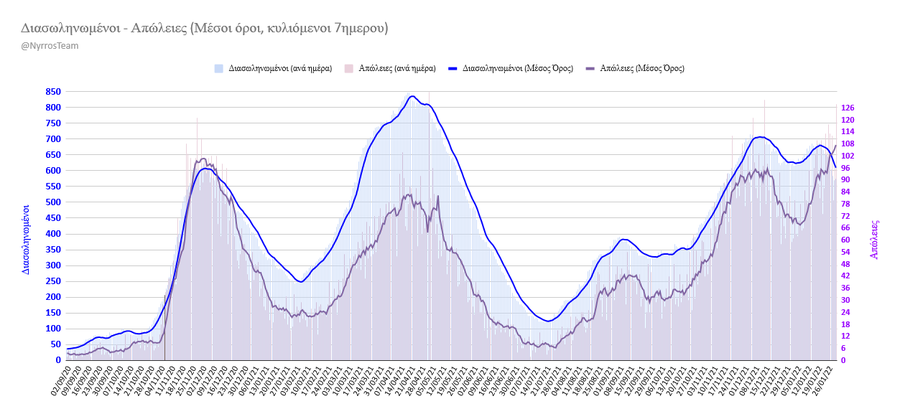 576 Covid-patients from   a day earlier are on ventilators in hospitals. Their median age is 66 years and 83.9% have an underlying condition and/or are aged 70 or over.
Of the total in intubation, 452 (78.47%) are unvaccinated or partly vaccinated and 124 (21.53%) are fully vaccinated.
4,035 have been discharged from ICUs since the pandemic began.
398 Covid-19 patients were admitted to hospital in the last 24 hours (daily change: -18.78%), while the daily average of admissions over the last 7 days was 433 patients.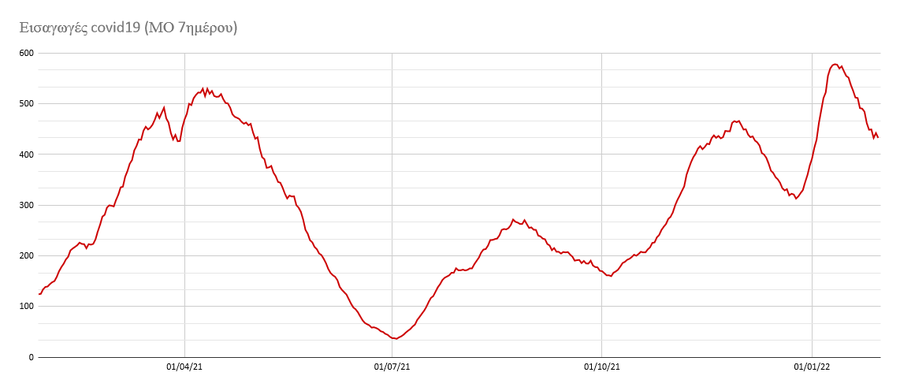 The median age of new infections is 35 years (range: 0.2 to 106 years), while the median age of the deceased is 78 (range: 0.2 to 106 years).
Geographic distribution January 31
Of the total 19,731 new coronavirus infections, 58 were detected at the entry gates of the country and 3 among travelers already in Greece.
The remaining cases are:
5748 Attica
2133 Thessaloniki
765 Heraklio
697 Achaia 492 Evros 465 Chania 403 Larissa
382 Rodopi 377 Rhodes 355 Aitoloakarnania  343 Ioannina 318 Corfu 313 Lesvos 305 Pieria 302 Messinia
298 Evia 291 Corinth  283 Magnisia 246 Halkikidi 239 Imathia 232 Xanthi 221 Rethymno 209 Ilia 204 Kavala
186 Arta 185 Pella 182 Trikala
179 Argolida 176 Kozani
169 Lasithi 164 Serres
149 Viotia 146 Drama 145 Arcadia
134 Chios
128 Preveza

Each 117 Zakynthos, Karditsa
115 Fthiotida 108 Thesprotia 104 Kos 100 Kastoria
98 Samos 97 Kalymnos
88 Kilkis 85 Kefalonia
77 Lefkada 71 Thira
66 Florina
54 Grevena 51 Limnos
46 Naxos
38 Mykonos 33 Fokida
25 Thassos
19 Milos 17 Evrytania 16 Paros 14 Karpathos/Kasos
Each 11 Syros, Spotades
6 Andros 5 Kea/Kythnos 2 Tinos 1 Ikaria
** EODY daily bullet in Greek  here
More information on coronavirus and restrictions in Greece here on KTG