Prime Minister Kyriakos Mitsotakis announced on Tuesday that hydrocarbon exploration will be accelerated and revealed the six areas in western and southern Greece where concessions have already been awarded for this purpose.
One land area and five offshore areas where concessions for hydrocarbon exploration have already been awarded in the past have been selected for the accelerated hydrocarbon exploration process, Prime Minister Kyriakos Mitsotakis stated on Tuesday during a meeting
Mitsotakis made the announcement during a meeting at the Hellenic Hydrocarbon Resources Management company.

The six areas, one of them being on the north-western mainland and five are offshore. They are located northwest of the island of Corfu, in the Ionian Sea, in the Gulf of Kyparissia, West Peloponnese, in the sea west and southwest of Crete, as well as in the regional unit of Ioannina, Epirus.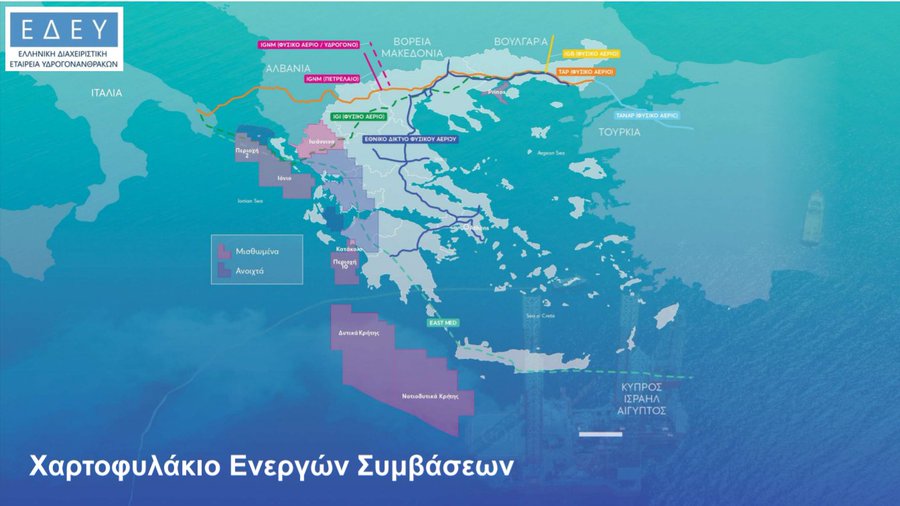 Purple: concessions Dark purple: open
For the areas near Crete, the consortium conducting the exploration is comprised of the companies Total, ExxonMobil and Hellenic Petroleum, while an Energean-Hellenic Petroleum consortium is operating near Corfu, Hellenic Petroleum (HELPE) in the Gulf of Kyparissia and Energean in Ioannina.
The other land areas in Western Greece where concessions for hydrocarbon exploration were given (Etoloakarnania, Arta, Preveza and northwest Peloponnese) were returned to the Greek state, while an offshore area in western Patras Gulf, where surveys showed the existence of oil and not natural gas, will probably also be returned to the Greek state.
A special task force will be responsible for accelerating the country's efforts to explore and exploit potential oil and gas reserves, the Premier said.
Greece should have a clearer picture of where it stands by 2023, as it seeks to form a key part of a Europe-wide effort to reduce dependence on Russian natural gas and oil, Mitsotakis said.
He added that the government is "optimistic" and stressed "if we do have significant reserves, we will replace imports with out own national wealth."
The PM said also that "next to a country that can store (liquefied) gas, Greece can also a country that produces natural gas."
Low oil and gas prices in recent years were blamed for stalling gas exploration in Greece's Ionian Sea and off the coast of the island of Crete, notes the associated press.
But the government last week announced plans to increase domestic coal production and expand its natural gas infrastructure to boost its liquefied natural gas capacity with additional storage space at the existing facility of Revithousa in Attica and plans to build two more.
The expansion will eventually allow Greece to export gas to its northern neighbors Bulgaria and North Macedonia, which are also heavily reliant on Russian gas.