Residents in the area of Drafi, Dioni and Dimaki in the outskirts of Athens, at the foothills of Mt. Penteli in the East of the Greek capital, were ordered to evacuate towards the area of Pallini, late Tuesday afternoon after a fire burning low vegetation and forest went out of control due to powerful winds. Evacuated is also the National Observatory of Athens.
#Greece wildfires near houses in the outskirts of Athens#Ντραφι #φωτια pic.twitter.com/9wXQwffYaj

— Savvas Karmaniolas (@savvaskarma) July 19, 2022
The fire front extends to over 15 kilometers.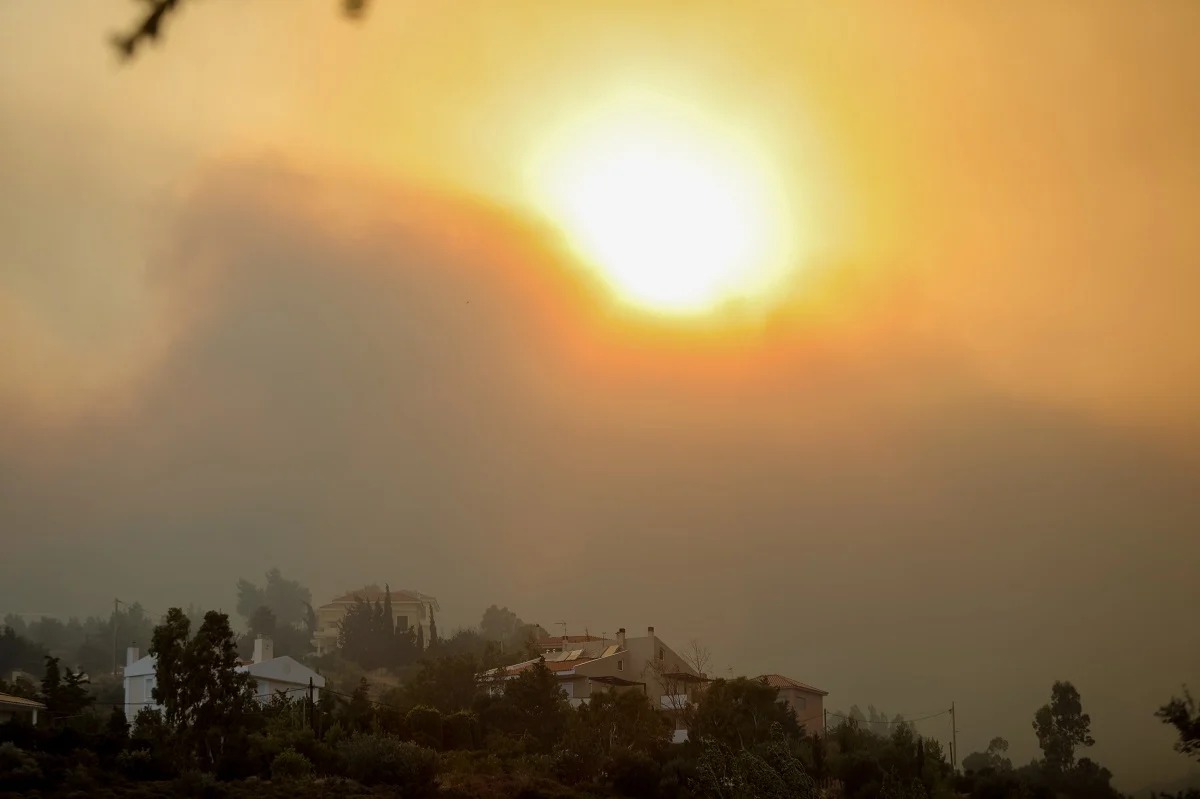 The fire broke out around in the area of Daou in Penteli at 5 o' clock Tuesday afternoon.
Strong firefighting forces rushed to the area to contain the blaze at the beginning but without success as storng winds are blowing with intensity of 7 Beaufort.
There currently two fire fronts and the blaze is burning its way towards Drafi and Anthousa.
According to latest media reports, also Anthousa is ordered to evacuate towatds Gerakas.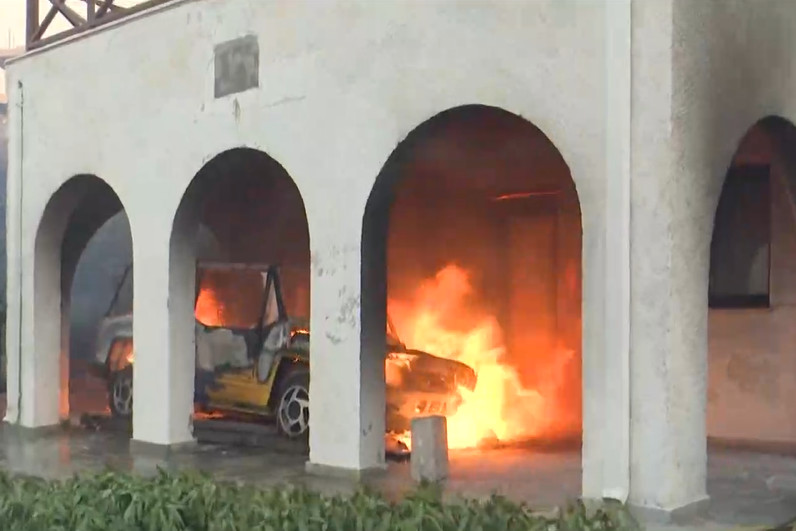 State broadcaster ERT has displayed footage showing the flames nearing some homes that are shattered in the area.
There also reports at 8:30 p.m. that some houses in Drafi have been burned down, however, these reports are not officially confirmed, so far.
Over 78 firefighters with 22 fire engines, 5 ground teams, alongside 28 Romanian firefighters with 3 water tanks, are assisted by 11 water-dropping aircraft and 5 helicopters are battling the fire.
However, the aerial means will stop flying by the last day light short before 9 o' clock in the evening.
#Πυρκαγια #Πεντέλη #Ντράφι pic.twitter.com/r1VcUQd0de

— an (@anna37027034) July 19, 2022
Residents in the areas of Penteli and Nea Penteli, Daou, Dioni and Kallitechnioupoli have all received a text alert by the emergency number 112, warning them to be on stand-by for any further instructions by the civil protection and the fire brigade.
The fire seen from suburb of Dafni:
Δάφνη Αττικής, τώρα. #φωτια #πυρκαγια #ντραφι #πεντελη pic.twitter.com/LsMsD4D0Pl

— Vivi Bouyioura (@VBougioura) July 19, 2022
Traffic on several roads has been closed off by the police; here a list of roads closed Tuesday evening:
– Nea Penteli to Nea Makri orbital road, from 414 SNEN military hospital to Agios Petros
– Kalission Road and Papadiamanti towards Drafi
– Doukissis Plakentias and Filonos roads towards Drafi
– Anapafseos and Klisthenous roads towards Penteli
Animal welfare organizations and volunteers are rushing to the area on fire to help pets and wildlife but also humans in need without vehicles.
Διαδωστε ❗❗❗❗❗❗❗❗#πυρκαγια #ανθουσα #ντραφι pic.twitter.com/NNnhvFJ40P

— Κουμουδί (@tokoumoudi) July 19, 2022
They call on pet owners to not leave specially their dogs chained behind.
Μην εγκαταλείπετε τα ζώα ή μην τα αφήνετε δεμένα #πυρκαγια #ντραφι #πεντελη #φωτια pic.twitter.com/Z7nP6kaHQH

— Ρα-βασάκι (@vasoula_vv) July 19, 2022
If you find a wildlife animals, welfare society ANIMA is in charge:
SOS #πυρκαγια #φωτια #πεντελη #ντραφι pic.twitter.com/nrX2AI5nBR

— Cersei Drake (@DCersei) July 19, 2022
Hospitals in Athens are on alert to treat people with injuries and respiratory problems, while there are reports that also the Children's hospital in Penteli will be evacuated.
UPDATE 11 p.m.
An unearthly picture: The Acropolis and Lycabetus Hill, the landmarks of Athens with the huge fire in the background
The blaze is raging also at night, with one fire front reportedly heading to the village of Palini.
There are reports that at least two houses in Drafi have been burned down, while the flames have reached many yards.
Picture below: The fire on Mt Penteli as seen from the district of Ambelokipi in downtown Athens.
Φωτογραφία τραβηγμένη από Αμπελόκηπους ψηλά. Η φωτιά πλέον βλέπει το λεκανοπέδιο. Καταλαβαίνεις ότι η Πεντέλη καίγεται ολόκληρη#φωτιά #Πυρκαγια #φωτια_τωρα #Ντραφι pic.twitter.com/Yx6peQ3Tmu

— Django (@Desmotis74) July 19, 2022
The fire seen from Gerakas village
Από το σπίτι του αδερφού μου στο Γέρακα, η νύχτα θα είναι δυσκολη😢😢😢😢 #Ντραφι #φωτιά pic.twitter.com/hv46Q1Wzld

— Gigi panagiotopoulos (@g_panageo01) July 19, 2022
Live media reports:

"A fire erupted at a great distance from the fiery front".

Where there are no sources of fire, suddenly the place starts to catch fire.

Here is safe to say that we are talking about arson.#Greece #Ντραφι #Πεντέλη pic.twitter.com/ytQRHZxWka

— Info Warrior (@InfoWarriorNews) July 19, 2022
The fire reportedly broke out in an area what was completely burned down in the fire of 2018 and was reforestated.

The fire fighting forces are constantly being strengthened. According to Fire Service currently there are in operation:
420 firefighters
18 groups of pedestrian units
85 fire trucks
28 Romanian firefighters with their vehicles have been deployed in the wider mountainous area
Also:
-Water trucks and machinery
-Volunteer forces of the Fire Brigades and the Civil Protection
-22 Army officers provided by the National Defense Ministry
282 police officers and 90 vehicles provided by Greek Police for the safe passage of residents during evacuations.
Police vehicles are patrolling in evacuated areas for potential looters, check drivers and passengers of cars appearing "suspect", ERT reported.
Hospitals on emergency duty and the ambulance Service is on high alert. So far, no locals with respiratory problems have sought hospitals in Greek capital.
35 children from the Children's Facility in Daou and 36 from the Children's Hospital in Penteli have been evacuated and transferred to the hospitals "Aglaia Kyriakou" and "Agia Sophia".
Water-dropping aerial means are at maximum readiness so that they can operate at the first light of day.
The Port authority of Rafina has urged locals and tourists to refrain from activities in the sea in Nea Makri, Shoinias and Marathonas on Wednesday, as the aerial means will load water to combat the fire.
Winds keep blowing with intensity of 6 Beaufort and gusts reaching 8 B. The winds may weaken during the night but will strengthen again by Wednesday noon. It should be recalled that Attica is at "very high risk" of fire (Level 4) also on Wednesday, July 20.
It is the Xth big fire in Greece in the last few days.
To be continued…