A forest fire broke out near the Elefsina toll station on the Athens-Corinth national highway, forcing authorities to shut down traffic in a part of the highway and ordering the evacuation of  a nearby settlement.
The fire broke out in low vegetation area, three kilometers from the Elefsina toll around 10:30 on Friday morning.
According to the Fire Service, the fire is burning on a side street in the area of Loutropyrgos, Nea Peramos, on the west side of the National Highway,
Short after 12 o' clock noon, the Civil Protection sent a message via emergency line <112> urging residents of  "Ano  Vlychada to evacuate now to Megara."
Ground firefighting forces and aerial means have been mobilized to extinguish the blaze.
Strong winds are blowing currently blowing in the area with 4 to 5 Beaufort.
55 firefighters with 3 teams on foot, 15 engines, 3 helicopters – one of which is for aerial coordination – and 2 aircraft are currently operating. Water-tanks have been provided by local municipalities.
One firefighting Air Tractor aircraft operating there had an emergency landing on the sea earlier due to mechanic failure. The aircraft sank, the pilot and one crew member were picked up by a private boat and were taken to hospital.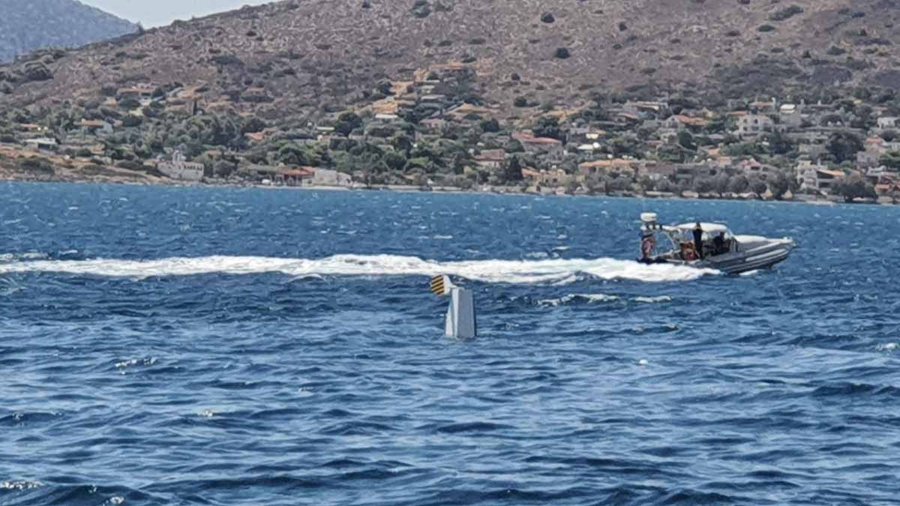 According to media information at 1:00 p.m., the national road has been closed and traffic is directed from the junction in Mandra.
ANT1 TV reported that the highway has been closed to the direction of Corinth, in the part from Elefsina to Nea Peramos.
The closure of the Athens-Corinth highway comes as thousands of Athenians prepare to leave for the August holidays, many of them heading to Peloponnese and the islands of the Ionian Sea, something that requires passing the Elefsina toll.
There were reportedly also disruptions and delays in the Proastikos train due to power outage in Nea Peramos, however, as the problem is being gradually restored, the line is expected to be in full operation soon.
UPDATE: Around 4:00 p.m Friday, the Athens-Corinth highway opened to traffic again.