Antigoni Ntrismpioti managed another miracle at the European championships in Munich: she won a second gold medal after finishing first at the 20km Walk Race on Saturday morning.
With 1:29:03 Ntrismpioti broke her won personal record. She started the race relatively slow and speeded up after the 11th kilometer.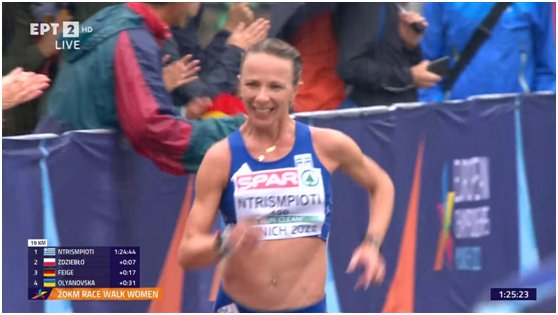 On Wednesday, 38-year-old Ntrispioti had won gold at the 35km Walk Race
The athlete from Karditsa, northern Greece, may be now being cheered by the country's sports leadership and other sports officials as Greece's Golden Girl, however, she struggled incredibly hard to achieve her goal.
Really amazing! 🇬🇷Antigoni #Ntrismpioti won her second 🥇gold medal at #Munich2022. She is both the 20km and 35km Race Walk European Champion 2022!

Congatulations Antigoni! 👏👏 pic.twitter.com/3AH4G3CCjw

— Greek News Agenda (@greeknewsagenda) August 20, 2022
After the Tokyo Olympics, the National Olympic Committee excluded her from sponsorships and other training benefits due to her age!
A fairytale story. 🥲

At 38, Antigoni Ntrismpioti 🇬🇷 wins both the 20km and 35km race walk titles in #Munich2022! #BackToTheRoofs pic.twitter.com/x2L8qJWO6w

— European Athletics (@EuroAthletics) August 20, 2022
She didn't give up.
She had to have a break and abstain from races in order to work and assist her family financially.
Working long shifts at the family tavern, she would train either early in the morning or after work.
According to local media, at one point it was the mayor of the town who bought her two pairs of sports shoes.
PS It is always like that in Greece: Athletes are being cheered and every official rushes for a photo opportunity when they win Gold and are abandoned if they don't.
How many gold winners haven't they said that they trained in the fields, in makeshift training fields, in miserable conditions and thus in a country that hosted the Olympic Games in 2004 and let them rotten eternally.
NO hope. Really.