Main roads in Athens including those along the Athens Riviera were flooded and vehicles were trapped in muddy waters, and power outages occurred when a rainfall poured down in several suburbs of Greek capital late Tuesday afternoon.
Police closed Pireos Avenue as well as Hamosternas, the main roads connecting Athens to Piraeus due to flooding.
Most affected suburbs by the heavy rianfall were in western Athens, mainly Peristeri and Ano Liosia, as well as the south suburbs along the Athens Riviera, e.g. Palaio Faliro, Glyfada and Voula.
Actress Zeta Douka complained that all gutters on Vouliagmenis Avenue were blocked and that "rives full of stones were coming down from the mountain."
She wrote on her social media account that she was 1.5 hour on the way for a distance she could cover in less than 30 minutes.
Posidonos Avenue, Glyfada
While Pireos and Hamosternas were open again to traffic after an hour, motorists are still struggling at 9:30 p.m. on part of Posidonos Avenue and Vouliagmenis Ave due to accumulating waters, state broadcaster ERT reported.
Ιn Keramikos district of Athens a huge tree fell on a parked car and destroyed an old abandoned building.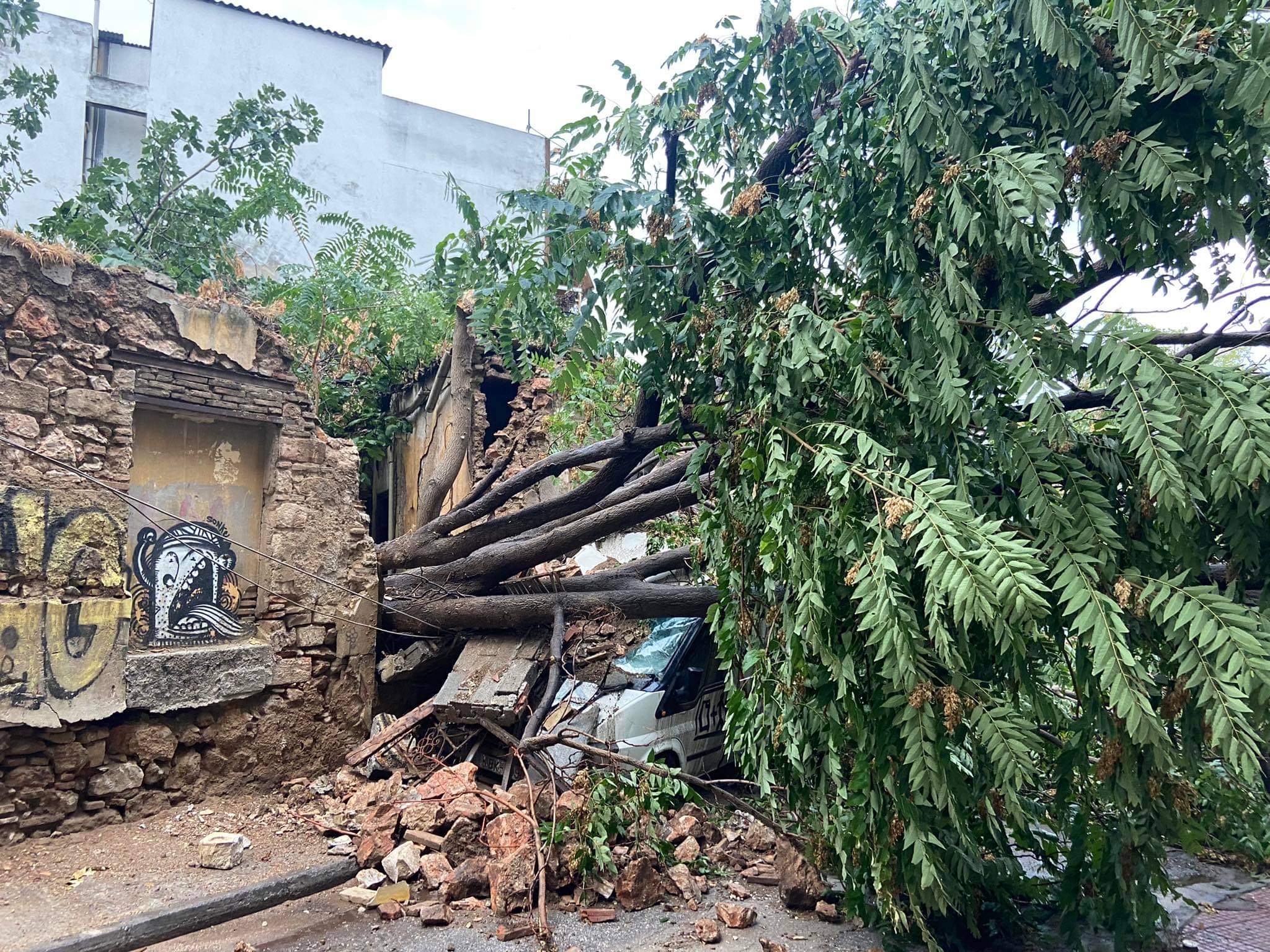 So far, the Fire Service received 103 calls for pumping water from houses and stores, 7 calls for cutting trees and 10 calls to help drivers and passengers out of their cars.
Workers at the Civil Protection were seen removing gutters to make the roads …water-free.
On social media Greeks lashed out at local and regional authorities saying that it needs just 20 minutes of a rainfall to have the same main avenues flooded again and again.
Also in central and northern Greece, rainfall caused flooding in businesses and homes and destroyed fruits on the trees just before the harvest.
The rainfalls on Tuesday are part of a bad weather front forecast to last until Friday, August 26, 2022.
Meteorologists warn that more rainfalls are forecast tomorrow, Wednesday, August 24, mainly in central and northern parts of the country, especially in Central and Eastern Macedonia, Thrace, the northern Aegean and possibly the Sporades islands, with hailstorms in the central and northern areas, Thrace and the northeastern Aegean Sea.
See the Weather Warning issued by the National Meteorological Service here on KTG.