Greece's health authorities announced on Tuesday, August 30, a total of 50,579 confirmed coronavirus cases in the week of August 22-28, 2022 (ISO 34/2022). In the same period 202 [217] Covid-patients have died, the National Public Health Organization (EODY) said in its weekly report.
The number of intubated Covid-patients stands at 117.
All confirmed infections since the pandemic began are 4,762,627, of them 51.9% are women.
Weekly bulletin in brief:
50,579 cases (weekly change -10%) reinfections at 23%.
217 deaths (49.2per day)
117 intubated
1174 hospital admissions ( weekly change -23%)
Rt estimated at 0.89 from 0.92 previous week

202 deaths from Covid-19 registered in the August 22-28 week, a ratio of 19 deaths per 1 mln people (weekly change: -24%), bringing the total of pandemic victims since the pandemic began to 32,552. Of the deceased, 95.9% had an underlying condition and/or were aged 70 or over.
Again there is a discrepancy in the EODY deaths numbers, based on the previous week total 217 people died in the ISO 34/2022.

Deaths in August 1-28: 1,175
Deaths in July 1-31: 1,145
A total of 117 Covid-patients were on ventilators in hospitals on August 28. Their median age is 69 years , 68.4% are men and 96.6% have an underlying condition and/or are aged 70 or over.
1,173 Covid-19 patients were admitted to hospitals during the same week (weekly change -23%), while 1,208 were discharged at the same time.
The average age of infected is 38, while the average age of the deceased is 80.
Geographic distribution August 22-28
Distribution: Infections cases across Greece: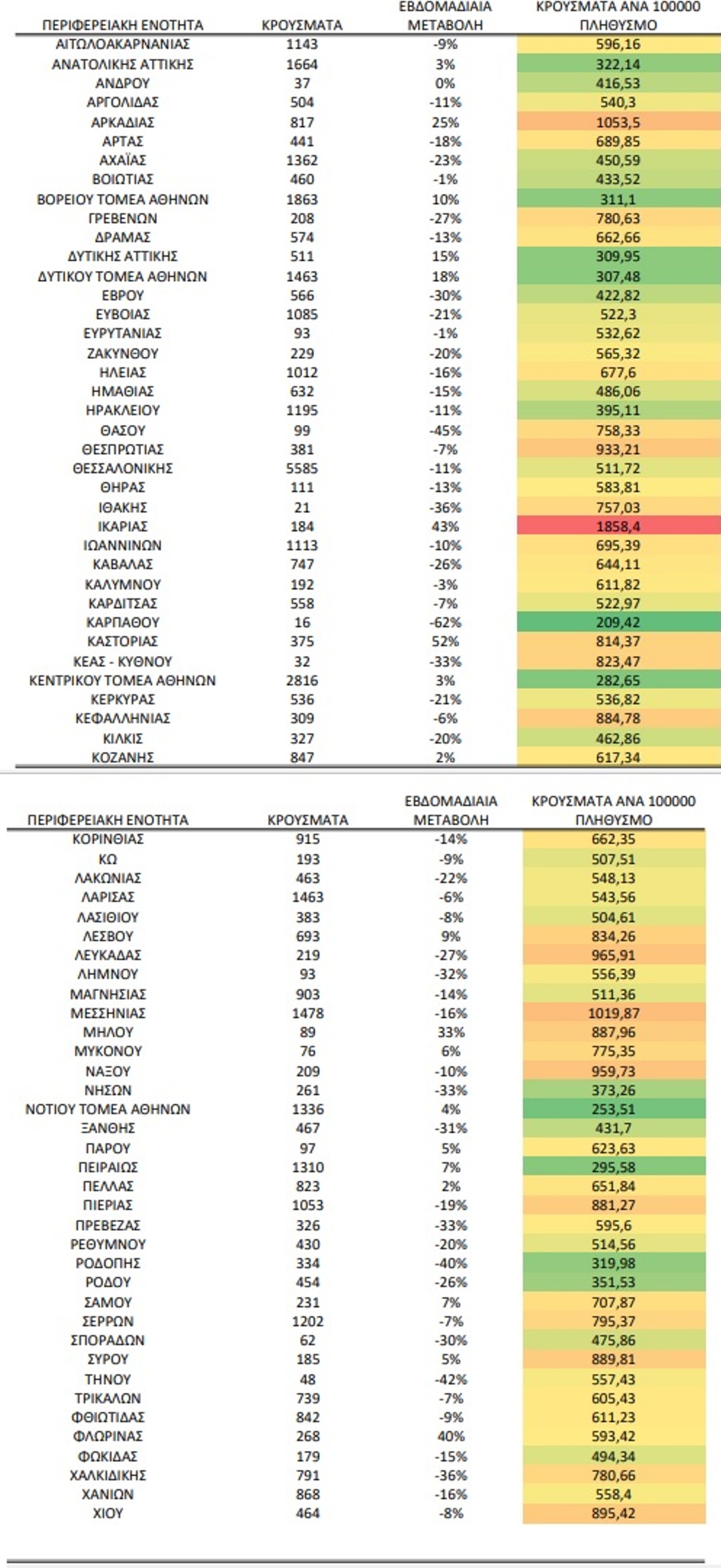 via iatropedia.gr
MAP infections in the last 14 days per 100,000 population
EODY weekly bulletin in Greek here.
More information about coronavirus in Greece here on KTG