"We still don't know if it was the main earthquake. We don't have many aftershocks (until 9:00 a.m.) Efthymios Lekkas, professor of Disaster Management at EKPA and president of Greek Earthquake Planning and Protection Orhanization, told CNN Greece on Sunday morning.
The earthquake occurred at 1:02 early Sunday and its epicenter was some 12 km south of Desfina, 27 km SE of Amfissa in Fokida,. Its local depth was 13 km.
The tremor was reportedly felt in the area as very strong and with a loud hum even if it was of short duration. Residents in Xylokastro, Galaxidi and Fratini described it as "intense."

No injuries or material damages have been reported.
The tremor was felt in several areas in Sterea and Peloponnese and even in Greek capital Athens, 112 km away.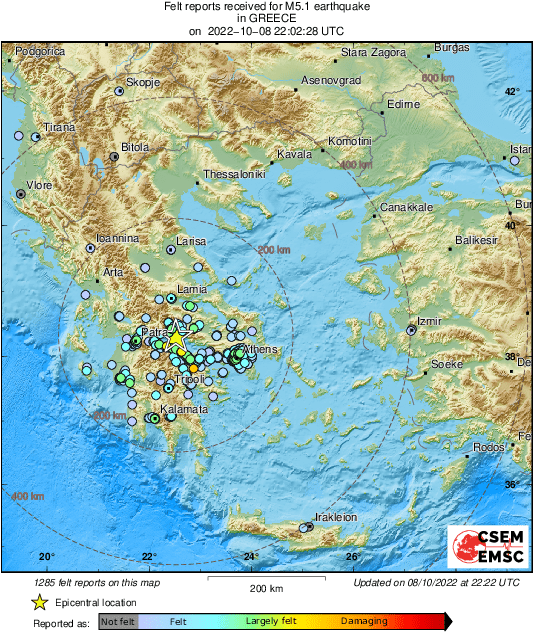 OASP president Lekkas, stated that the earthquake occurred at the entrance of the Gulf of Itea, estimating that it is too early to have a clear picture. "We have to see the post-seismic sequence and the evolution of the phenomenon. So far we haven't had many aftershocks," he said.
Specifically, "the earthquake occurred on the Itea fault. We didn't expect this earthquake, it's hard to predict… We don't know if it's the main earthquake, for now we don't have many aftershocks. I believe that in the afternoon we will have a clearer picture. We will have to monitor the seismic sequence and the evolution of the phenomenon."
Lekkas noted that 3 aftershocks of 2.0 – 2.5 R on the Richter scale, but this does not constitute completely post-seismic activity.
Another 11 aftershocks had a magnitude of 0.8-1.9R media reported later.
Seismologist Akis Tselentis noted on a post on social media "To say for sure that it is the main earthquake, we have to wait two 24 hours to see how the post-seismic sequence develop, which so far has not given the required number of aftershocks. I would have expected a bit more."
he added that the tremor was felt also in Athens "due to the directionality of the seismic waves, because the fault line has a directionality from West to East. So, we have a strong sensibility in Attica, but also in Corinth."