After "summer" in December over the weekend, temperature in Greece will significantly drop by an average of 10 degrees Celsius  and stormy northern winds will be blowing throughout the country. Rain- and snow-falls in the mainland highlands are forecast as of Monday, December 19, 2022.
According to forecast data of the National Observatory of Athens/meteo.gr, the weather is expected to present a different face during the two-day period Monday-Tuesday, December 19-20, 2022.
Main features of the weather deterioration will be local rainfalls -snowfall in the continental highlands-, very significant drop in temperature and the prevalence of locally stormy north winds.
On Monday 12/19 local rains will occur mainly in the central, eastern and northern countries, in Evia, the Sporades, the Cyclades and Crete.
Light snowfalls will occur in the mountainous continental areas and possibly early in the morning in areas of Evros with a lower altitude.
The temperature will drop by 8-10 degrees in most regions of the country and by about 12 degrees in Evros.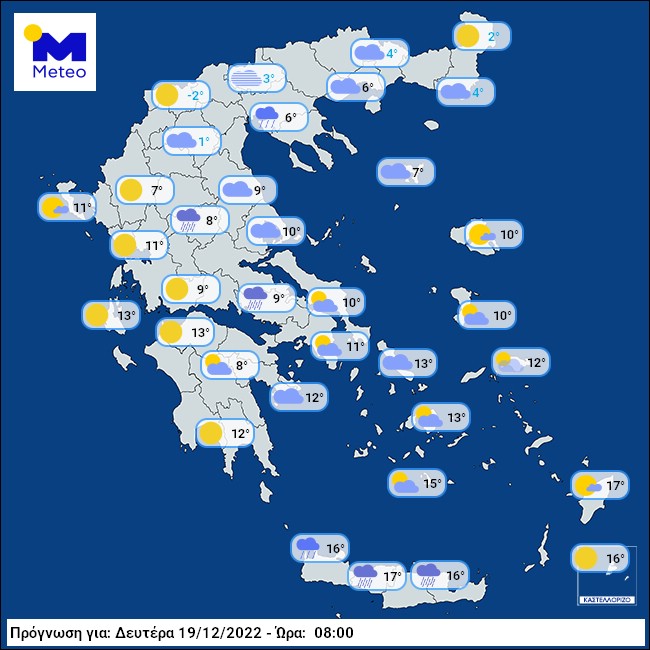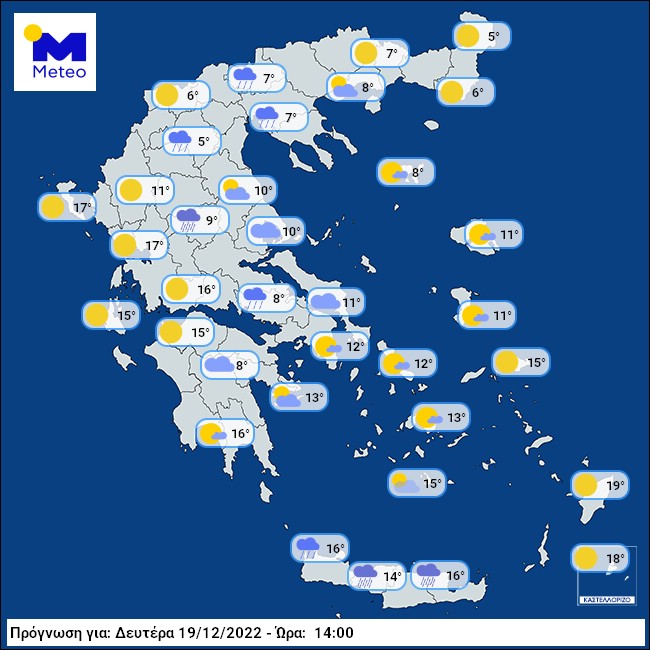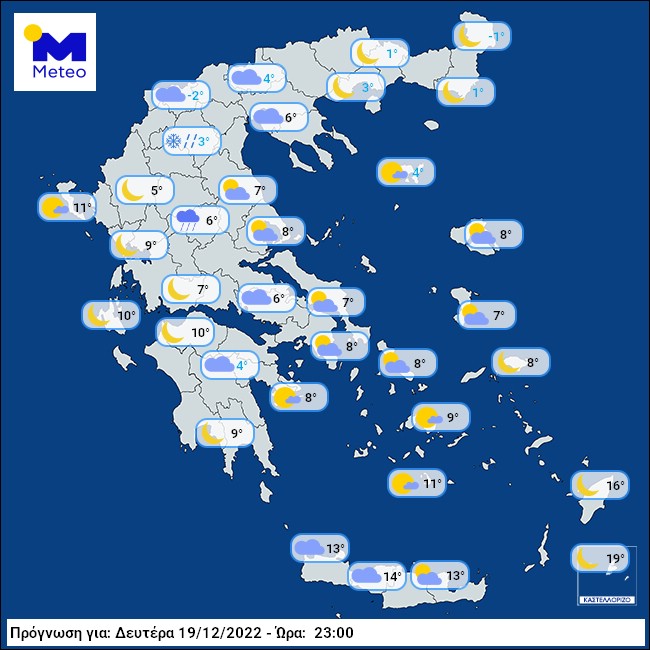 The forecast map below shows the estimated drop in maximum temperature on Monday 12/19 compared to the maximum values of Sunday 12/18.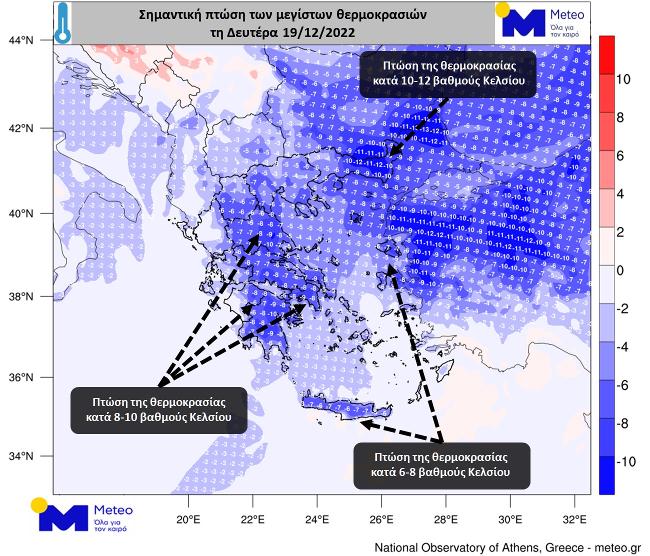 At the same time, locally stormy northerly winds are expected to prevail in the Aegean Sea and in areas of the eastern mainland. The forecast map below shows the prevailing directions and estimated maximum wind intensities during Monday 12/19.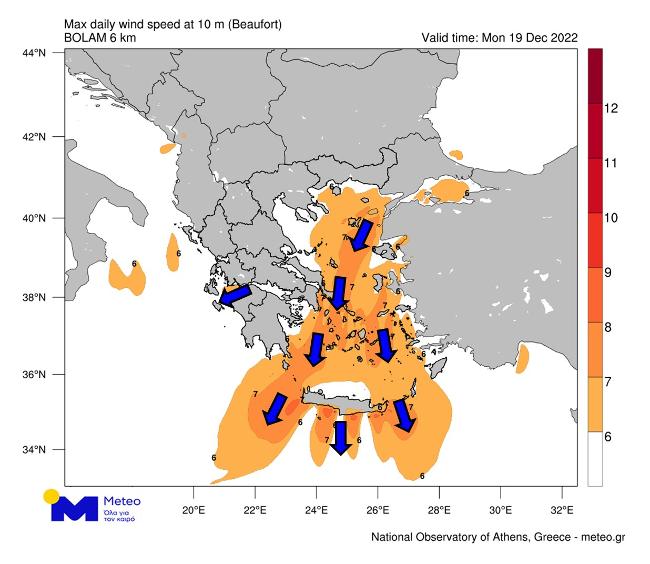 It is pointed out that the combination of the drop in temperature with the very strong winds will result in a strong feeling of cold, with the sensible temperature fluctuating in single digits.
On Tuesday 20/12 the phenomena will be limited to the east and south, areas where the temperature will drop further, while the northerly winds in the east and in the Aegean will be maintained at the levels of 6-8 Beaufort.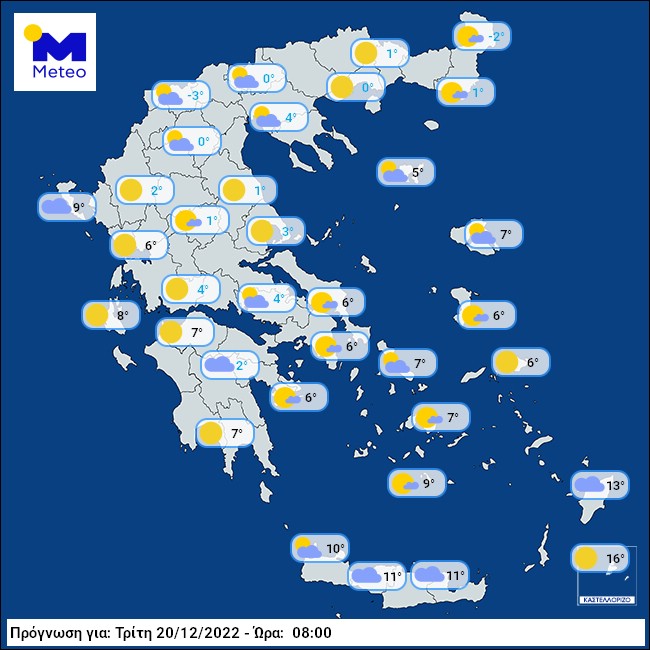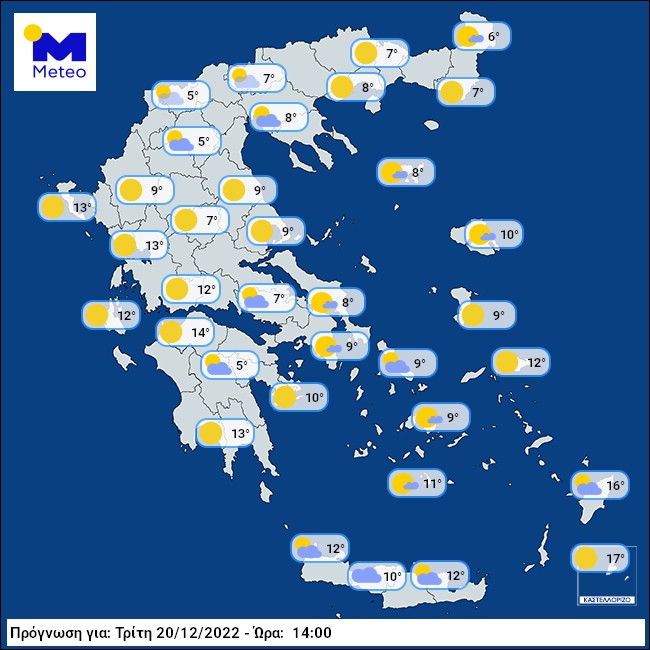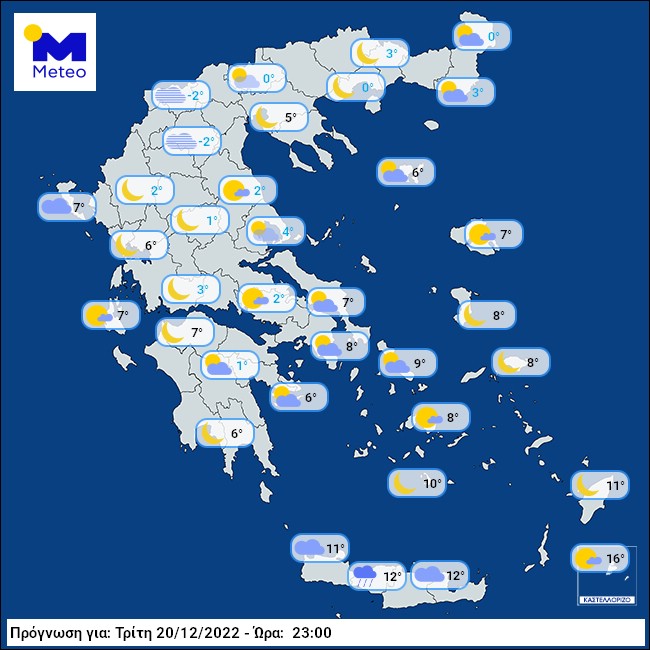 Head meteorologist of National Meteorological Service EMY, Thodoris Kolydas told Star TV that the storng northern winds may disrupt sea traffic especially in the Aegean Sea, on Tuesday.
If you plan to travel by sea, check with local port authorities and travel agents.
A "Greek summer" in December with temperatures up to 25 C was here last week, with its peak over the weekend.
Maximum temperatures on Sunday, December 18 on Crete: Chania – Agioi Pantes 25.3° C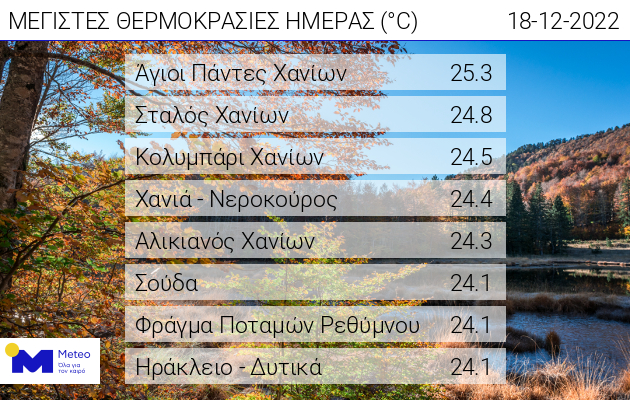 source;meteo,maps