Greece's conservative government on Friday survived, as expected, a vote of no confidence put forward by the main opposition party SYRIZA opposition over a wiretapping scandal targeting politicians, army top brass and journalists.
156 ruling New Democracy lawmakers voted against the motion, while 143 opposition MPs voted in favor.
A total of 299 MPs participated in the roll-call vote following a three-day discussion. Ex ND and now independent MP Andreas Patsis -currently under investigation over unlawful funding – was absent.
Twelve MPs, among them former ND prime ministers Antonis Samaras and Kostas Karamanlis submitted postal votes.
The censure motion was voted on by an open roll-call vote.
The 34-hour debate concluded with the speeches of the political party leaders and Prime Minister Kyriakos Mitsotakis.
On the part of ND the debate was rather a …review of SYRIZA policies as government and main opposition.
PM Mitsotakis declined to take position to the crucial question whether he knew of the "legal" surveillance by national intelligence Service EYP to whom he has the supervision.
In an effort to discredit Tsipras' information he received with the names of six key political and army persons he shouted from the podium: "Did Rammos letter have the names and the phone numbers of those under surveillance?" That was the PM's highlight on the issue of the motion.
After the vote, SYRIZA released the letter Tsipras sent to the head of ADAE asking to confirmed whether these six people were being wiretapping.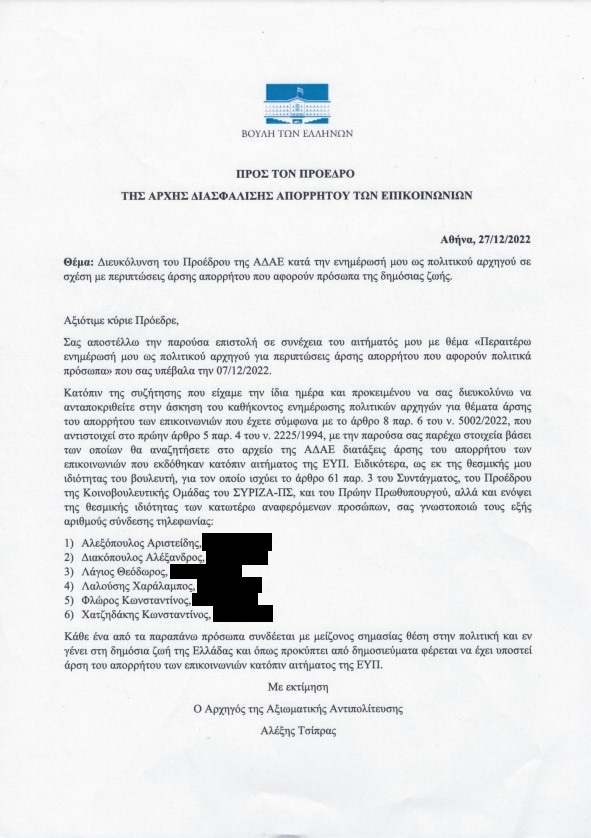 Tsipras asked the PM "Are you guilty or stupid?"
Fact is that the debate was mainly off topic and it shrank into exchange of punchlines between the parties and their leaders. Often beyond the appropriate manners of a Parliament.
Tsipras asked the PM "Are you guilty or stupid?"
A ND MP called SYRIZA MPs "Apes!"
Allegations of state surveillance have snowballed since Nikos Androulakis,  the leader of the socialist PASOK party, Greece's third-largest, said last August that his phone had been tapped by the state intelligence service EYP in 2021.
The government has denied any wrongdoing or knowingly wiretapping anyone.
PS what was the purpose of the censure motion when everybody knew it won't succeed? To unite party members and eye possible coalitions after the upcoming elections.