Court of Audit President Ioannis Sarmas was sworn in as prime minister of a caretaker government that will lead Greece to the second round of elections on June 25.
Shortly after 4 o' clock Thursday afternoon, 66-year-old Sarmas was sworn in at the Presidential Mansion in the presence of President of the Hellenic Republic Katerina Sakellaropoulou.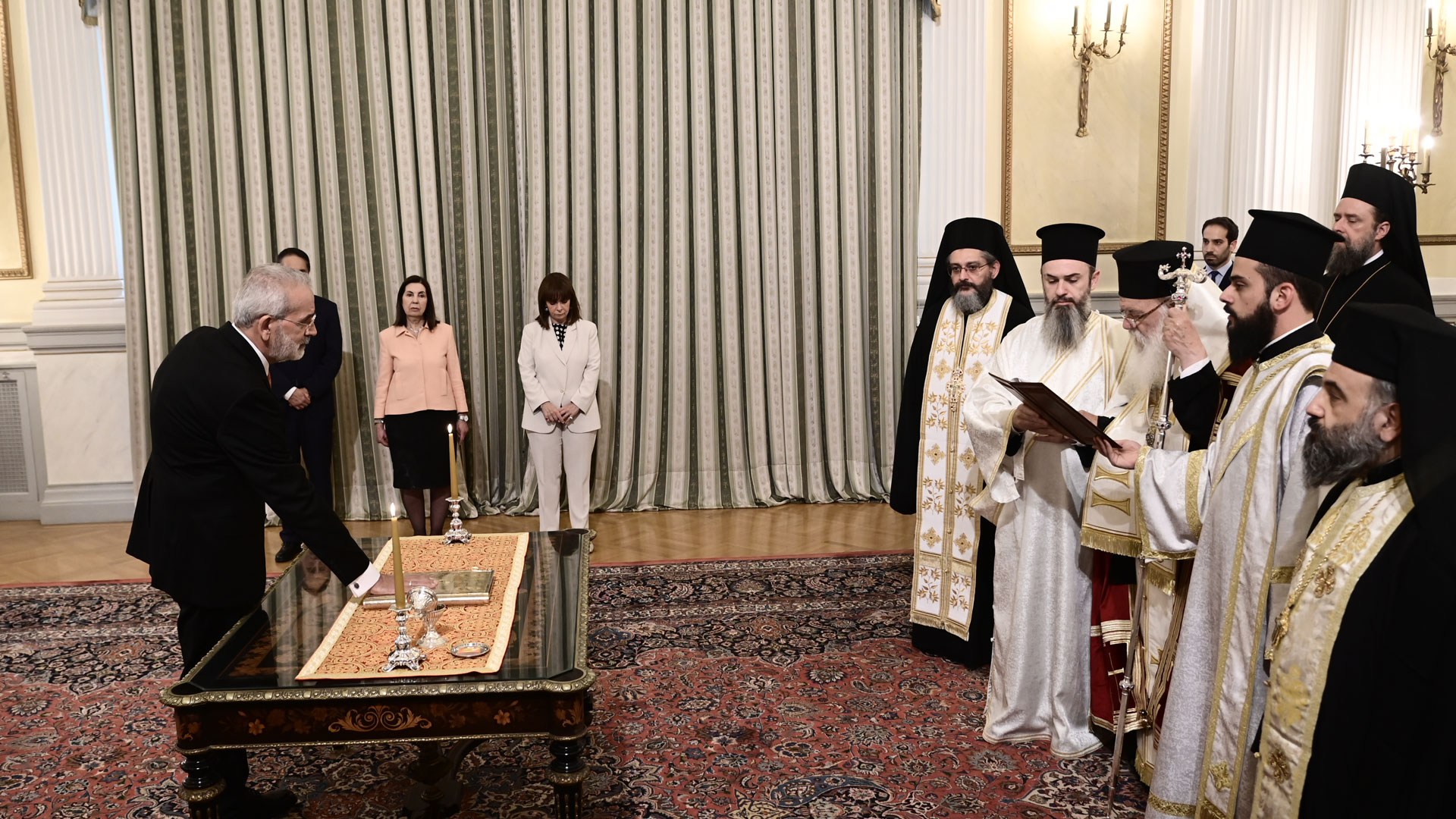 He received the order to form a caretaker government from Sakellaropoulou on Wednesday, following her meetings with leaders of the top three parties resulting from the May 21 elections. All of the leaders successively turned down the exploratory mandates to form a government.
Former conservative PM Kyriakos Mitsotakis was waiting for Sarmas on the steps of Maximos Palace, led him to the PM's office and handed him a file with important state affairs, reassuring him that he is available to assist him when issues arise.
"We will carry out the duties until the natural beneficiary who will emerge from the will of the people returns," Sarmas said.
Mitsotakis wished him "good strength" in his duties before handing him a voluminous blue file containing "all the necessary information to carry out his duties and to be informed of current domestic and international issues and obligations," as he noted.
Ioannis Sarmas is expected to be a caretaker PM for the next 32 days, if the second round of elections on June 25 produces a government and longer if a third round will be necessary.
According to media, the caretaker government will consist of some 20 ministers in essential ministries and no deputy or alternate ministers.
UPDATE:
The new cabinet will be sworn in before Hellenic Republic President Katerina Sakellaropoulou and newly appointed Prime Minister Ioannis Sarmas at 12:00 on Friday (May 26).
THE NEW CABINET
Prime Minister: Ioannis Sarmas
State Minister: Vasilios Skouris
Finance Minister: Theodoros Pelagidis
Development and Investments Minister: Eleni Louri
Foreign Affairs Minister: Vasilios Kaskarelis
National Defense Minister: Alkiviadis Stefanis
Education and Religion Minister: Christos Kittas
Labor and Social Affairs Minister: Patrina Paparrigopoulou
Health Minister: Anastasia Kotanidou
Environment and Energy Minister: Pantelis Kapros
Citizen Protection Minister: Charalambos Lalousis
Culture and Sports Minister: George Koumentakis
Justice Minister: Filippos Spyropoulos
Interior Minister: Kalliopi Spanou
Migration and Asylum Minister: Daniil Esdras
Digital Governance Minister: Sokratis Katsikas
Infrastructure and Transport Minister: Yiannis Golias
Shipping and Island Policy Minister: Theodoros Kliaris
Agricultural Development and Foods Minister: Georgios Tsakiris
Tourism Minister: Ioanna Dretta
Climate Crisis and Civil Protection Minister: Evangelos Tournas
Government spokesperson: Ilias Siakantaris (journalist at state broadcaster ERT)