Shipwreck Greece: The Coast Guard in Kalamata, south Peloponnese, announced on Thursday the launch of an inquiry into the sinking of a boat carrying hundreds of migrants in international waters off the coast of the Peloponnese, 47 nautical miles southwest of Pylos.
According to an announcement "there is not a specific number of arrests of persons suspected of being the traffickers of the irregular migrants on board the fatal fishing boat."
Coast Guard vessel transporting recovered bodies ashore.
It also amended the confirmed body count, saying the number of bodies recovered was 78 and not 79.Of those, 77 belong to men, while the body of only one woman was recovered from the sea.
The number of people missing remains unknown. Shipwreck survivors spoke of up to 750 passengers, with women and many children to have been in the hull of the fishing boat.
A Search And Rescue operation to locate more persons missing at sea continued through the night in the area around the shipwreck, without success.
The number of people rescued remains at 104 since Wednesday morning and no new dead bodies were recovered.
Two coast guard vessels, a helicopter and six ships sailing in the area were participating in the ongoing SAR.
About 30 dead bodies were loaded onto refrigerator trucks at Kalamata port and samples will be taken from them for DNA analysis to aid in identification.
The survivors that were not taken to hospital spent the night in a specially adapted area in the port.
Police, fire brigade and coast guard vehicles and personnel arrived at the port early in the morning to provide assistance in the operation, along with trucks bringing food and water.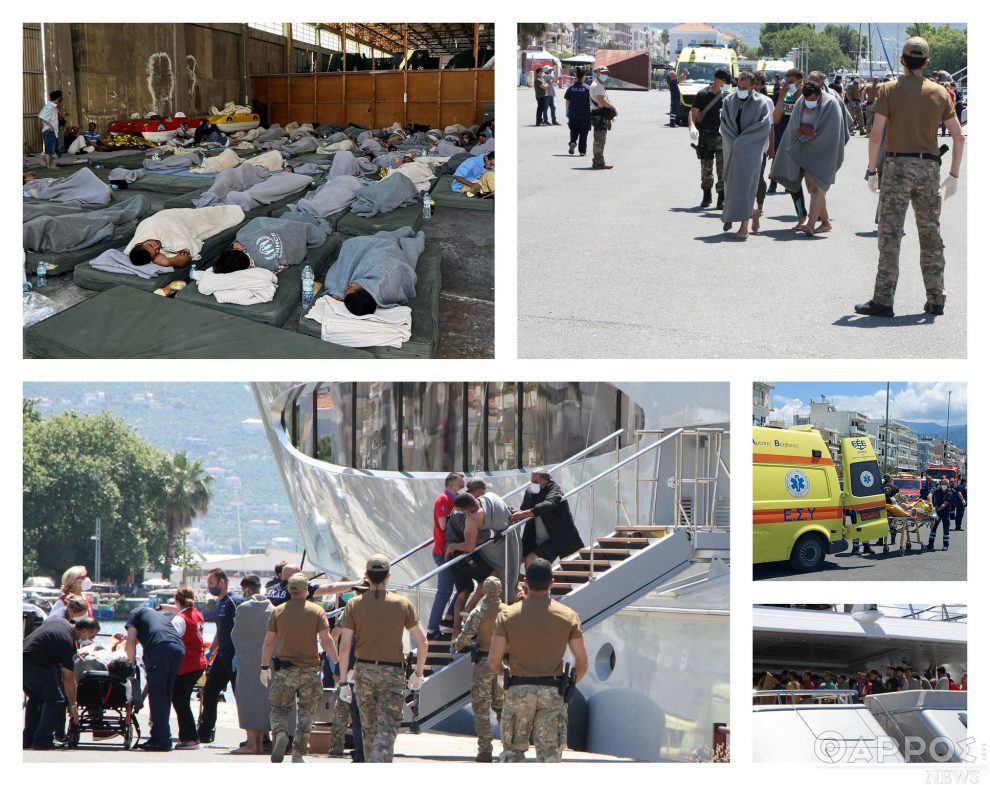 via local daily tharrosnews.gr
The number of those at the hospital changes as some are released after receiving first aid.
Most symptoms of those in hospital – currently 30 – are: hypothermia, fainting and hypoglycemic episodes, dehydration, pneumonia, pathological issues.
Survivors are reportedly physically and mentally exhausted and in need of psycho-social support. Many had been prescribed medication that the Red Cross was preparing to procure for them.
The survivors of the shipwreck are all men, aged between 16 and 40 years old. According to state broadcaster ERT:
43 are from Egypt – among them 5 minors
12 from Pakistan
47 from Syria – among them 3 minors
2 from Palestine
Among the survivors are also 4 to 8 men, Greek authorities consider as the human traffickers. They have summoned for interrogation, no arrest so far.
According to some Greek media, each passenger paid 4,500 euros for the passage from Tobruk in Libya to Italy.
In the meantime, relatives who fear their loved ones were on board the fishing vessel have been desperately appealing for information, with some arriving in Kalamata port.
One man living in Germany was looking for his 18-year-old brother, whom he had last spoken to six days earlier and knew only that he set off from Syria to reach Italy.
Another man based in Cyprus knew that his nephew had been on board the fishing boat but was unable to find him among the survivors.
A third man was looking for his wife…
Alarm Phone organization on Twitter has guidelines in several languages for relatives of passengers on the sank fishing boat seeking for their beloved ones.