Desperate residents in Nea Zoi village, western Attica, have been crying for help as the flames approach their homes early Tuesday afternoon. They complained to Skai TV that have not seen any firefighter or engines or even water-dropping aerial means to halt the fire front heading to their village. Confused and feeling abandoned by the state, they wondered what to take with them and what to leave behind as they were ordered to evacuate.
Ανεξέλεγκτη η #φωτιά καθώς πλησιάζει στη Νέα Ζωή στη #Μάνδρα – Βίντεο του https://t.co/yDmvPjAIq0 pic.twitter.com/O03z3X50Ua

— Η ΑΥΓΗ (@AvgiOnline) July 18, 2023
A few hours later, a water-dropping aircraft made the rounds in the sky over the area but it was already too late. A few houses were already delivered, the flames destroyed concrete, household and memories of a whole life.
#Wildfires raging for the second day near Athens, #Greece.#φωτια pic.twitter.com/GmwzAt8j46

— Savvas Karmaniolas (@savvaskarma) July 18, 2023
Nuns of a monastery in Mandra refused to evacuate and tried to keep away the flames with prayers. Video uploaded by Greek police.
👮🔥🙏Αστυνομικοί καταβάλουν κάθε δυνατή προσπάθεια να πείσουν μοναχές να εκκενώσουν μοναστήρι στην #Μάνδρα.

🚒 🚓 Στην περιοχή συνεχίζουν να επιχειρούν αστυνομικές δυνάμεις για την παροχή βοήθειας στους πολίτες.#φωτια #Πυρκαγια pic.twitter.com/ifDKfYBt9S

— Ελληνική Αστυνομία (@hellenicpolice) July 18, 2023
Office view #φωτια pic.twitter.com/3WhrhHbF3B

— Τζίο_ (@demom__) July 18, 2023
The blaze arrived in the area from Dervenohoria in Viotia, northwest of Athens, where it started on Monday evening.
Several villages and settlements were ordered to evacuate towards the West Attica town of Mandra on Tuesday. However, the wildfire started to approach homes and businesses and thick smoke filled the air.
As more evacuations have been ordered, korinthosTV reported that a 112 message was sent to the residents of the Glykia Zoi settlement in Agioi Theodoroi, a settlement that is close to the Motor Oil refineries.
Short before 7 p.m. Tuesday, traffic police
reportedly
closed the sector Elefsina-Corinth of the Athens-Corinth highway and thus in both directions. Closed has been also the old highwayin the area.
Angry motorists stuck in the highway complained to
media
that they were not informed about the shut down.
The fire is about to reach Mandra and more areas have been ordered to evacuate also due to the thick smoke in the area.
The blaze is out of control due to the strong winds but also as the fire service does not seem to be have enough men and means to cope with the fire across the country.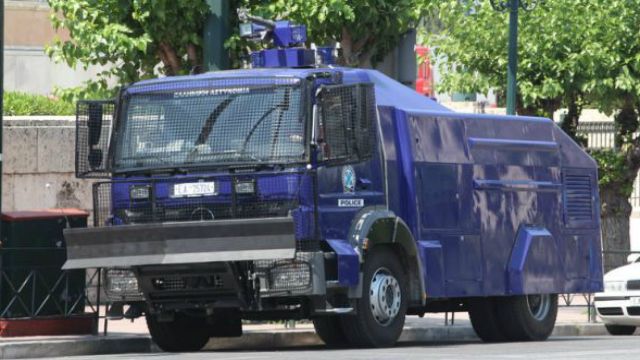 It is characteristic that Greek Police deployed to Mandra two water-dropping vehicles normally used to disperse  angry protesters. they were used also against firefighters protesting for permanent work contracts and hiring personnel.
In case you wonder why no firefighters were present in time in Nea Zoi and west Attica, check how PM Kyriakos Mitsotakis set the relevant government policy late on Monday:
Top priority is saving lives (evacuations), followed by the protection of properties and then of the environment.
It's the same policy applied to the fires that devastate Evia in August 2021.