The elections campaign has officially started in Germany. The Social-Democrats (SPD) with top candidate Martin Schulz challenge the conservative Christian-Democrats (CDU) of Angela Merkel and Wolfgang Schaeuble. While it seemed that the former President of the European Parliament Schulz would have it hard to challenge the Chancellor, the results of a recent public opinion poll surprise: 50% of Germans prefer Schulz over Merkel who received 35%. It would be the first time majority of Germans would not vote for Merkel since she assumed office in November 2005.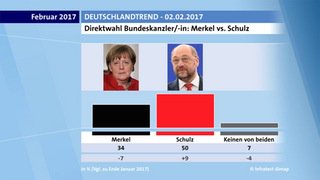 It is clear that Greece and the Debt will be one of the issues to top the German elections campaign. And so it goes. SPD's
Foreign Minister and Vice Chancellor in the CDU-SPD coalition government Sigmar Gabriel criticised his government partner's handling of Greece.
In a letter he wrote to Chancellor Angela Merkel last month, Gabriel expressed his "great concern" about the talks on Greece's financial rescue and thought the government in Berlin should play a "more constructive role".
Germany wants the International Monetary Fund (IMF) to have a stake in Greece's bailout to give the rescue plan greater credibility, but also opposes granting Athens significant debt relief. The IMF says it will only join in if this rescue is the country's last and it includes significant debt relief.
Gabriel, a member of the Social Democrats (SPD) – the junior coalition partner to Merkel's conservatives – said the German Finance Ministry and the International Monetary Fund (IMF) seemed to have such diverging stances that reaching an agreement "at this time seems impossible".
Germany, Europe's largest economy, has opposed large-scale debt relief unless Greece completes wide-ranging reforms and keeps running budget surpluses of 3.5 percent for the medium-term after the end of the bailout program in 2018.
In his letter to Merkel, Gabriel proposed only requiring Greece to have a 3.5 percent primary budget surplus for the next three years, according to German daily Handelsblatt.
The daily reports that German Finance Minister Wolfgang Schaeuble, a member of Merkel's Christian Democrats (CDU), had replied in mid-January, saying that relaxing budget demands would lead to more calls for forgiving part of Greece's debt pile, which Germany is against.
German public opinion poll – Deutsche Welle
PS I don't want to be ironic or sarcastic here so I do not comment about the sudden compassion of the SPD towards Greece. Last time, I heard Vice Chancellor Gabriel defending Greece was in June 2015.