A bad weather front from the North-West comes with strong rainfalls, thunderstorms, locally hail-falls and very strong winds up to 8 and 9 Beaufort. Locally even stronger winds.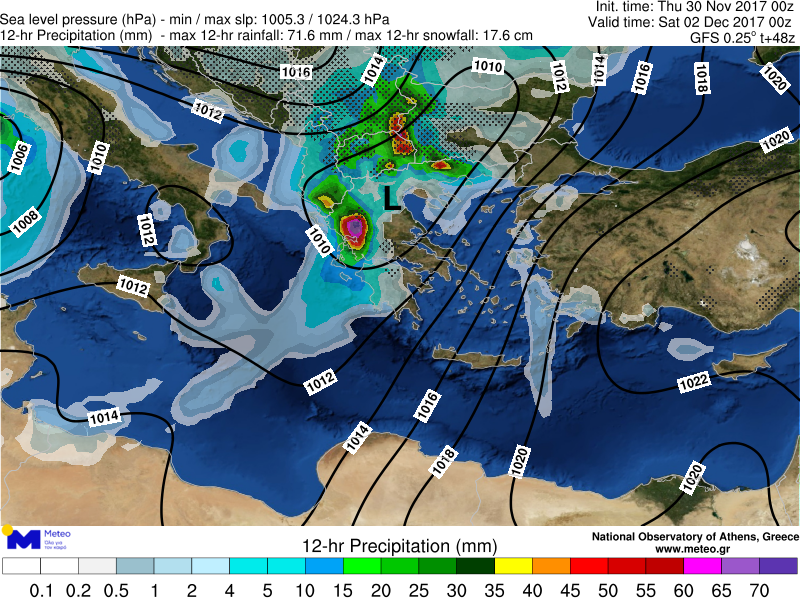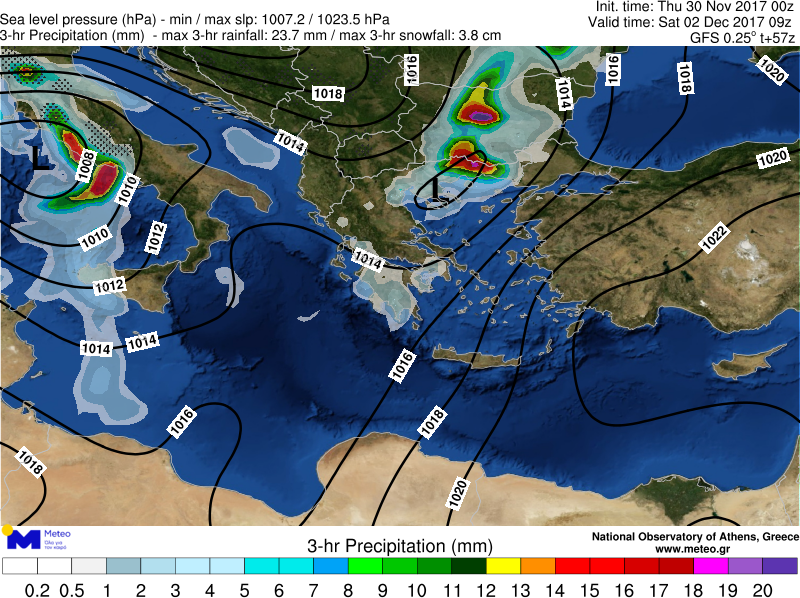 According to Greece' National Meteorology Service (EMY), the areas affected are:
Thursday Nov 30/2017
The islands in the Ionian Sea, Epirus, West Sterea and West Macedonia
Friday Dec 1/2017
In addition to the areas mentioned for Thursday, also: West and North Peloponnese, Central Sterea, West and North parts of Thessaly, the rest of Macedonia and Thrace.
Saturday, Dec 2/2017
Occasionally the West and North mainland, the Ionian islands, in the evening also the islands of the North and Eastern Aegean Sea.
Sunday, Dec 3/2017
In the morning hours Trace and by the evening also the islands of the North-Eastern Aegean Sea incl the Cyclades islands in the Central Aegean.
Weather service forecasts rain in Athens throughout Saturday and Sunday and storm Sunday noon.
Rain will continue on Monday in the eastern Aegean and also Crete. Temperature around 0 (zero)degrees Celsius on Tuesday and Wednesday, Dec 5-6, in East Thrace, Chalkidiki, Thessaloniki and North-West Macedonia.
WIND
From Nov 30 to Dec 3: strong winds locally up to 7 and 8 Beaufort in the Aegean Sea, locally more than 9 Beaufort in the North Aegean. (sea maps below).

Nov 30: south and south-west winds up to 7B or 8B in the Ionian and south Euboea Sea.
Dec 1: South winds up to 8B in North-East and central Aegean Sea and the Thrace Sea.
sources: emy, meteo, poseidon and others.