Heavy snowfalls have closed parts of national highways and regional roads and left several villages without electricity. Strong winds in the south Aegean and the Ionian Sea disrupt sea traffic.
Exactly as meteorologists forecast, winter started on Thursday with heavy snow falls and freezing temperatures in many regions of Greece.  Areas in Peloponnese, Fthiotida and Central Greece were covered with a thick white blanket.
Snow tires are required in many regions above 400-500 m elevation as it is snowing in Thessaly, Epirus, Sterea, Peloponnese and the high mountians of Crete.
Power outage occurred in Central Peloponnese leaving at least 12 villages in Kalavryta region without electricity.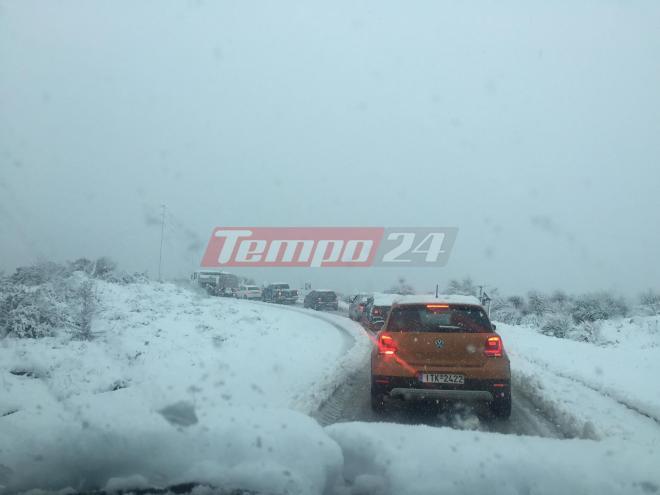 Bus with 34 passengers trapped in the snow in the national road Pounta-Kalavryta
According to local media Tempo24.gr, the bus is stuck in the snow for more than two hours.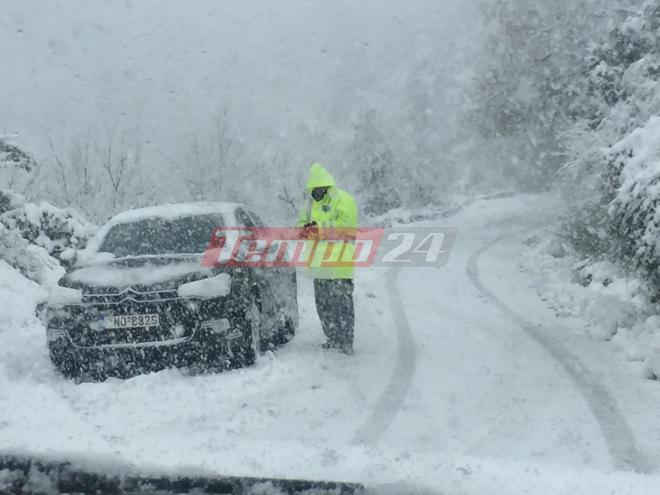 In many regions, vehicles need snow tires and whoever does not comply is at risk to be trapped in snowed-in roads. Like 30 motorists last evening in Chalkidiki.
It snowed all day and night in Pilion, above Volos, with the snow reaching above 50 cm.
Fthiotida, Central Greece Like a Christmas post card
Fthiotitha is one of the regions affected by the snow weather, where in many areas schools remain closed on Friday.
Snow has been falling on the Mountain of Parnitha in the outskirts of the Greek capital and snow tractors have been deployed in the north suburbs of Athens.
Snow-rain has been falling in the south suburbs.
Thiva, 30 km north of Athens
Traffic problems in Lamia-Athens highway due to snowfalls.
On the island of Crete, civil protection and local authorities are on alert as weather deterioration with stormy winds and thunderstorms, snow on the mountains and sharp temperature decrease is expected to strike the island from Friday to Sunday.
In its latest bulletin issued Friday noon, Greece's National Meteorology Service (EMY) warns of further weather deterioration expected to last until Sunday.
Strong winds 7- 8 Beaufort in south Ionian Sea, south-west Cretan Sea, 8-9 in Central and South Aegean, 9-10 B in the sea of Kythira.
According to meteo.gr, Heavy snowfalls are expected on Friday night: Chalkidiki, Thrace, Thessaly incl Larisa and Magnisia prefectures, South Epirus, Euboea, Viotia and Attica prefectures. Snow and frost is expecting those moving in mountainous regions.
According to latest reports, there is traffic jam also at Exit 8 of Athens-Lamia highway due to weather.
Many municipalities are opening heated halls for the homeless and those vulnerable society groups who cannot afford heating their homes.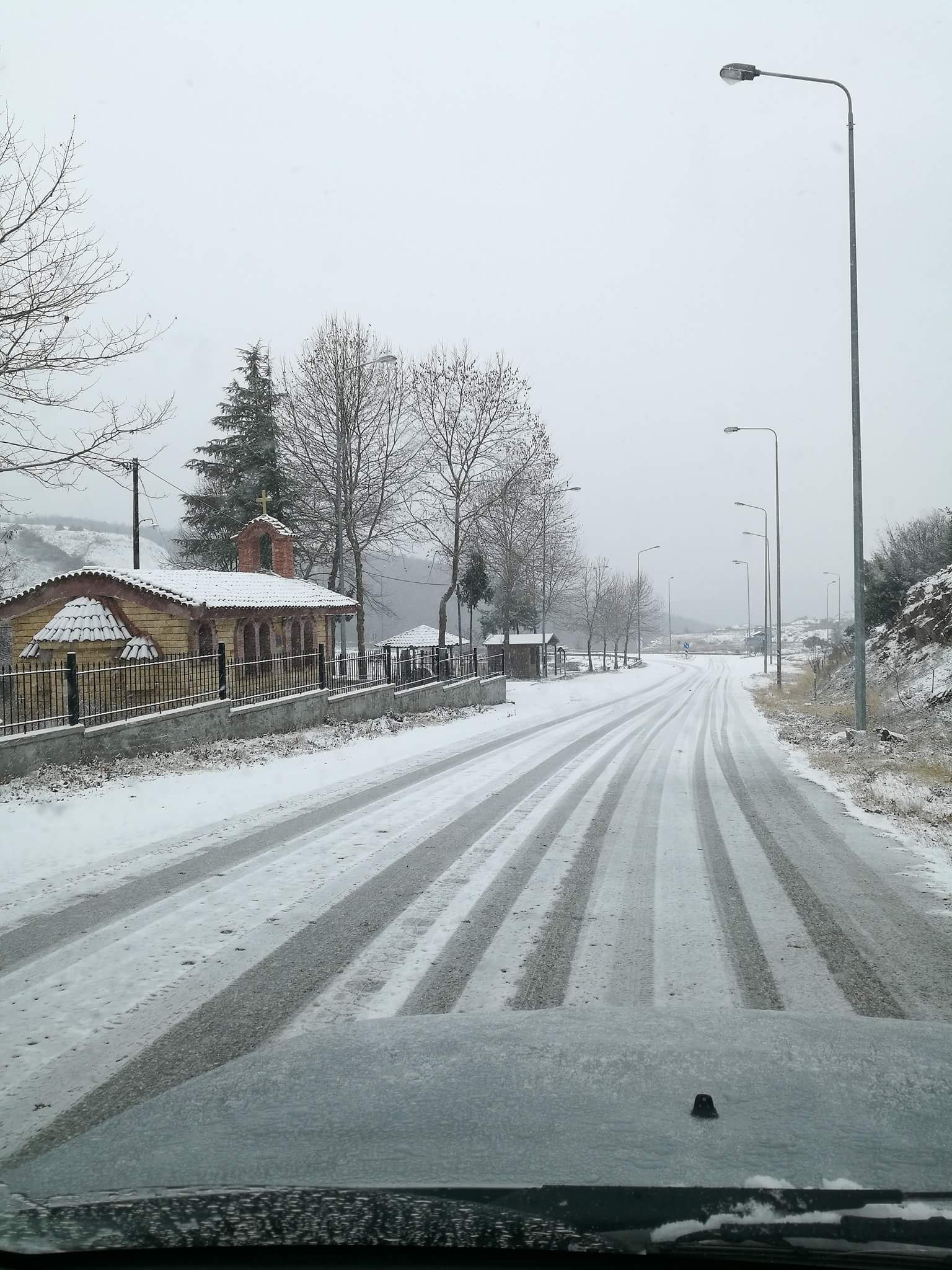 Snow in Chalkidiki via halkidikinews.gr
Some Greek meteorologist forecast snow also in Athens, at least in the north suburbs, in the night from Saturday to Sunday.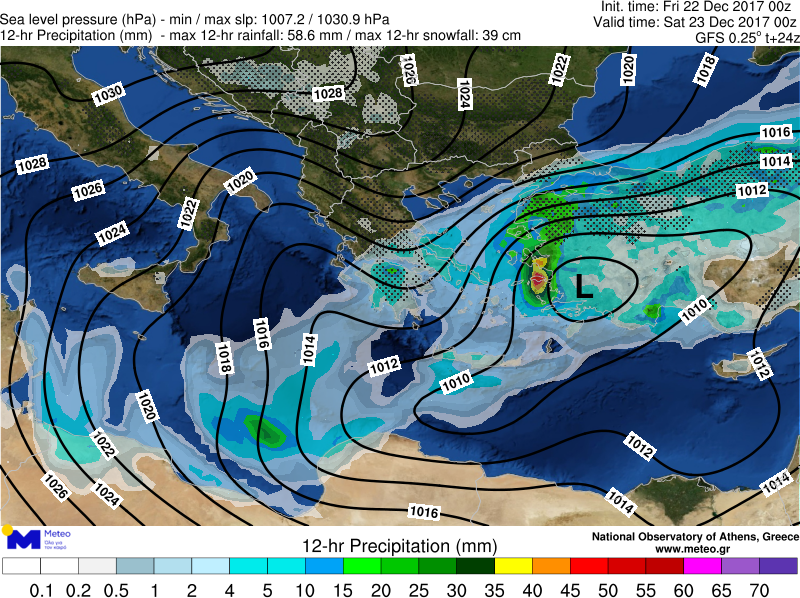 Amid the bad weather, four dinghy boats with 254 migrants arrived on the island of Lesvos on Thursday night.
Authorities warn those planning to travel by ship or ferry to contact local port authorities.
Thw lowest temperatures have been recorded in Metsovo, Epirus, and mountainuous Fokida, central Greece, with -8 C.
The weather forecast for Christmas Day is sunshine and temperatures between 14 and 15 degrees Celsius.