A series of tremors rattled Northern Greece on January 2nd 2018, with the strongest earthquake to have stroke with a magnitude of 4.8 on Richter scale.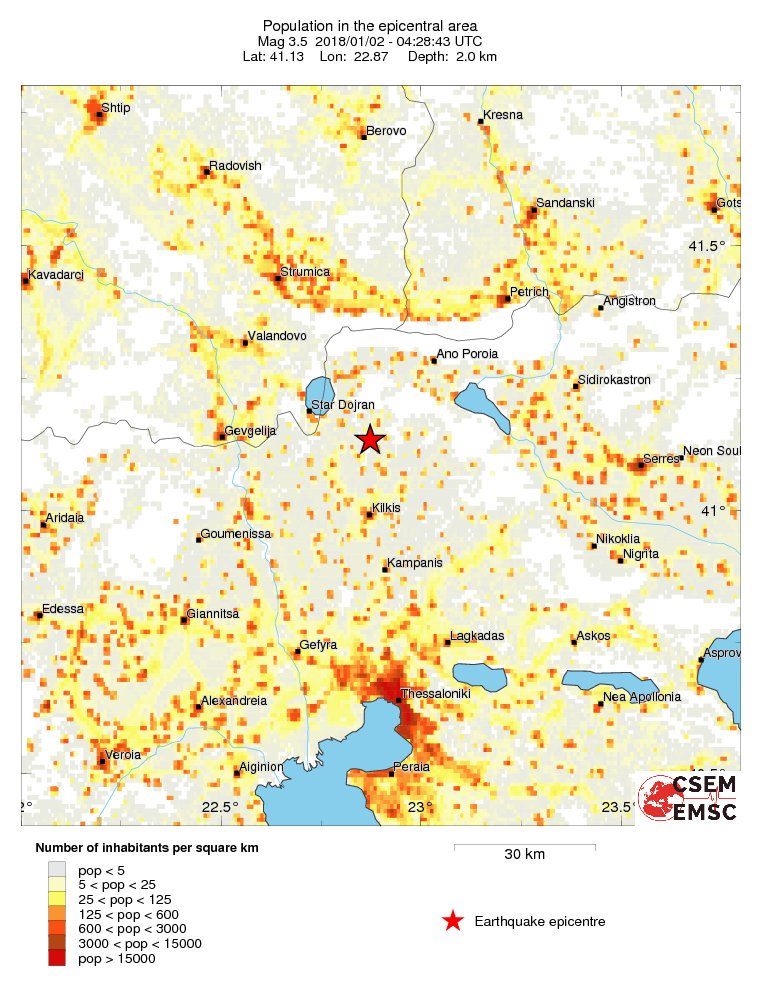 The earthquakes have been occurring between the lakes Doirani and Kerkini.
The epicenter was located 25 km north-west of Kilkis at a focal depth of 10 km.  The earthquake occurred at 6:24 a.m. Tuesday and it was the strongest in a series of tremors that started short after midnight. A few minutes later, another tremor stroke with 3.4R.
During the night, a total of ten tremors occurred in the area, by 10 a.m. more than 15 tremors had rattled the area. and had several citizens spent the night in their cars.
The first earthquake of Tuesday occurred 28 km North-West of Kilkis with 4R at 12:13 a.m with a focal depth of just 2km.
The tremors were felt in Thessaloniki and the broader area of Northern Greece as well as in neighboring countries like Bulgaria and FYROM.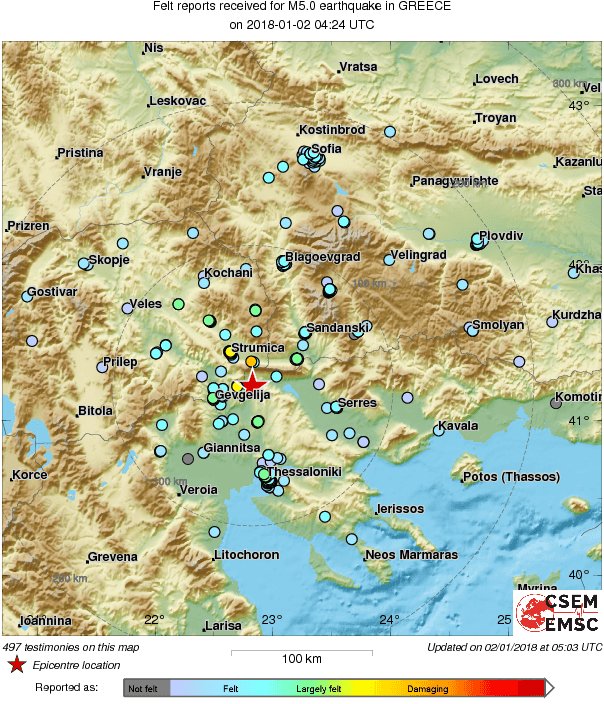 Several citizens in the area close to epicenter have reportedly spent the night in their cars.
No injuries have been reported, but some old houses have suffered cracks on the walls.
Seismologists say they expect the tremors to continue for the next couple of days, however, their magnitude is expected to remain at relative low levels.
Speaking to Athens News Agency, Efthimios Lekkas, Seismologist Efthimios Lekkas, Professor of Dynamic Tectonic Applied Geology and Natural Disaster Management of the National and Kapodistrian University, warned residents in the area to avoid entering old houses and buildings.
Seismologist Kostas Papazachos said that they remain cautious and expressed doubt the strongest tremor was the main earthquake.