Two middle-aged members of the municipality workers union POE-OTA and one teacher were arrested on Friday in Thessaloniki for the harassment of German Consul Wolfgang Hoelscher-Obermaier one day earlier. More detentions are arrests are most likely to take place as the prosecutor of the city in Northern Greece, gave order to arrest all involved in the incidents.
 On Thursday, protesters hurled eggs, coffee, water bottles against Hoelscher-Obermaier as he was heading to the meeting of the 3. Greek-German Assembly at the premises of the Exhibition Center-International Trade Fair.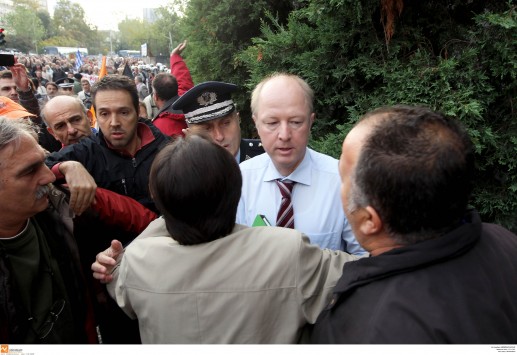 After the whole issue was over, the victim downplayed the incident with a diplomatic humor. "Somebody wanted to invite me for coffee," he reportedly told the media.