That was a very loud cry for help by somebody who literally cannot speak. A woman climbed a metal sculpture installation at Omonia square in downtown Athens on Tuesday morning and was threatening to jump. When the fire brigades and the police arrived to the spot, the deaf mute woman started to drop paper notes explaining the reasons for her act.
 via Twitter @makissinodinos
According to Greek media, the 35-year old woman is divorced, has two children and economic problems. She was communicating that she wanted to put an end to her life because she could not fedd her children 6 and 8 years old.
Video:
embedded by Embedded Video

YouTube Direkt
The desperate woman was hanging on the metal  installation under the heavy rain for almost one hour.
the loudest cry for help I've ever heard
As the communication of a police negotiator with the woman was impossible,  the former president of the Greek Deaf Federation was called to the spot. He and her mother managed to persuade here to give up. Men of the special fire brigade managed to safely take her down.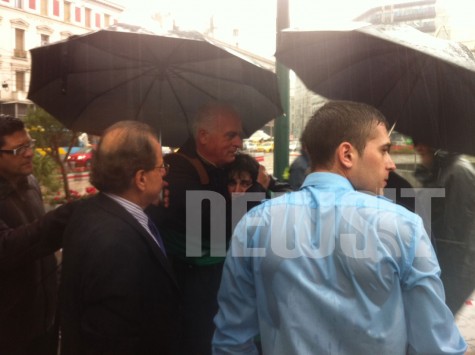 The president of Deaf Federation told reporters that the woman is not the only one in desperate situation because her social welfare allowances have been cut.
"All deaf  people in this country are in the same situation because they have not received their welfare allowances for the last 6-8 months."
Greece saw a sharp increase of suicides due to economic problems after the country sought the aid of the International Monetary Fund.
According to Greek Police from May 2010 until now, 837 suicides have taken place. Greek police answered a relevant question on the number of suicides posed by several MPs at the Parliament.
Odd enough, a month ago, the Ministry for Citizen Protection had given the number of suicides as 3,124 for the time 1.1.2009-28.8.2012. However, this data contained the cases of both suicides and suicides attempts.
PS rumors that the woman was convinced to give up her suicide plan after she heard that Greek political parties will receive state funding of 45 million euro do not confirm.
According to Finance Minister Yiannis Stournaras Greek political parties will receive the following  state fundings:
45,150,000 euro for 2012
 21,827,000 euro for 2013 
 19,978,000 for 2014
more pictures protothema, newsit