UPDATE 7. November 2013 Squads of riot police raided the ERT headquarters in the early morning hours of Thursday. In the presence of a prosecutor, some 50 sacked ERT journalists, technicians and supporters had to abandon the building. The Live Program of ERT occupiers was halted.
For updates on the police raid in ERT click here .
UPDATE II: It looks as if sacked ERT personnel is about to start live program directly from the …street outside the HQ.  The 'Live studio' has been set at the HQ main entrance right next to riot police.
The program will be transmitted through the internet.
Keep tuned for updates and links.
+++ Live stream from ERT (outside the HQ) you can see in the official website of the sacked ERT personnel ertopen here. However the transmission is occasionally broken due to high traffic.
7. Nov 2013
ERT live 9 o'clock NEWS with provisional studio set outside ERT HQ

news presenter, SYRIZA MP and riot police in the background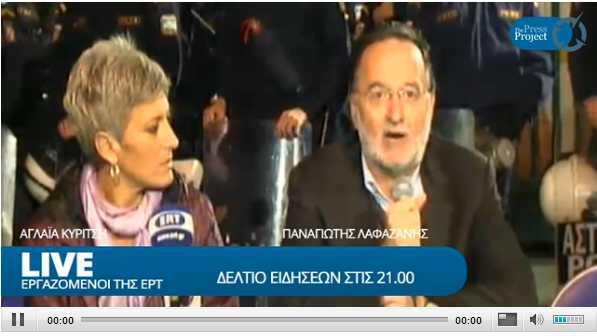 news presenter Kyritsi,  SYRIZA MP Lafazanis and riot police in the background
for Live stream click ertopen.com 
ERT Live Streaming concluded at 10:15 p.m. local time on November 7th 2013.
According to unconfirmed information, there may be a live program tomorrow, Friday, November 8th 2013 at 8:00 a.m. local time.
————————————
Journalists of shutdown public broadcaster ERT continue to be on air on 24-hour basis since Tuesday, June 11th 2013. In August, Greek government initiated the temporary public broadcaster EDT. Reason enough for the European Broadcast Union to stop transmitting the program of fired ERT personnel. However, Greek website The Press Project is transmitting the program via the internet and distributes the code free of charge.

via the Press Project

If it happens to stuck, refresh page.
You can also watch the program live through the official website of ERT personnel www.ertopen.com