Greek General Stab has reportedly ordered a large part of the country's F-16 fleet Block 50 to remain "on the ground" after the tragic accident in Los Llanos air base in Albacete, Spain, on Monday.  According to Greek media, the General Stab gave the order on Monday night, just hours after the F-16 crashed on parked aircraft short after it took off, killing 10 and injuring 21 people.
The 2-seat F-16 fighter jet took off and crashed while on height of 40 Ft. Media and eye witnesses reported that the F-16 suddenly lost thrust.
Greek Defense news websites know to report that
The F-16 took an incline to the right the moment if left the ground and that its right wing touched the ground.

Citing sources from the Greek Air Force, website

onalert.gr

notes that under the right wing a fake rocket anti-radar Harm missile was attached. The sources, speculate that there might have been some problem with the loading of the aircraft 'weapons'.

Further speculations claim

a) a "foreign object" may have caused the engine to stop (most possible scenario)

b) a serious problem in the jet rudder (less possible scenario)

Investigations on the F-16 Block 50 on the ground will focus on the Fly By Wire (FBW), 

) the system that replaces the conventional manual flight controls of an aircraft with an electronic interface."



The 2-seat F-16 was from the 341 Squadron of the 111th Combat Wing in Nea Anchialos.
An investigation team from the Greek Air Force has traveled to Spain to assist the Spanish investigators.
Greek Defense Ministry announced a 3-day mourning for the death of pilots Captain Panayiotis Laskaris, 35, and Captain Athanasios Zagkas, 31.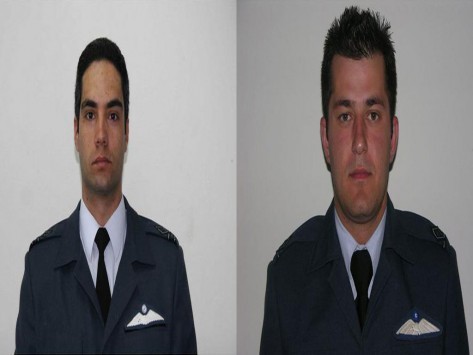 The Greek fighter jet crashed into 3 French Mirage and 2 Italian Alpha Jets parked at the Los Llanos airbase, and as it was fully tanked it triggered a series of explosions and a fire.
The two pilots on board of the Greek F-16 were killed on the spot along with eight French air force members on the ground. One more French man died on Tuesday.
Twenty French and Italian citizens were injured and four remained hospitalized Tuesday in Madrid undergoing treatment for severe burns, the ministry said.
The Greek F-16 and the military personnel at the base were taking part in an annual one-month training exercise called the Tactical Leadership Program.
Spain has been hosting NATO's Tactical Leadership Program (TLP) with the participation of pilots and aircraft from Greece, Belgium, Denmark, France, Germany, United Kingdom, Italy, Spain and United States. The training exercise was scheduled January 19th to February 13th 2015.

Three more Greek F-16 and staff consisting of 41 people were deployed in Los Llanos to participate in the training exercise.