Flour, sugar, pasta, rice, milk and canned tomatoes, food items that do not expire soon are been hastily removed from the super-market selves and land into the housewife's basket. "There was quite some queue at the cash register and people had their baskets full of pasta, sugar and flour," a friend told me on Monday. Rania made her "Greek crisis arrangements" too, bought in addition "lots of frozen food" and vegetable cans and chocolates for the kids. She had withdrawn a larger amount of money last week, Friday morning, exactly, panicked by the rumors spreading from mouth to ear, from smartphone to land-line, from social media to email. Rania paid the supermarket cash she told me, 70 euro. She rushed to the supermarket Monday morning, despite the fact that she had done the family's groceries shopping on Saturday. "I got scared that the supermarkets may close, that there will be no food to buy," the mother of two explained her fears.
 Picture by Andreas, shot 5-6 pm Saturday, June 27. in big supermarket outside Athens.
With banks closed as of Monday morning and withdrawals from ATMs limited to €60 per day, half of Greeks seem to queue outside banks and ATMs and the other half outside petrol stations and supermarkets.
Supermarkets declared a 20% consumption increase last Saturday, and 15% increase on Monday.
ATMs started to operate again as of Monday afternoon and people orderly lined up to get their daily portion of euro bank notes.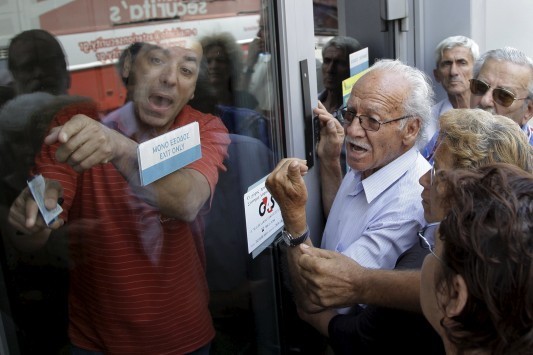 Pensioners outside a bank branch
At the same time, thousands of elderly took place outside banks awaiting for them to open so that they can withdraw their pensions. Majority of elder pensioners has no debit card, making withdrawing money from ATM impossible.
The branches of the four systemic Greek banks were supposed to open for Pensioners Only today in order to provide with money the vulnerable groups of the society.
However, the older men and women stood queue in vain on Monday. According to latest information, the banks are not expected to be opened before Wednesday or Thursday and in addition the pensioners will not be able to withdraw the whole pension amount. Private Mega TV said that "pensioners will be allowed to withdraw accumulative the daily €60-limit, that is €180 if banks open on Wednesday and €240 if open on Thursday."
Further clarifications are due because the bank holiday may end on July 7th, but the capital controls are expected to continue. Many pensioners "feed" with their pensions younger family members plagued with unemployment or part-time jobs and salary payment delays.
   People outside banks
Yet there are also people who are not pensioners and have no debit or credit card and they have to be facilitated to withdraw money during the bank holiday.
The panic triggered by the banks closure and the capital controls sent also a good portion of Greeks to the petrol stations. "Full tank" – "Pay Cash" was the dialogue often heard between motorists and petrol attendants.
Payments and transactions with credit or debit cards are unlimited, however while customers would love pay non-cash, sellers prefer cash to money that may disappear into closed banks corridors and accounts that allow you to pick up very limited money.
There are several reports that also some supermarkets refused non-cash payments a now a new problem arises: what to do with the thousands of euro bank notes accumulating in businesses cash registers.
The Finance Ministry is reportedly trying to find solutions to this problem too. One of the many problems and growing problems caused by the new situation.
Due to the increased demands on fuel, some petrol stations run dry. The problem is reportedly to be solved by early Monday evening, Greece's biggest fuel provider ELPE issued a statement assuring of "adequate fuel supplies" and that ELPE Brand stations accept accept credit cards.
With Greeks dried of cash and private financial obligations awaiting to be met, many worry about the immediate future. "I have these arrangements with the tax office, but have no money to pay my tranche, what now?" a friend asked me and another "Should I pay my rent and my utilities bills?" Questions posed again and again by Greeks who experience a never-before situation. "Will I get my pension???" a screaming aunt phoned me as early as 8 o' clock in the morning. Other worries about the family benefits that were supposed to be on the bank tomorrow, others about their salary from private sector paid via the bank.
Some Greeks seem to worry with and others for no reason. According to Greek media, tax offices will not add fines for delayed tranche payments, the Water Company has received orders to not cut water supplies to debtors.
Yet uncertainty and fear are growing. A friend is preparing to send her two children to the grandparents in the village. "It's better for them there", she said refraining from further explanation. Another friend "sent" already on Friday his elderly to the village home. "It's safer for them there, safer than in Athens and they don't need much money to get along."
Theft has recently increased, once news "Greeks have been massively withdrawing money" spread though the media. "Greek Police said theft has increased very slightly" the reporter of a Greek broadcaster said Monday noon.
For one and a half month, relatives and friends have been continuously reporting of thieves tricking older people. The Greek Police is said to be on alert, guarding outside banks and ATMS and reportedly will even accompany elderly at home if they manage to withdraw their pensions.
PS The only places with no queues are the tax offices and the Public Power Company branches, I hear.