A powerful earthquake measuring 6.1 magnitude on Richter scale hit the island of Lefkada in the Ionian Sea, western Greece. The earthquake occurred at 9:10 a.m. on Tuesday morning. The earthquake occurred in a depth of 5 km and the epicenter was 23 km in the West of the island, some 20 km from the city of Lefkas.
Tragedy in Ponti: a rock caused a hole in the house of a 65-year-old woman killing her immediately.
The tremor was felt also on Corfu and surrounding geographical areas but also in Ilia, south-western Peloponnese, and in some suburbs of Athens.
Video from nearby island of Kefalonia during the earthquake. Man shouts "Oh my God!"
embedded by Embedded Video

YouTube Direkt
According to preliminary reports, there were no human injuries or material damage, however this could change due to the power of the tremor.
State ERT TV reported at 10 a.m. that 'one woman has been missing' and that 'many items in households and businesses fell down'.
* The 'missing woman" was found dead in Vassiliki village in the south of the island. "Most likely she was hit by falling rocks," ERT TV reported.
According to reports from the area, a church has collapsed, but also houses and shops suffered damages. Some roads have been blocked by fallen rocks.
Half of the Vassiliki port has reportedly "disappeared."
The road of Engramnous has been damaged due to landslides.
A power column has fallen and injured a woman.
Landroad in Peykoulia between Agios Nikitas & Tsoukalades via mylefkada.gr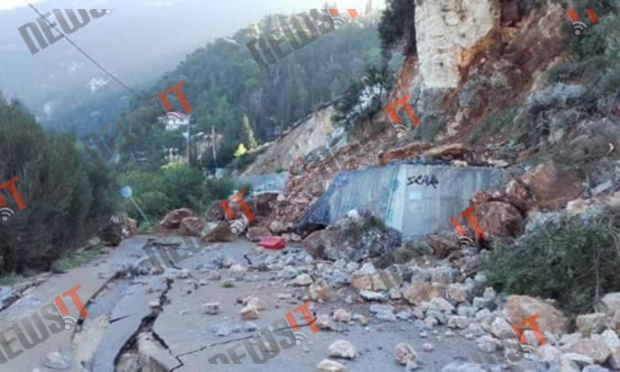 from newsit.gr
The number of dead has increased to two.
UPDATE 4:20 pm

Deaths

One woman, 65, was killed when a rock coming from the mountains fell on her house in Ponti area of Vassiliki village. The woman was immediately killed. Apparently she was at home with her children and grandchildren and she was the only one who didn't manage to leave the home at the time of the earthquake.
Another woman, 82, was killed in Athani village, when her home collapsed.
         Injuries
 Four people have been slightly injured: a boy, 10, from Lygia, a boy,12, from   Vassiliki,  a woman, 88, from Pinakochori and a man,45, from Lefkada.

State ERT TV reported at 9 pm the number of injured was 8.
The first earthquake of 6.1R occurred at 9:10 am, a second one, a moderate of 5.2R at 10:33 am. Reports of continuous aftershocks.
Total collapse: Church of Agia Parakevi in Athani.
More pictures in lefkadapress.gr
Greek seismologists see connection with the fault line of Kefalonia that triggered an earthquake of 6R on 26th January 2014 causing severe damage in the infrastructure of the island and injuring 16 people.
Stay tuned with KeepTalkinggreece.com for the latest Updates…
As the site has quite a number of visitors from Lefkada,
      I hope, everyone is well and safe !