The Olympic flame for RIO 2016 Summer Olympic Games was lit earlier today in the ancient site of Olympia in Peloponnese. The Lighting Ceremony was performed by actress Katerina Lehou who lit the torch using a parabolic mirror to catch the the sun's rays.
The torch was lit within seconds.
Lehou in the role of an ancient Greek high priestess offered a pray in Modern Greek to Ancient Greek God Apollo, the God of sun and light.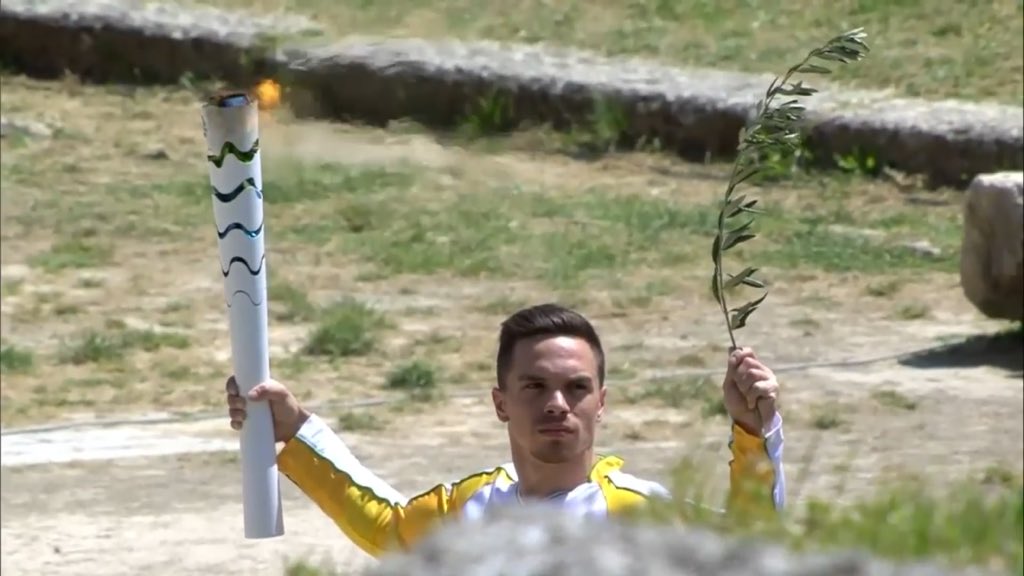 She handed out the torch to Greek world gymnastics champion Eleftherios Petrounias, the first runner in a torch relay that will conclude at the opening ceremony in Rio's Maracana Stadium.
On April 26th, a refugee from Elaionas Refugee camp will  carry the torch. According to state broadcaster ERT, this year refugees will participate to the Olympic Games in Rio under the flag of International Committee for the Olympics.
    The detailed Torch Relay – the Greek route
The torch relay in Greece will last from April 21st until April 27th. The torch will be handed over to Brazil in a ceremony at the Panathinaikon Stadium in Athens on April 27th.
The torch will be carried by various runners to several sites and will light the opening ceremony of the Olympic Games in Rio de Janeiro on August 5th. The flame will burn for the whole duration of the Games.
Brazil President Dilma Rousseff was forced to cancel her trip to ancient Olympia because of the impeachment threat she faces.
In Ancient Greece, the Olympic Games were dedicated to Zeus and the flame was commemorating the theft of fire from the Greek god Zeus by Prometheus. The fire kept kept burning throughout the celebration of the ancient Olympics.
The tradition of the Olympic Flame was reintroduced during the Olympic Games in Amsterdam. An employee of the Electric Utility of Amsterdam lit the first Olympic flame in the Marathon Tower of the Olympic Stadium in Amsterdam.
The modern convention of moving the Olympic flame via a relay system from Greece to the Olympic venue began in 1936 in Germany. Carl Diem devised the idea of the torch relay for the 1936 Summer Olympics in Berlin that was organized by the Nazis under the guidance of Joseph Goebbels.
More information about the history of the Olympic Flame here.
Details and dates of the Greek route you can see here – and join the crowd 🙂