Never seen this before: a docked ferry sinks inside the port. The ferry boat "Panagia Tinou" started to sink inside the port of Piraeus on Tuesday morning. The ferry of Ventouris Sea Lines had been docked at Gate E4 when it started to lean on its right side after sea water entered inside after a rift.
Two tugs came to help, fire brigades rushed to pump the water.
The unprecendeted incident started at 11:15 a.m.
Other ferry boats and passenger ships docked next to Panagia Tinou were ordered to sail move away from the spot.
A ferry boat of Blue Star Ferries is moving away…
The ferry boat belonged to Ventouris Sea Lines but it was confiscated due to financial problems. In January 2015 the ship had sailed to the island of Kythira but the journeys stopped after unpaid ship workers won the case and retention measures were imposed. Ever since, the ferry boat has been docked in the port of Piraeus.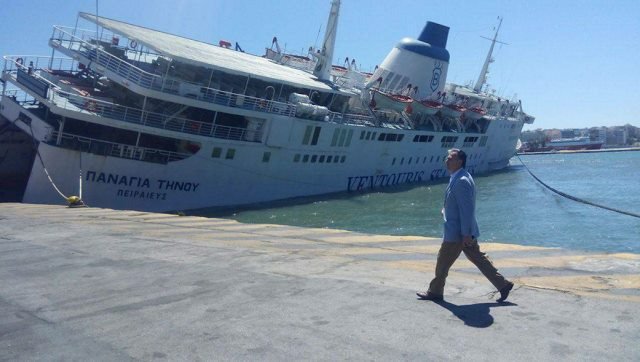 Apparently there was no worker on the ship during the incident.
The efforts of tugs and fire brigades are reportedly continuing.
However… pictures 3 hours later show this!
The ship was built in 1960 and has changed many names and shipping companies ever since.
Video: Rescue operation
It doesn't look so as if they will manage to bring it in correct position.
UPDATE 27/4/2016
A new research to find the fault that caused the water inflow is expected to be conducted by divers today. The aim is to seal the fault and implement a plan to pump the water. Yesterday, divers were unable to locate the spot because of the thick mud in the port waters. The water depth there is estimated to be 8 meters, while the ship's height is also 8 meters.

Floating anti-pollution barriers have been installed around the ferry, while two anti-pollution boats and two tug boats are monitoring a possible fuel leakage. with estimations speaking of an "undetermined small amount of fuel in the ferry."

Apparently one of the guards of the ferry had informed the Sailors Insurance Fund(NAT) about the incident and the NAT had informed with an official letter the Maritime Ministry already on April 18th 2016. The Ministry was warned about "the water inflow and the leaning to the right."
PS oh dear, we spent hours and hours on this ship sailing in the Aegean Sea and the Greek islands. I think, last time I was on board (a couple of years ago on the way to Patmos) it was so terribly slow that I had to check watching carefully the tiny waves to confirm that the ferry was indeed moving.