European Union member-state Austria narrowly escaped a far-right president: independent candidate Alexander Van der Bellen has won Austria's presidential election, preventing Norbert Hofer from becoming the EU's first far-right head of state.
A thriller of voting results on Sunday had Hofer leading narrowly the race with 51.9% and 48.1% for Van der Bellen, Austrian interior ministry said, after counting on Sunday.
  Van der Bellen
However it was the 750.000 postal votes – roughly 12% of Austria's 6.4 million registered voters – that determined that the far-right candidate had lost with a difference of some 3,000 votes.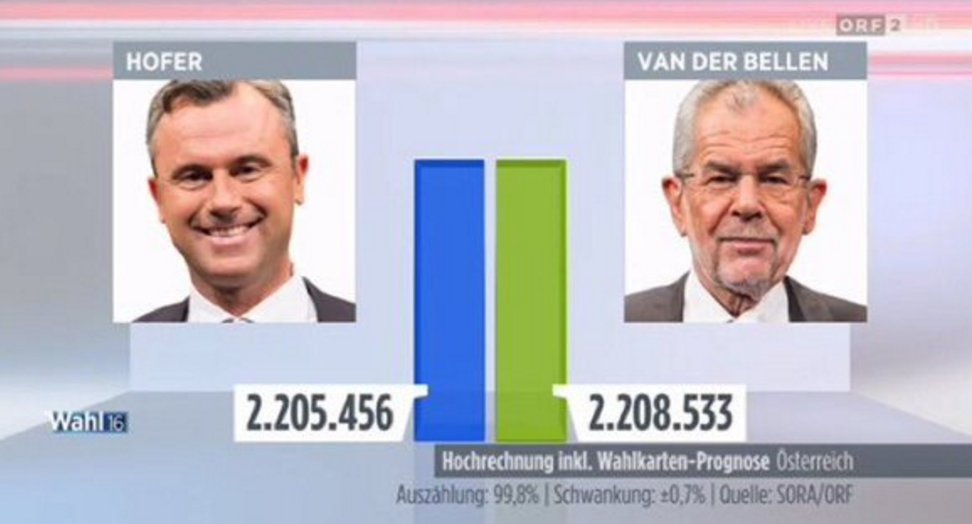 Van der Bellen campaigned on a pro-EU platform, backed by the Green Party.
Alexander Van der Bellen's parents arrived in Vienna as refugees after fleeing Soviet invasion of Estonia in 1940. #twist #bwp16
Hofer, of the Freedom Party, had tapped into anti-EU sentiment and fears about rising numbers of asylum seekers.
The presidency is largely a ceremonial post, but the president has the power to dissolve the National Council – the more powerful lower house of parliament – and so trigger a general election.
Sunday's election highlighted sharp divisions in Austrian society.
Van der Bellen came top in nine out of Austria's 10 main cities, while Hofer dominated rural areas.
Men and working class voters favored Hofer, women and educated classes Van der Bellen.
Austria may have escaped a far-right President but still, the high rates for Hofer cause concern. Not only to Austrians but also to democratic Europe. The rise of nationalism is not just a ghost that wanders around in empty hounded houses.
Meanwhile, in Cyprus, the sister party of Greek far-right Golden Dawn entered the Parliament for the first time, with 2 seats.