For third consecutive day Greece remains in "deep freeze" with snow falls and temperatures below the freezing point. The extreme weather front "Ariadne" crashed over the country with polar air masses at -12 degrees Celsius.
The unprecedented weather front caused heavy snow falls from North -Macedonia – to the South – Crete- and from East – Lesvos-  to the West -Kefalonia- even at low altitudes right next to the sea.
Sporades islands in western Aegean Sea
Residents on Skopelos claim they have have never seen such heavy snow fall in last 100 years.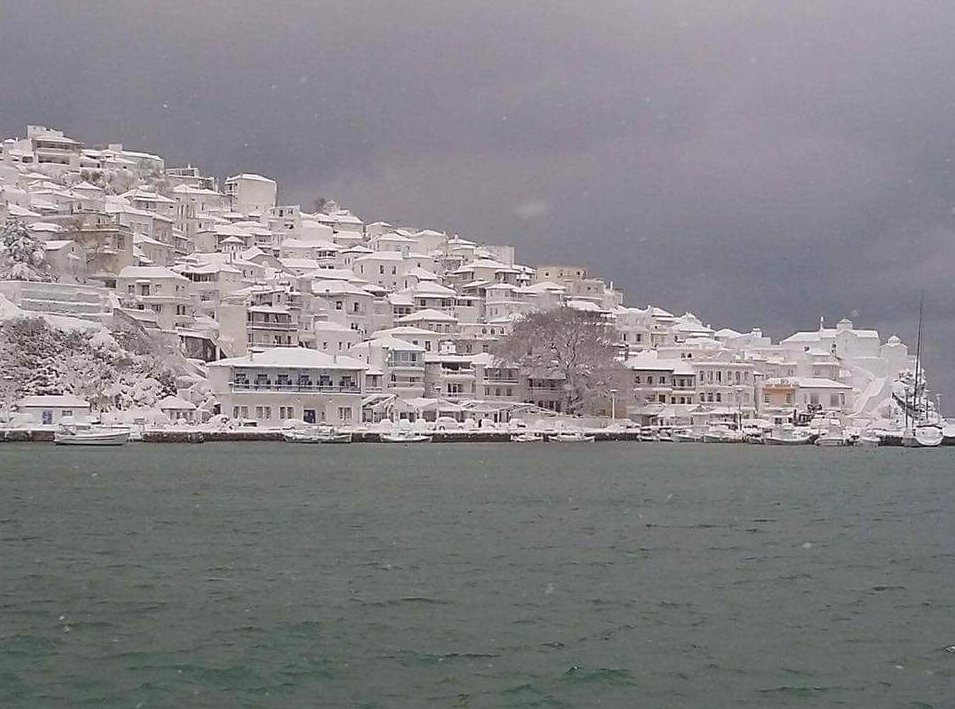 Due to extreme weather conditions, State of Emergency has been declared on the island of Skopelos, neighboring island of Alonissos and Kymi prefecture on Euboia since Sunday.
Many households on Skopelos have been without electricity and water for the last three days.
In a great blog from the island of Skopelos, I found a wonderful report and pictures on how it is to live in a snowed in village.
Report from Monday morning, Jan 9th 2017:
"This is the third day that we probably will spend indoors most of the time. Why? Because we are snowed in and the roads in Raches and around Agios Konstantinos are not passable yet with a car. The municipality has asked everybody who does not need to go anywhere to stay inside. We still have electricity, the area Karavotzakisma and Ampeliki don't have electricity and water but, our water pipes now are frozen because they are not buried far into the ground. Fortunately we have many water bottles and some pans with water in them.

We have water from our sisterne/water reservoir so toilets can be flushed and if we want to take a shower we can throw warm water over ourselves! It must be very difficult for those who don't have a second water source.
The fireplace has been lighted three days ago and has been burning ever since. You really need it in times like this, it gives you warmth and you can use it for cooking.
Television we watch via the Internet because the television poles on mount Palouki are down or broken or not giving any signals anymore because of the snow. At the moment we don't know the situation on the roads but we will give you updates during the day."
"This is Mandraki beach on Skiathos. The photo is taken by Nikos Mavropoulos.
Christina from Skiathos tells us that Skiathos does not have that much snow. It is cold though. They also were without electricity some time and without water too."
More stories and pictures about the situation on Skopelos directly by SkopelosNews.
Great job! Stay safe!