Prince Charles and wife Camilla continue their summer vacations in Greece. After a couple of days they spent as guests at the Rothschild' villa on the island of Corfu, they left on board of a luxury yacht and other seas.
From Ionian Sea, they are now sailing the northern Aegean Sea around the peninsula of Chalkidiki.
Prince Charles reportedly visits churches and monasteries in Mount Athos, while the Duchess of Cornwall stays on board.
The 'autonomous polity' of Mt Athos does not allow women to set foot on their holy monks' republic.
From an older visit to Mt Athos via voria.gr
The luxurious yacht is seen anchored off  Sithonia and Athos.
When Charles returns from the visit to the holy monasteries, the couple makes daily excursions, walks though picturesque villages or just enjoy Greek cuisine right next to the sea.
Local media report that Charles and Camilla visited the only inhabited island of Chalkidiki, Ammouliani. After dinner at one of the restaurants in the area of Megali Ammos, they enjoy a drink at a local bar.
A big entourage accompanied Prince Charles and Camilla from the yacht to Ammouliani and the other way around.
According to local media halkidikifocus.gr, the royal couple used this boat for its excursion.
Greek media follow as closely as they can the visit of the British royal couple. Beginning fo the month, they posted reports and pictures from a dinner that took place on the yacht of Greek croisus Theodoros Aggelopoulos and his wife Gianna.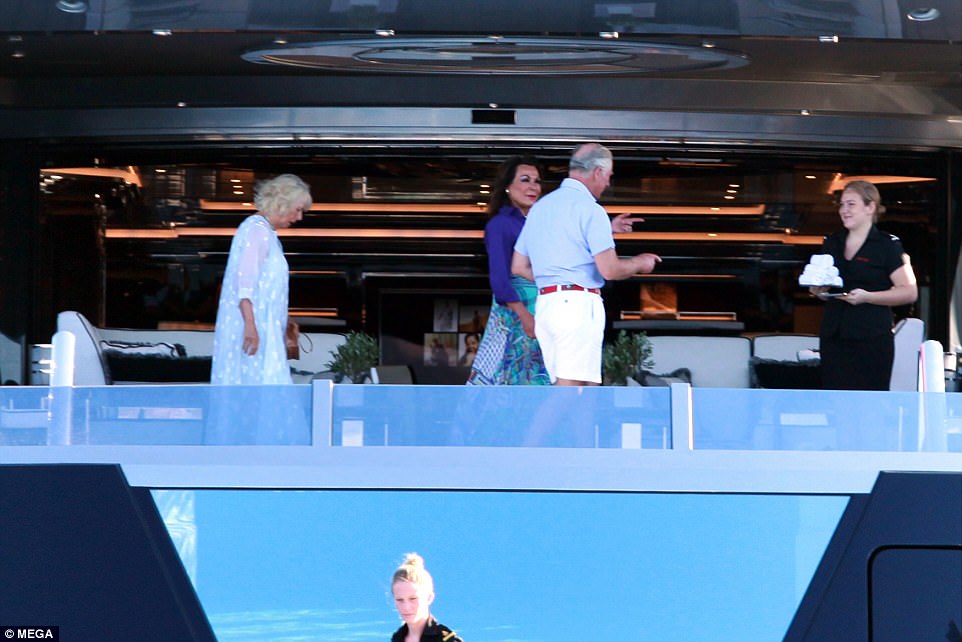 via iefimerida.gr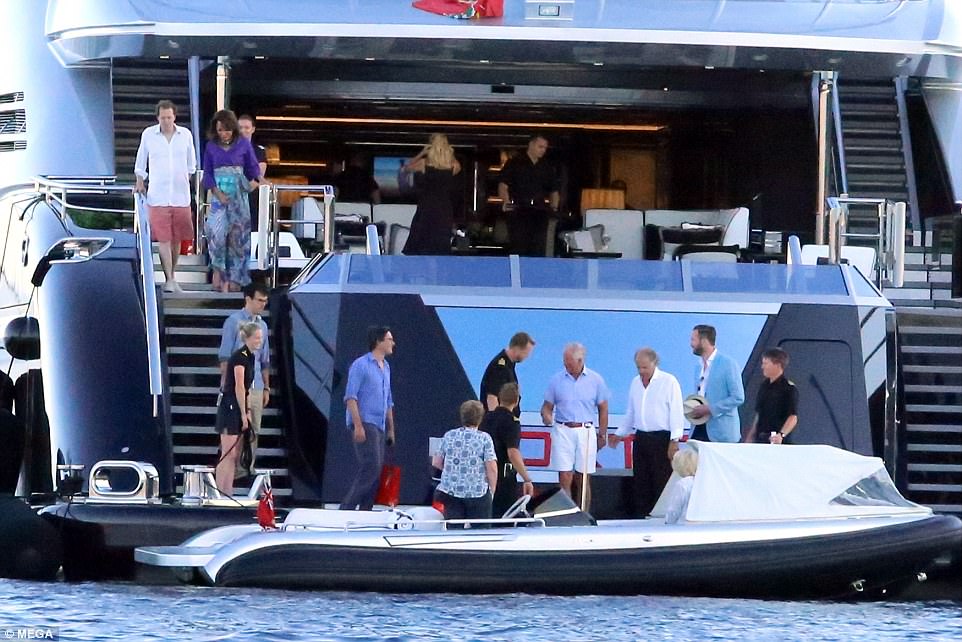 The Prince of Wales and the Duchess of Cornwall arrived at the airport of Corfu on July 26th.
Mt Athos – Prohibition on entry for women
There is a prohibition on entry for women, called avaton (Άβατον) in Greek, to make living in celibacy easier for men who have chosen to do so. Monks feel that the presence of women alters the social dynamics of the community and therefore slows their path towards spiritual enlightenment.
The ban was officially proclaimed by several emperors, including Constantine Monomachos, in a chrysobull of 1046.
In the 14th century, Serbian Emperor Dušan the Mighty brought his wife, Helena of Bulgaria, to Mount Athos to protect her from the plague, but she did not touch the ground during her entire visit, as she was carried in a hand carriage all the time.
A 2003 resolution of the European Parliament requested the lifting of the ban for violating "the universally recognised principle of gender equality".
Female animals, chickens, cows, ewes, nanny-goats, mares, and sows are also barred except for female cats, female insects and female songbirds.
In the 20th century, several women managed to enter the Holy Mountain of Athos. When they were discovered, they were expelled but the monks forgave them.
PS I suppose it is difficult if not impossible to ban flying female birds, not to mention the bees producing the famous Mt Athos honey, which is also called "Blessed Honey."