Homes and tourist facilities were evacuated late Wednesday night after a wildfire threatened houses in Lourdas in the south of the island of Kefalonia in the Ionian Sea. Also the village of Simotata is to be evacuated.

People on the streets waiting to be trasnfered to safety.
Two more fires in Karavado and Trapezaki were under control.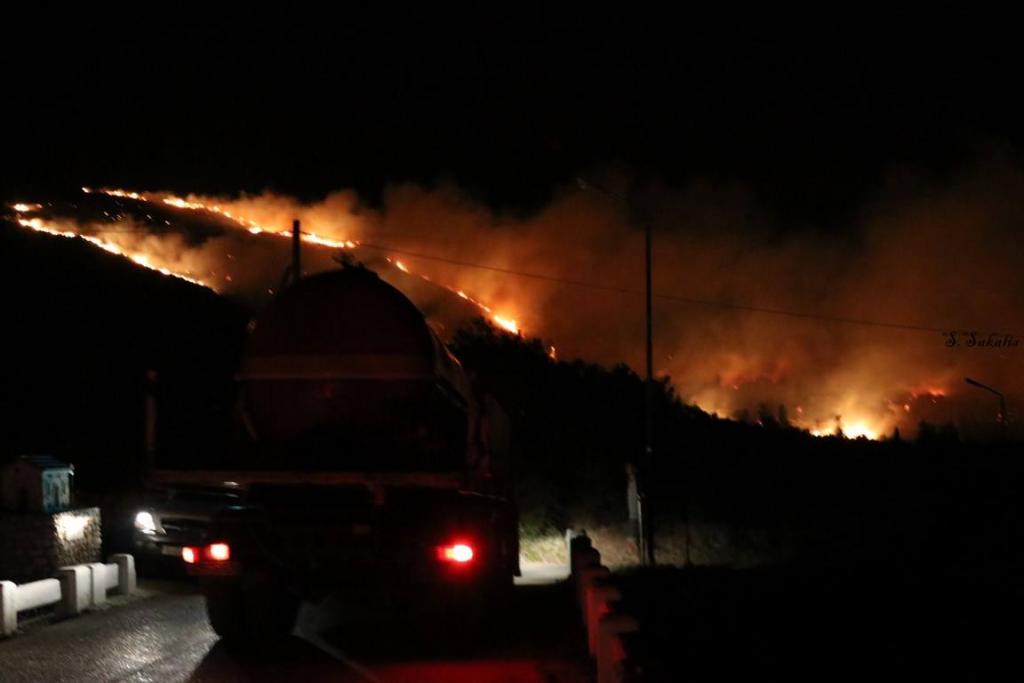 Short before midnight, local media report that buses were awaiting in Vlachata to transport locals and tourists to Argostoli, the capital town of the island.
Additional firefighters and trucks are expected to reach Kefalonia around 2:30 in the morning. The ferry is scheduled to leave Kyllini, Peloponnese, one hour after Wednesday midnight.
Traffic police has closed traffic in Poros – Lourdata-Simotata and Vlachata in order to facilitate the work of the fire brigades.
The fire broke out around  8:30 in the evening between Vlachata and Simotata at the foot of the Mountain Ainos and spread quickly due to strong winds.
Power outage occurred in several areas around Leivathous around 9:50 p.m.
Firefighters, volunteers, members of the civil protection struggle to take the wildfire under control. Due to night, aerial means are not able to assist with water dropping.
Speaking to state broadcaster ERT, deputy regional governor Panagis Drakoulogkonas said short before 1 a.m. Thursday that "the wind direction bring the blaze towards Argostoli." He expressed hope in the support firefighters on the way to Kefalonia and that aircraft can start water dropping in the early morning.
By 1 a.m. Thursday there was no official conformation that the blaze has burned down houses.
Local media speak of 'arson'.
+++ Two new fires broke out in early Thursday. One at 1:20 a.m.in Ratzakli, one at 1:46 a.m. in Kateleio. "What is happening tonight is unprecedented," writes inkefalonia.gr
According to local media, more than 35 wildfires broke out alone in the last couple of days.
UPDATE 08:15 a.m.
With the first daylight, water dropping aircraft and two helicopters joined the battle against the blaze. The first aerial water dropping started at 6:42 a.m.
Firefighters were struggling all night to extinguish and limit the wildfire.
More firefighters are being deployed from other regions in the mainland.
The general situation has improved, the strong winds have calmed down.
Athens News Agency reports that the wildfire is under control.
According to local media information, some suspects for arson have been detained.
Authorities have forbidden access to National Forest of Ainos from 08:00 a.m. Thursday, August 17th, until 08:00 p.m. Sunday, August 20th 2017. The area is off limits for vehicles and visitors.
Read: Local authorities cry "Arson!" as two wildfires rage in Kefalonia Thursday night.
More than 40 wildfires broke out in Kefalonia within one week, state broadcaster ERT reports on Friday.
sources and more pictures: inkefalonia.gr, efimeridakefalonia.gr, kefaloniapress.gr.