Police and fire brigades arrested two arsonists this week as wildfires rage across the country. One arsonist was caught red-handed on the island of Corfu, the other was arrested on the mountain of Parnitha, north of Athens. In his car he had a whole arsenal of flammable material.
Investigating officers of Corfu's fire brigade arrested a man in the early hours of Friday who had just set fire to reeds in an agricultural land in Pyrgi Agiou Markoy Faiakon at the northern part of the island. He had used matches to set the fire.
The 30-year-old man, who confessed his actions to the officers, had also tried to set three more fires in nearby fields but didn't succeed.
The prosecutor ordered for the man to be sent to a psychiatric clinic for evaluation after it was revealed he has psychological problems.
Tuesday morning August 15th, a 63-year-old civil servant was arrested at the Mountain of Parnitha on suspicion of planning an arson in one of precious forests surrounding Athens.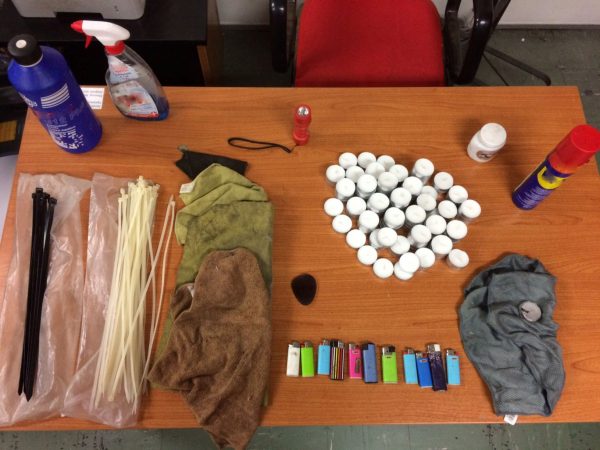 The man was located by police forces conducting forest fire monitoring and observation. In his car parked in a forest area where access was forbidden due to high risk of forest fire, police found among others:
11 lighters
98 candles
5 pieces of cloth, one of them tied to a candle and a piece of wood
1 spray with flammable liquid
42 tire-ups
a dark crystal lens, sunglasses, a plastic jar with vaseline and a plastic canister with a liquid.
A home search revealed a whole arsenal of material that can trigger fire, when used alone or in combination: lighters, slow burning matches, flammable liquids, firecrackers, plastic bottles with gasoline etc.
Police investigates whether the man was involved in past wildfires on the same mountain, especially last April, where similar fire setting mechanisms were found.
"I like to light vigil lights," the man reportedly told police during the interrogation. According to some media, the man claimed he liked to perform voodoo in the forest.
He is working for more than three decades at a department of  the labor ministry in Chalandri, suburb in north Athens.
He is charged with violation of law for arms, fire flares, firecrackers and others.
Investigation continues.
Hundreds of wildfires have occurred this summer across the country and have burned down hundreds of thousands of forest, low vegetation and agricultural land.
In 2016, 7.083 wildfires occurred burning down 365,860 acres. In 2015, 6,499 wildfires burned 162,961 acres.
sources: amna.gr, hellenicpolice.gr, and others