Black Wednesday for thousands of bank debtors. Electronic auctions start today, November 29th 2017, under the tight pressure of  Greece's lenders. With one "click" properties will change hands in the silent world of internet and no anti-auction activists will be able to chant "no home to banker's hands" or harass notaries in the country's court rooms.
The electronic auctions refer to bank loans obtained by small and medium-size enterprises and are worth 3.5 billion euros.
Among the debtors are entrepreneurs who have been destroyed by the financial crisis but also notorious "smart Greek welshers" who took loans believing they never have to pay them back.
The e-auctions procedure commenced today at 10 a.m. with 18 commercial real estate properties to have been "uploaded" on the relevant government website e-auctions.gr
Skai TV reported that the very first e-auction affects a real estate (house) worth 6 million euros, incl 5 parking plots and one storage room. The foreclosed property belongs to a company and the outstanding debt is 95,000 euros. Procedure has started at 10 am and the hand over is expected to conclude at 2pm. The highest bidder is the winner.
The government has repeatedly reassured that the first residence (home) worth below 300,000 euros will not be subject to e-auctions.
The first e-auctions refer to bank loans above 1.5 million euros.
Electronic auctions will take place every Wednesday, Thursday or Friday, from 10:00 am until 14.00 or from 14.00 to 18.00.
Government and lenders have agreed on a target of 600-700 auctions per month and gradual increase in the first half of 2018. the goal is 18,000 auctions per year, before the next stress tests for the banks.
According to information, American, Czech, Italian and Scandinavian hedge funds have already taken position in front of their laptops.
Loans change hands within minutes, their management goes to hedge funds and debtors will be accountable to some smart guys with whom they will have no personal connection to.
So far, banks have sold consumer loans and credit card loans to hedge funds. Now it is the turn of business loans.
However, banks will continue to sell private and business loans as the Banking Supervision of the European Central Bank (SSM) has obliged Greece's banks to sell red loans worth 12.5 billion euros by the end of 2019.

The starting date for the e-auctions has been made possible only after the Notary Association of Athens, Pireaus, Aegean and Dodecanese suspended their strike that was scheduled to last until 31. December.  In a heated meeting the Notary Association decided to participate in electronic and conventional auctions as of Nov 29, while five members of the minority in the board resigned.
Nevertheless, the anti-auction movement plans protest actions against notaries today, who seek protection from harassment.
Already in the morning, members of the anti-auction movement, mainly leftists, gathered outside the notary office participating one of the first e-auctions.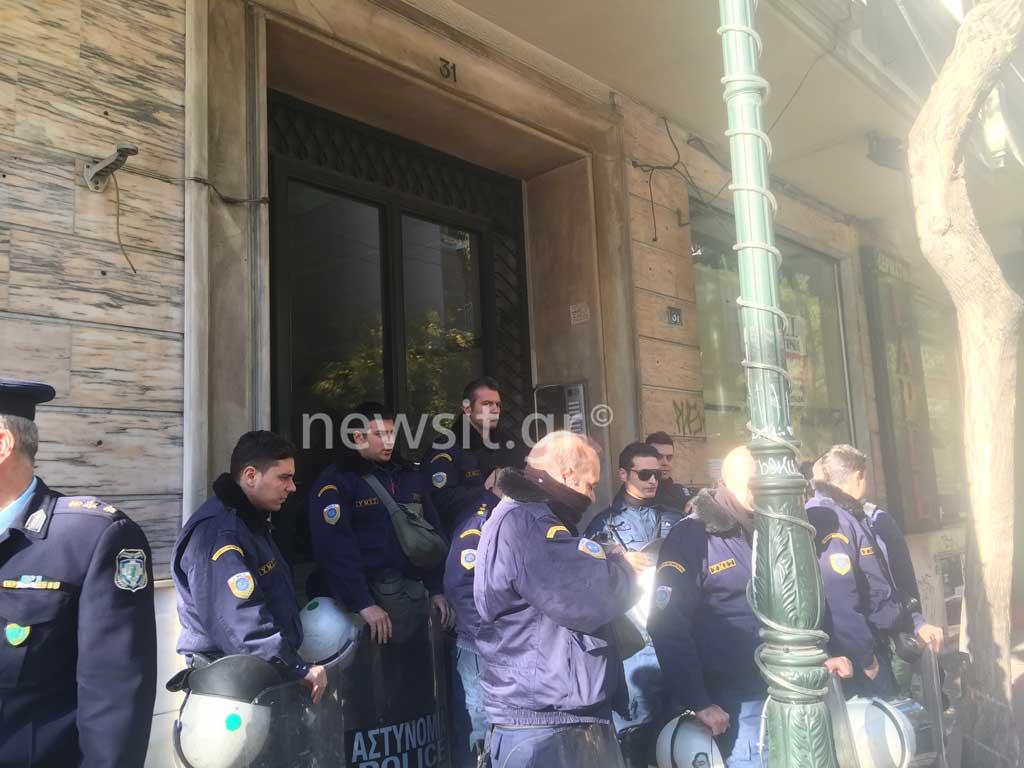 Strong police forces safeguard the notary office.
According to news website newsit.gr, e-auctioned is a duplex apartment 320sq m in Kiffissia. Starting point is at €718,915. Total debt is €1.2 million.  Out of 10 e-auctions scheduled for today, only one or two are possible as the properties are in regions where the notaries abstain form the auctions.
PS A notary practically can avoid the angry and loud protesters, if he participates in the e-auction from the calmness of his bedroom, in the company of the feng shui sound of waves at a sunny sandy beach or in the anonymity of the wi-fi at internet cafe. All he needs is a laptop.