FYROM  is looking at four options to settle a decades-long dispute with Greece over its name, Prime Minister Zoran Zaev told Reuters in an interview on Tuesday. FYROM hopes the issue can be resolved in time for an EU meeting in June and a NATO summit in July, and is proposing a geographical 'qualifier' to ensure there is clear differentiation in the two names.
"The suggestions are Republic of North Macedonia, Republic of Upper Macedonia, Republic of Vardar Macedonia and Republic of Macedonia (Skopje)," Zaev said in a television interview with Reuters after attending a summit on the Western Balkans in London.
Asked whether Greece would be happy with one of these options he added: "Yes … They have more preferred options and some not so preferred options (in terms of the name)."
He said the question that remained was whether there was "a real need" to change Macedonia's constitution, something Greece had also asked for in recent months.
"Of course we hope we would find a solution (on the constitution). But we must take care about the dignity and identity of both sides because friends take care of each other," he said.
Zaev later contacted Reuters through his spokesman to say that his position was that "a solution can be found without a change of the constitution of the Republic of Macedonia".
If an agreement between the two countries can finally be found, Macedonia will then hold a referendum to ask its population of around two million to back the change.
Several thousand people gathered in Skopje on Tuesday evening to protest against negotiations with Greece.
They waved Macedonian flags and held banners reading "Stop Greek racism" and "Stop negotiations" and chanted "Macedonia, Macedonia".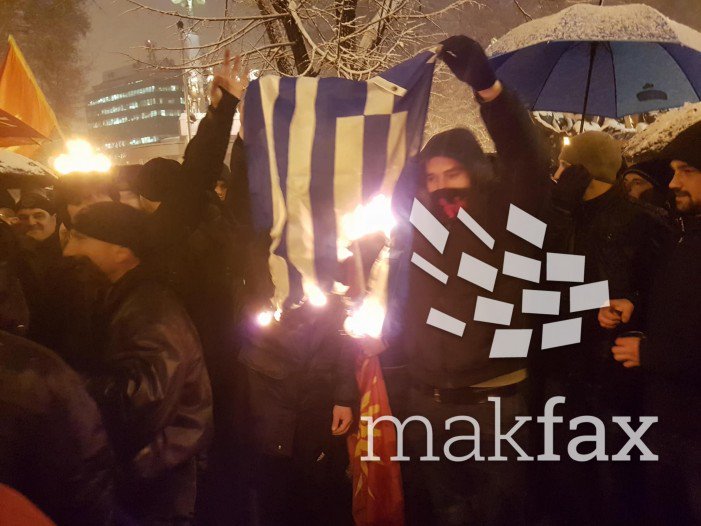 A Greek flag was set on fire during the protest.