Bombing has begun. US, UK, France launched missile strikes on Syria short before 4:00 o' clock  Saturday. The strikes lasted for about one hour, more than 100 missiles were fired.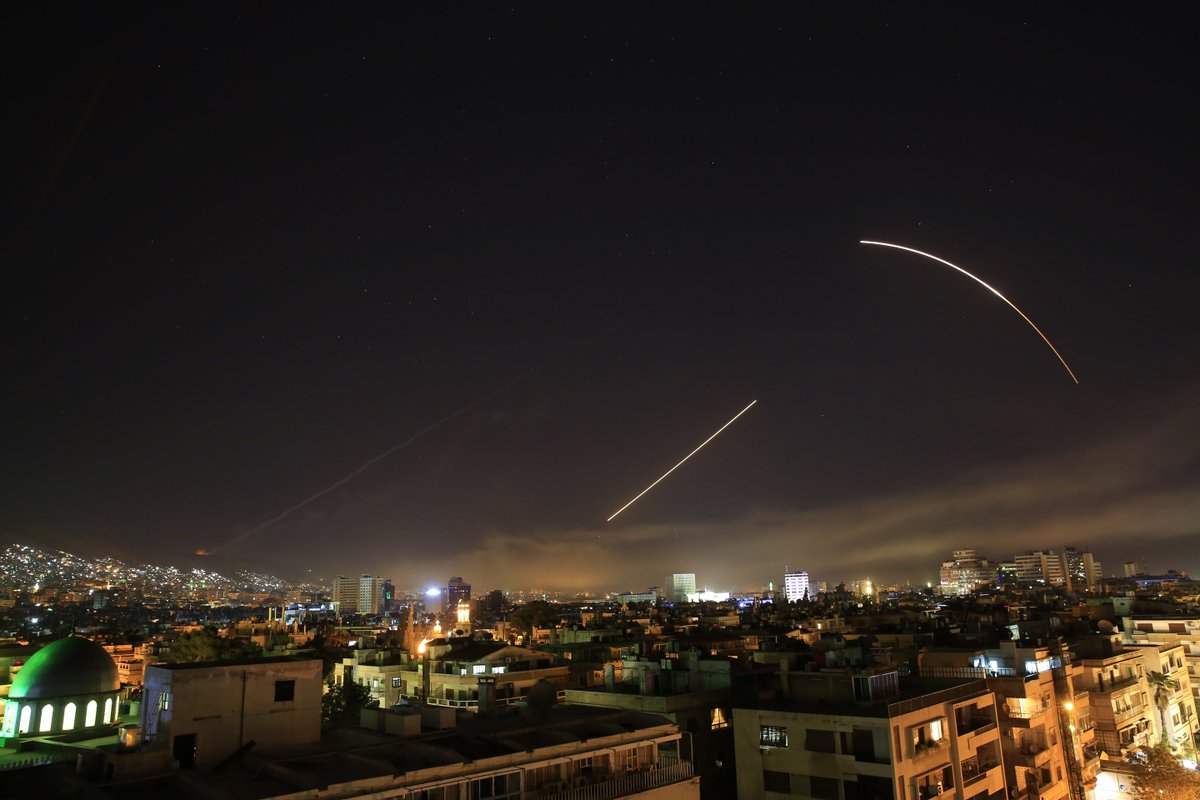 The Strikes were reportedly launched while US President Donal Trump was still addressing the nation.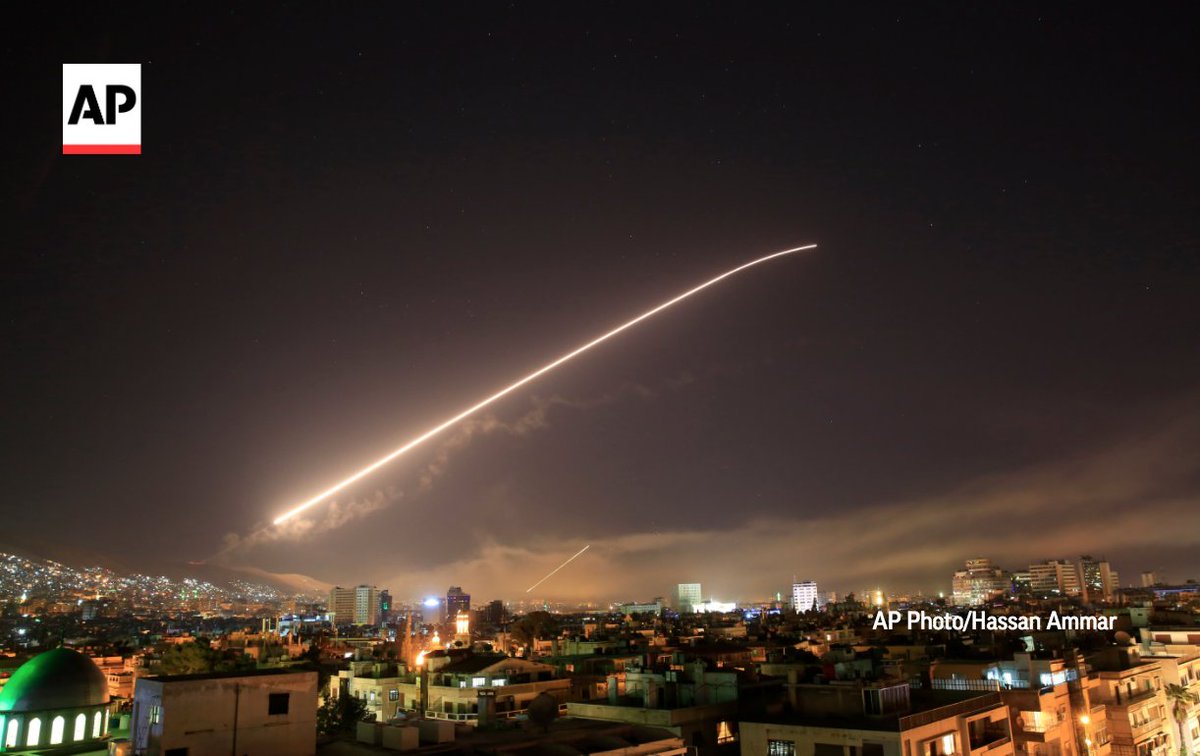 Strikes rocked Damascus with explosions to east, south and west of Syrian capital.
Video just now from friends in #Damascus of blasts on #Barzeh district visible from their balcony. #SyriaStrikes pic.twitter.com/49BGgTEbB4

— Rasha Elass (@RashaElass) April 14, 2018
The "surgical strikes" targeted three sites, US Pentagon officials said:
A scientific research center in Damascus
A chemical weapons storage facility located west of Homs, Syria
 A chemical weapons equipment storage facility and command post near second target
Weapons used in Syria are according to official data:
UK: Britain contributed four Tornado fighter jets armed with Storm Shadow cruise missiles to the operation, according the UK's Ministry of Defense said. The jets are likely to have taken off from RAF Akrotiri, the Royal Air Force base on Cyprus in the eastern Mediterranean. The British Ministry of Defense said the Tornadoes targeted a Syrian chemical weapons site in Homs.
France The office of French President Emmanuel Macron posted a video on Twitter of its Rafale fighter jets taking off for the Syria mission.
Décollage, cette nuit, des forces armées françaises qui interviennent contre l'arsenal chimique clandestin du régime syrien. Déclaration du Président de la République @EmmanuelMacron : https://t.co/HNSK0FmZIO pic.twitter.com/DEAW7R50aC

— Élysée (@Elysee) April 14, 2018
US: An US defense official said the US Air Force used B-1B bombers in the Syria strike. The US did not give details on what weapons the B-1s were carrying, but US officials did say air-launched cruises missiles were used in the strike.The four-engine B-1 is capable of deploying air-launched JASSM cruise missiles. US defense sources said at least one US warship in the Red Sea participated in the Syrian airstrikes.The US Navy's Arleigh Burke-class destroyers and Ticonderoga-class cruisers carry dozens of Tomahawk cruise missiles
The strikes were announced by US President Donald Trump. He said the strikes are "retaliation against the use of chemical weapons by Assad against his own people." He left open the possibility of more strikes if it is proven that Syria continues to produce chemical weapons.
The strikes were hailed by the European Council President Donald Tusk who believed to speak in the name of the whole European Union, even though some member-states are against a military solution.
Strikes by US, France and UK make it clear that Syrian regime together with Russia & Iran cannot continue this human tragedy, at least not without cost. The EU will stand with our allies on the side of justice.

— Donald Tusk (@eucopresident) April 14, 2018
UN secretary general appealed:
"I urge all Member States to show restraint in these dangerous circumstances and to avoid any acts that could escalate the situation and worsen the suffering of the Syrian people." #UN chief @antonioguterreshttps://t.co/VWMqIOvTeV pic.twitter.com/9cRxf1se08

— UN News (@UN_News_Centre) April 14, 2018
Russian reaction
The Russian envoy to UN said he 'cannot exclude' war between Russia and the US. Accoridng to rueters, Russia's U.N. Ambassador Vassily Nebenzia said the situation was even more dangerous because Russian troops are in Syria. "We cannot exclude any possibilities, unfortunately, because we saw messages that are coming from Washington," he said.
Saturday morning, Russian President Vladimir Putin said that US-led strikes in Syria without UNSC mandate is a violation of international law.
BREAKING: President Vladimir Putin says Russia will call an emergency session of UN Security Council over strike on Syria.

— The Associated Press (@AP) April 14, 2018
Justified vs Unjustified
The strikes took place just hours before independent team from the Organization for the Prohibition of Chemical Weapons(OCPW) was to begin investigation of the chemical attack in Duma on April 7. So far there has been no proof that it was the Syrian regime that launched the chemical attack, the US and its two allies chose to strike before examination was conducted, before the claims were proven or rejected.
#SyriaStrike pic.twitter.com/OnqD9e1vNU

— Bo Jerry Ek (@ek_jerry) April 14, 2018
In times where the propaganda enginees run at full speed in every side, one has difficulties to believe information coming from the sides of the Right or Wrong side.
"Chemical weapons" were the pretext also for the US wars in Iraq and Libya. The allies are still 'searching' for the deadly weapons in completely destroyed and devastated countries.
When Saddam Hussein used mustard gas and sarin against the Kurds in Halabja in 1987 the West did not move a finger. At that time, the Iraqi dictator was a "friend and ally."They moved against him when he invaded Kuwait and threatened their oil interests and finished him on claims he had Weapons of Mass Destruction, two decades later. WMDs were never found in Iraq, neither in Libya.
Civilians are always the victims: either of chemical attacks or of missiles.
PS I suppose, the terrified children of Syria do know that the bombing aims to protect them….