Greece's health authorities announced on Monday 1,834 new coronavirus cases and 8 Covid-related deaths in the last 24 hours. The number of intubated Covid-patients in hospitals Intensive Care Units stands at 123.
Note that again there were thousands of fewer tests due to the weekend.
Delta Variant
Authorities released  the data regarding the Delta variant in Greece on Monday instead of Thursday.
Time June 17-July 12: 856 samples, 760 with strains
466 with Delta Variant, i.e. 61%
88% of the 868 located in Attica, Heraklio (Crete), Thessaloniki, Rethymno (Crete)
More details on a separate post

Vaccinations
Stand July 18, 2021: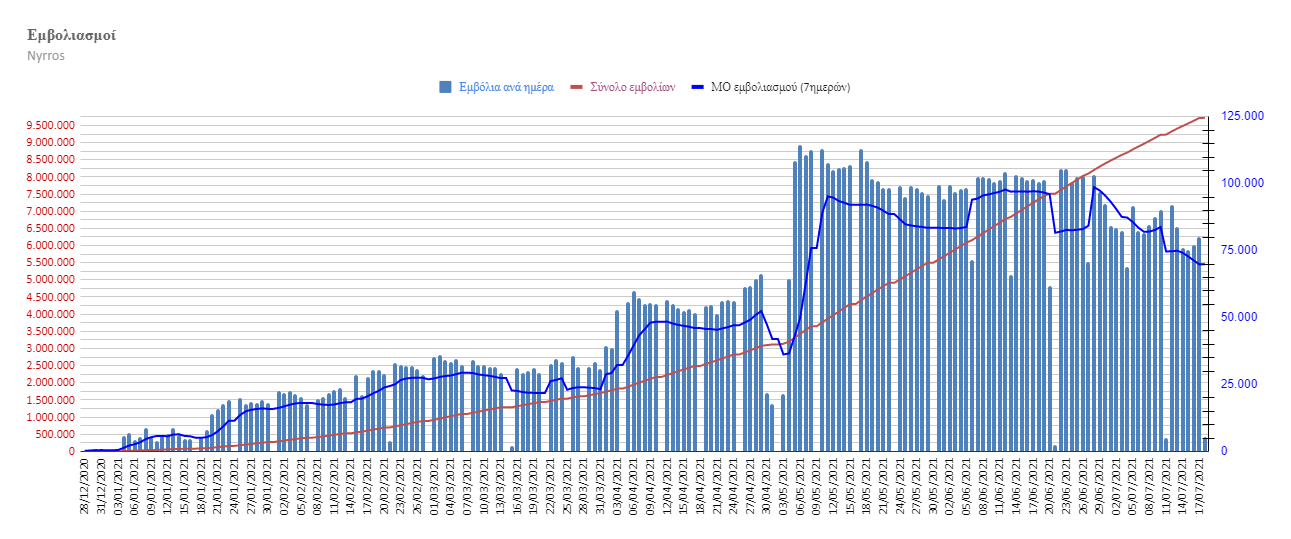 Note that the vaccination roll out has slowed down the the last couple of days.
Of the 5,431,670 vaccinated citizens (52.1% of population with at least one dose):
840,912 Partially vaccinated 
4,590,758 Fully vaccinated (44%)
Vaccinations tracker per region here.
Official coronavirus data, July 19

Tests in the last 24 hours: PCR  5.840 Rapid tests 32,707
Positivity of PCR & Rapid: 4.76%

blue: tests red: positivity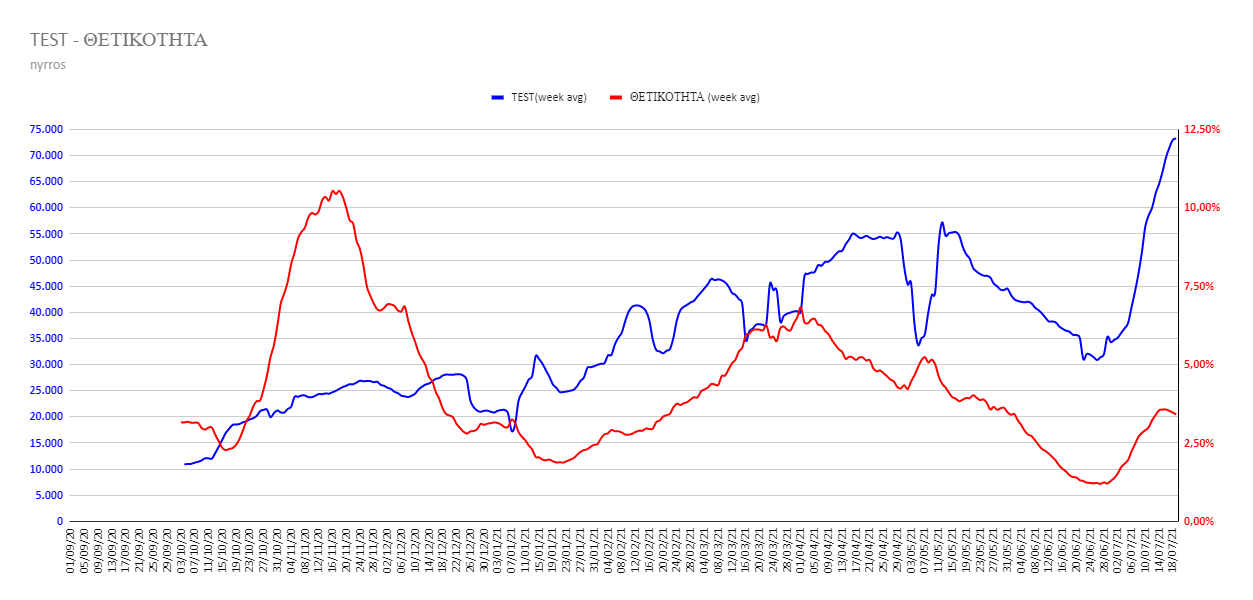 Rt: 1.38 from 0.8 two weeks ago.

Since the pandemic began, Greece has confirmed 459,146 infections (daily change: +0.4%). In the confirmed cases of the last 7 days, 141 infections are related to travel abroad and 1360 to other confirmed cases.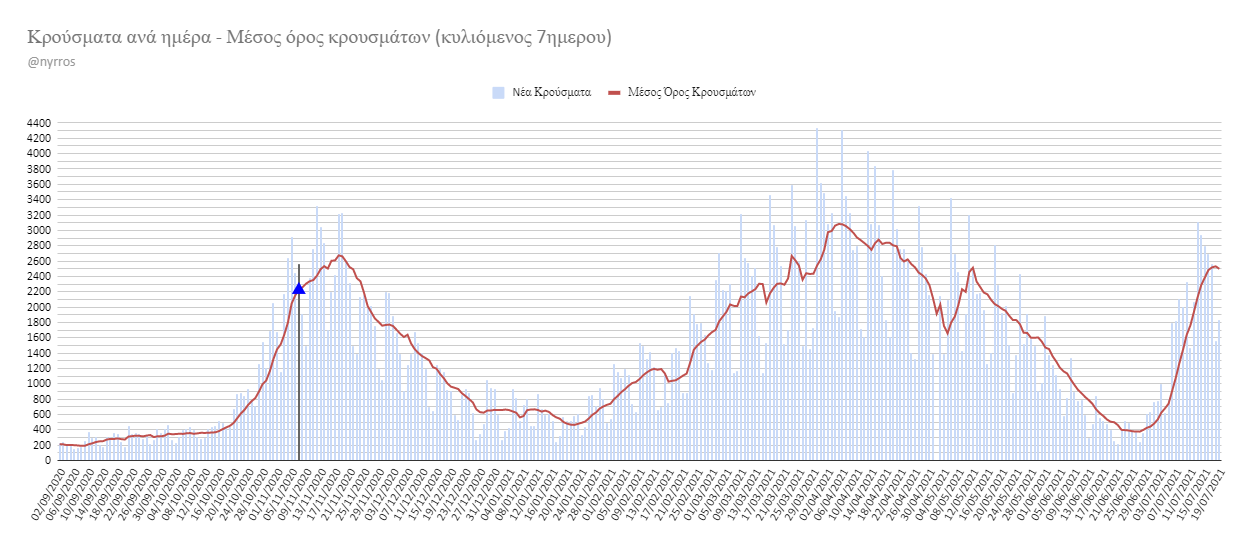 Rolling average: 2498 (1940 previous week)
51.2% of the infected are men.
There are 8 deaths recorded in the last 24 hours, the total of pandemic victims to 12,858.  Of these, 95.5% had an underlying condition and/or were 70 years old.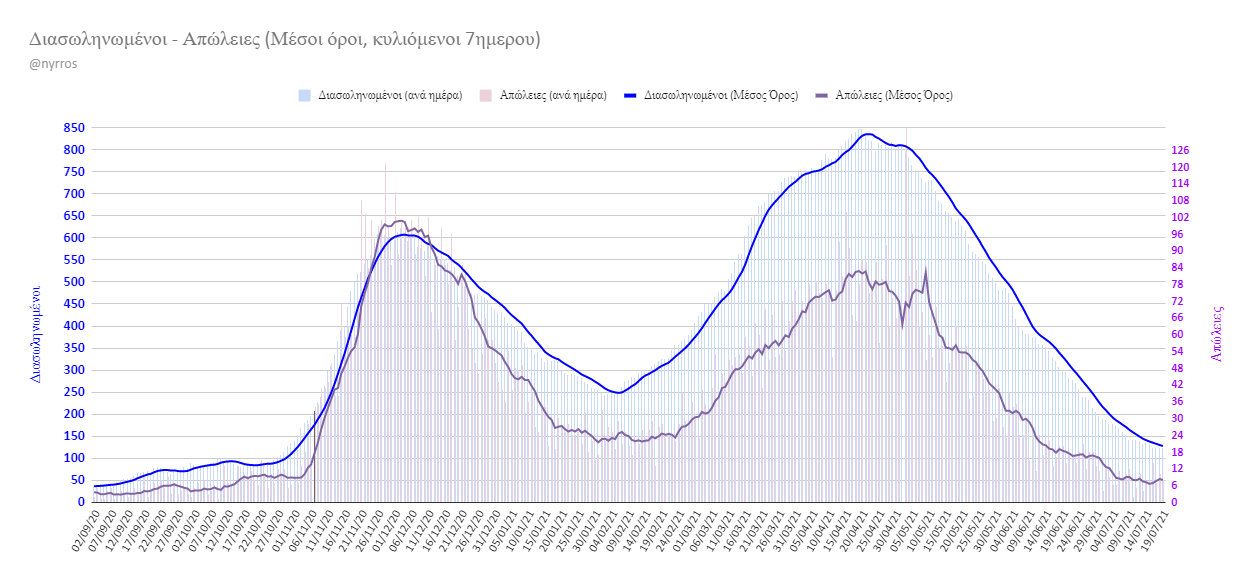 A total of 123 Covid-patients – from 123 a day earlier -are on ventilators in hospitals. Their median age is 66 years. 61% are men. 89.4% have an underlying condition and/or are aged 70 or more.
2,760 patients have been discharged from ICUs since the pandemic began.
141 Covid-19 patients were admitted to hospital in the last 24 hours (daily change: +6.82%). The average admission of patients with Covid-19 to hospitals over the last 7 days was 117.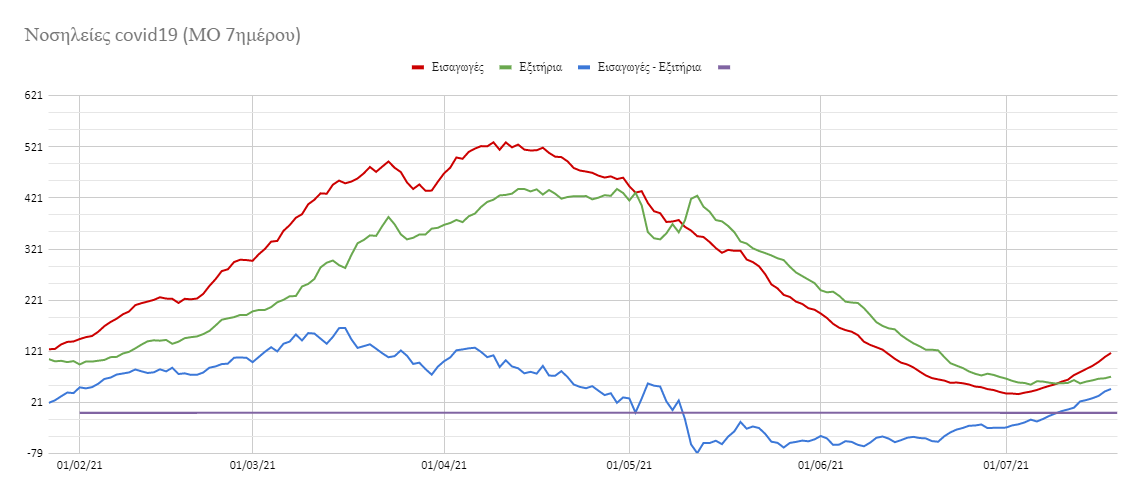 The median age of new infections is 42 years (range: 0.2 to 106 years), while the median age of the deceased is 78 (range: 0.2 to 106 years).
Geographic distribution July 19

Regional units epidemiological load: last 7 days – infections per 100,000 population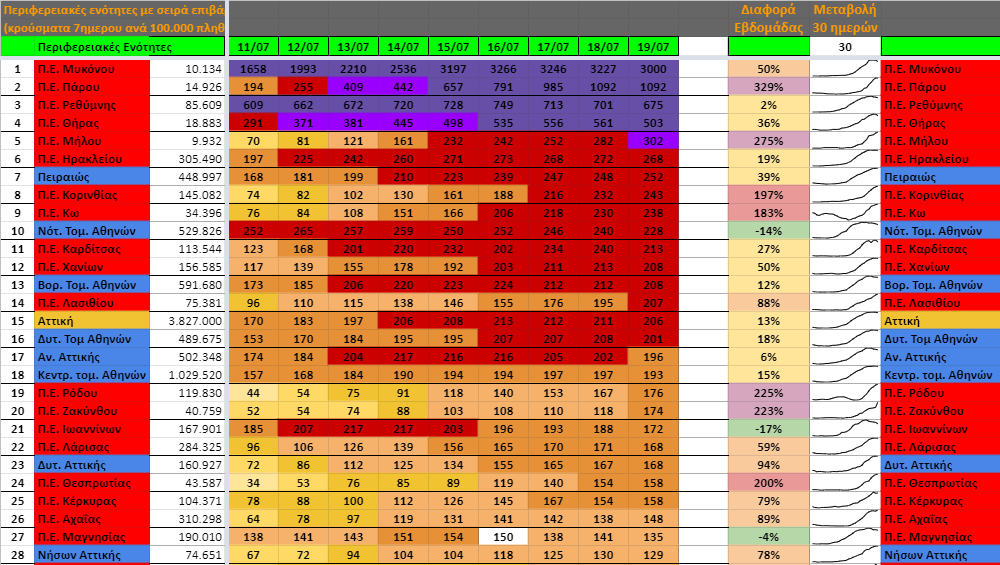 Of the 1834 new cases, 14 were detected at the entrance gates of the country and 8 among travelers already in the country.
The remaining cases are:
720 Attica
123 Thessaloniki
104 Heraklio
75 Achaia
62 Rethymno
43 Corinth 37 Larissa
34 Chania 27 Iioannina
26 Zakynthos 25 Rhodes
Each 24 Karditsa, Magnisia
22 Evia, 21 Lasithi
Each 19 Argolida, Kozani, Mykonos
18 Corfu 17 Evros
15 Messinia
Each 14 Arcadia, Kavala
13 Lesvos 12 Paros
11 Viotia 10 thesprotia
9 Halkidiki 8 Trikala
Each 7 Drama, Kos, Imathia, Thira, Fokida
Each 6 Rodopi, Fthiotida
Each 5 Aitoloakarnania, Grevena, Kastoria, Lakonia, Serres
Each 4 Milos, Xanthi, Pella
Each 3 Kalymnos, Pieria, Florina, Chios
Each 2 Naxos, Preveza, Samos, Sporades
Each 1 Arta,Ikaria, Kilkis, Syros, Tinos, Lefkada, Limnos
130 under investigation
Coronavirus Infections Maps to compare
Greece's Covid-map of confirmed infections in the last 14 days, based on permanent or temporary residence.
Official data by EODY Daily Report in Greek
here.
More information on coronavirus in Greece
here.