The earthquake on the island of Crete on Monday morning has, so far, left behind one dead, twenty people injured, dozens of homeless, hundreds of damaged houses and businesses and damaged infrastructure.
The powerful earthquake stroke with 6 R at 9:17 on Monday morning with its epicenter being very close to the town of Arkalochoris, some 20 km south of Heraklio.
A supermarket surveillance camera on the Greek island of #Crete captures merchandise falling off rattling shelves during Monday's 5.8 magnitude #earthquake. A supermarket employee is seen running out of frame, possibly towards an exit. pic.twitter.com/uE21f8wQHk

— Daphne Tolis (@daphnetoli) September 27, 2021
A local businessman posted a video as the tremor rattled the area. It lasted 25 seconds and locals described it as a "huge compressor in operation."
Συνεχείς μετασεισμοί στο Ηράκλειο ο κόσμος είναι στους δρόμους και τα παρκα , η ανησυχία και ο φόβος είναι τα μόνα συναισθήματα που κυριαρχούν
Δείτε πως κουνιέται η προσοψη του μαγαζιού μου
Αυτός ήταν ο φοβερός #σεισμος 5,8 που κράτησε 25 δευτερόλεπτα pic.twitter.com/ybofqZmcRT

— Μανόλης della Creta (@baxebanis) September 27, 2021
A 62-year-old local man was killed when the church where he was doing re-construction works collapsed at the time of the earthquake. His son was seriously injured and taken to hospital. Of the 20 people injured during the earthquake, ten have been already discharged from hospitals or health centers in the area.
60% of the houses have either collapsed or cannot be inhabited, authorities of the town with 7,000 to 8,000 residents told media.
Damage has been reported mainly to old buildings, in the area of ​​Arkalochori and in the villages of Agies Paraskies, Patsidero, Thrapsano, Galatas, Archontiko.
A landslide has occurred in Profitis Ilias, closing the road to the village.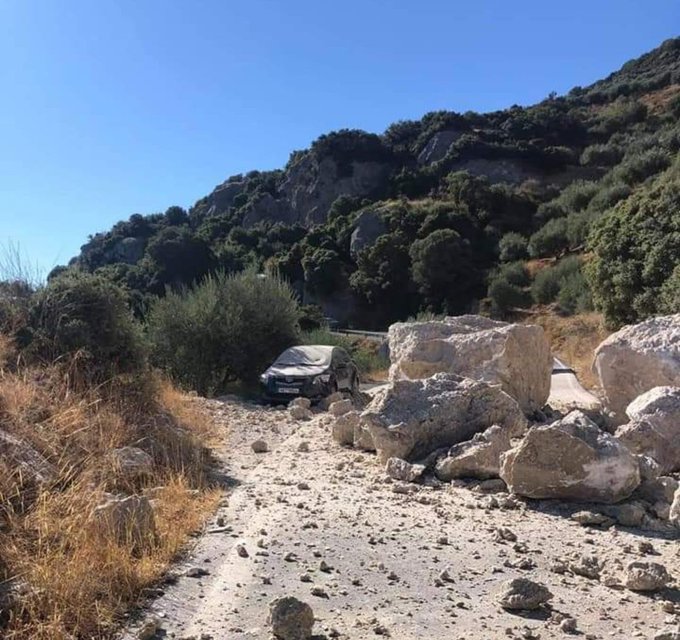 There power outages and problems in the water supply of the quake stricken areas.
As the locals try to recover from the shock, the Civil Protection is setting up tents for 2,500 people at the Arkalochori Exhibition Center. Tourism Minister Vassilis Kikilias announced that 90 rooms in hotels will be available to those who became homeless.
The Municipality of Minoa Pediada was declared a state of emergency.
All schools in the regional unit of Heraklion are closed on Tuesday and Wednesday.
The Minister of Climate Crisis and Civil Protection, Christos Stylianidis, is on the island. Authorities activated the plan "Engelados" (Earthquake) aiming for immediate intervention regarding accommodation and food for the victims of the earthquake.
As aftershocks continue non-stop, over 30 since the 6R in the morning, the Civil Protection warned residents to not enter homes, business or any building that has suffered damages.
⚠️Ενεργοποίηση 1️⃣1️⃣2️⃣
🆘Ισχυρός σεισμός στην #Kρήτη με σεισμική ακολουθία σε εξέλιξη

‼️ Μην μπαίνετε σε κτήρια που έχουν υποστεί οποιαδήποτε ζημιά

‼️ Παραμείνετε σε ετοιμότητα & ακολουθείτε τις οδηγίες των Αρχών @pyrosvestiki @hellenicpolice

ℹ️ https://t.co/G3JextVcbI pic.twitter.com/0KwThiPnkO

— 112 Greece (@112Greece) September 27, 2021
sources: cretalive, apokoronaslife, cretapost,