Greece's health authorities announced on Thursday 5,523 new coronavirus cases and 81 deaths in the past 24 hours. The number of intubated Covid-patients in hospitals stands at 708.
At the weekly Live Briefing on coronavirus on Thursday, health authorities said that pandemic numbers show a downward trend for the second consecutive week, but caution should not be relaxed.
The National Health System continues to be under pressure. Plain beds for Covid-19 have reached 67% capacity throughout the country and beds in Covid-dedicated ICUs an 80% capacity.
Health experts called on people to get vaccinated with the booster shot, especially those over 50, and asserted that the National Organization for Medicines (EOF) had not received any reports of serious after-effects of the third dose in Greece.
They recalled that the appointments platform for the vaccination of children aged 5-11 opens on Friday.will open on
The country's health experts said also that new diagnoses of the virus dropped by 11% this week, with a slight rise in deaths by 3%. There is a definite trend of stabilization in admissions, although the number of patients in ICUs rose sharply by 8%, new admissions dropped by 8%. The admissions-to-discharges ratio is nearly 1:3.
Official EODY data Dec 9

Tests in past 24 hours:
PCR 24,028 RAPID 298,491
Positivity PCR+RAPID: 1.71%
Since the pandemic began, Greece has confirmed 989,814 infections (daily change +0.6%). In the confirmed cases of the last 7 days, 90 infections are related to travel from abroad and 2,650 to other confirmed cases.
Infections rolling average: 5,465 (6,131 last week).
Rt: 1.07 from 1.04 last week
81 deaths recorded in the last 24 hours, bringing the total of pandemic victims to 18,98. Of these, 95.3% had an underlying condition and/or were aged 70 or over.
A total of 709 patients are on ventilators in hospitals, from 708 a day earlier. Their median age is 64 years, 59.9% are men and 79.9% have an underlying condition and/or are aged 70 or over.
Of the total in intubation, 571 (80.65%) are unvaccinated or partly vaccinated and 137 (19.35%) are fully vaccinated.
3,588 Covid-patients have been discharged from ICUs since the pandemic began.
429 Covid-19 patients were admitted to hospital in the last 24 hours (daily change -4.45%). The average admission of patients with Covid-19 to hospitals over the last 7 days was 424.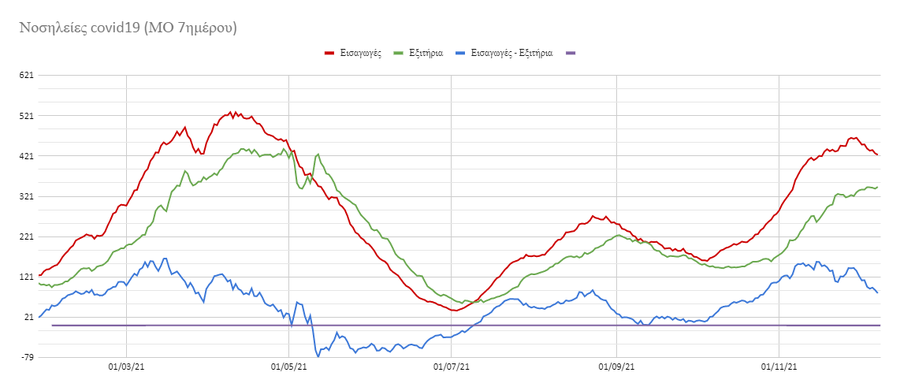 The median age of new infections is 38 years (range: 0.2 to 106 years), while the median age of the deceased is 78 (range: 0.2 to 106 years).
Vaccinations
Stand Dec 8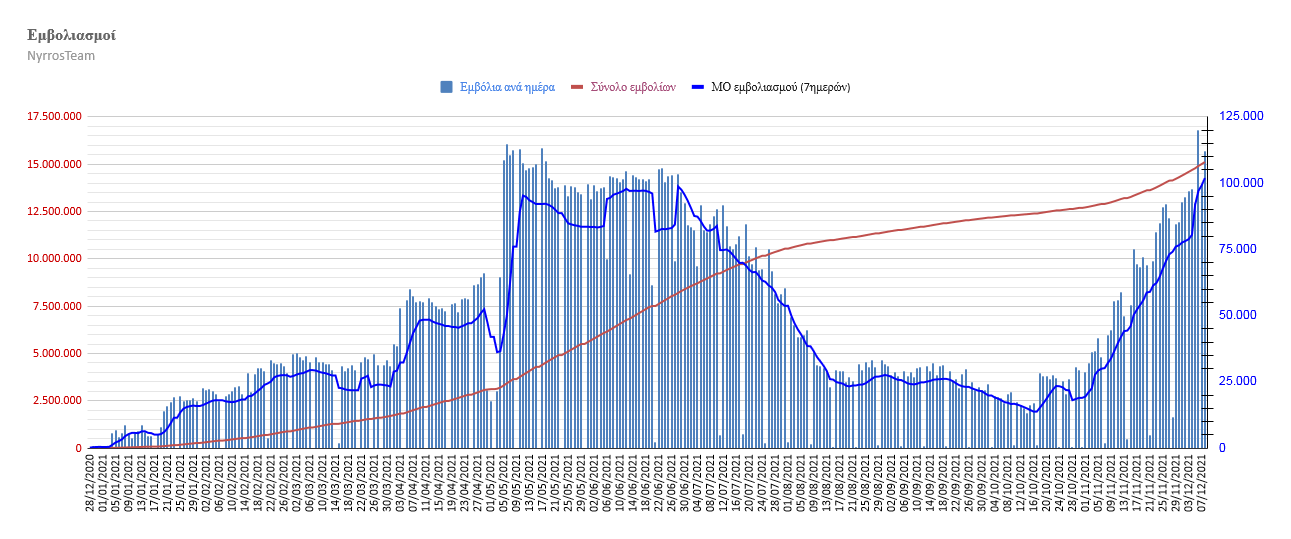 Partly vaccinated 69%
Fully vaccinated 64.4%
Booster shot since Sept 13: 1,945,615
Geographic distribution Dec 9
Of the 5,523 new coronavirus cases, 2 were detected at the entry points of the country and 4 among travelers already in Greece.
The remaining cases are:
1629 Attica
940 Thessaloniki
204 Heraklio
184 Achaia
139 Larissa 135 Kozani
116 Serres
93 Magnisia
Each 85 Aitoloakarnania, Evia
84 Evros 81 Imathia
Each 80 Ioannina, corfu
72 Fthiotida
Each 71 Corinth, Lesvos
70 Rodopi
66 Viotia 64 Pieria
Each 58 Messinia, Halkidiki
Each 56 Ilia, Xanthi
Each 54 Karditsa, Chania
Each 51 Kavala, Pella
49 Argolida 48 Trikala 47 Kilkis 43 LAkonia 40 Arcadia
Each 35 Drama, Rhodes
31 Preveza 30 Arta
Each 29 Grevena, Kastoria

27 Florina 22 Rethymno 21 Lasithi
18 Thepsrotia 16 Lefkada
Each 15 Kos, Kefalonia
Each 9 Evrytania, Zakynthos, Samos
Each 6 Mykonos, SPorades
5 Naxos
Each 4 Syros, Limnos
3 Thira
Each 2 Karpathos/Kasos, Tinos, Fokida
Each 1 Milos, Kea/Kythnos, Paros, Chios
115 under investigation

MAP: Covid-infections/100,000 population last 14 days
Dec 9: same status as on Nov 22
Dec 8: same status as on Nov 22
EODY bulletin on Monday here in Greek
More information on coronavirus in Greece on KTG here.