Greece΄s health authorities announced on Monday 3,689 coronavirus cases and 85 Covid related deaths in past 24 hours. The number of intubated Covid-patients in hospitals increased to 670.
Note again the few thousands of PCR and Rapid tests due to the weekend.
Authorities announced earlier on Monday that the number of Omicron variant cases in Greece has reach 27. See in which regions they have been detected here.
Official EODY data December 20
Tests in last 24 hours:
PCR 7,887 RAPID:88,591
Positivity PCR+RAPID: 3.79%
Since the pandemic began, Greece has confirmed 1,037,759 infections (daily change 0.5%). In the confirmed cases of the last 7 days, 199 infections are related to travel from abroad and 2,764 to other confirmed cases.
Rolling average 4,409 from 5,049 last week.
Rt 0.93 from 1.07 last week
85 deaths recorded in the last 24 hours, brought the total of pandemic victims to 19,976. Of these, 95.2% had an underlying condition and/or were aged 70 or over.
670 patients are on ventilators in hospitals, from 663 a day earlier. Their median age is 64 years and 80.6% have an underlying condition and/or are aged 70 or over.
3,667 Covid-patients have been discharged from ICUs since the pandemic began.
258 Covid-19 patients were admitted to hospital in the last 24 hours (daily change: -28.13%). The average admission of patients with Covid-19 to hospitals over the last 7 days was 335.
The median age of new infections is 38 years (range: 0.2 to 106 years), while the median age of the deceased is 78 (range: 0.2 to 106 years).
Vaccinations
Stand Dec 19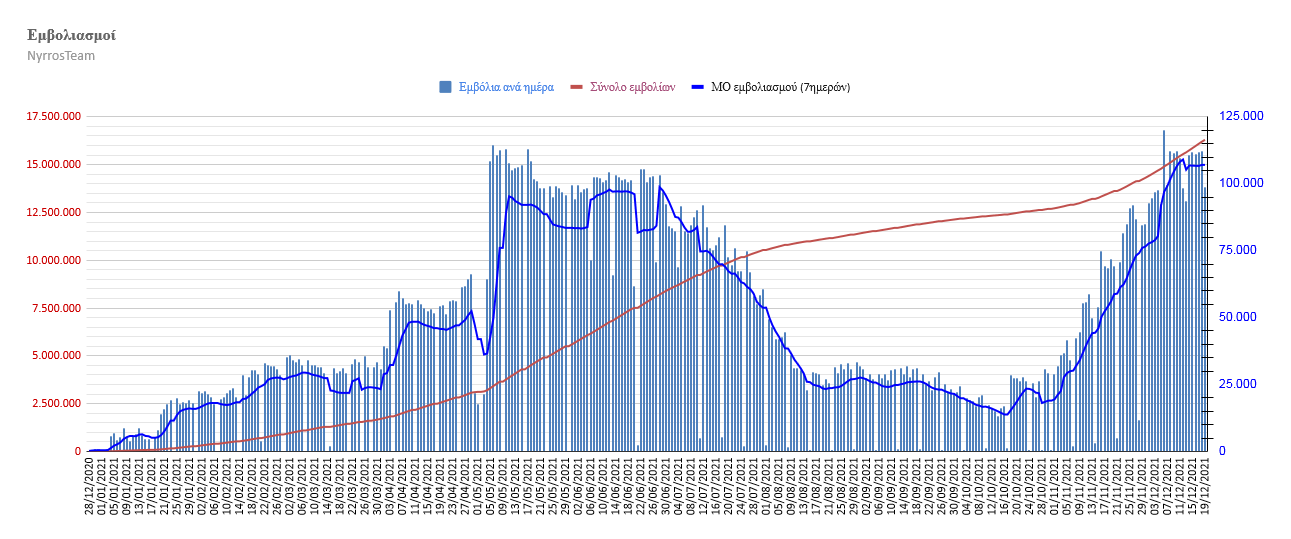 Partly vaccinated 70.5%
Fully vaccinated 65.4%
Booster shot since Sept 13: 2,822,299
Geographic distribution December 20
Of the 3,689 new coronavirus cases, 3 were detected at the entry gates of the country and 16 among travelers already in Greece.
The remaining cases are:
1076 Attica
529 Thessaloniki
120 Achaia
119 Chania
103 Heraklio
Regions with 2- or 1-digit infections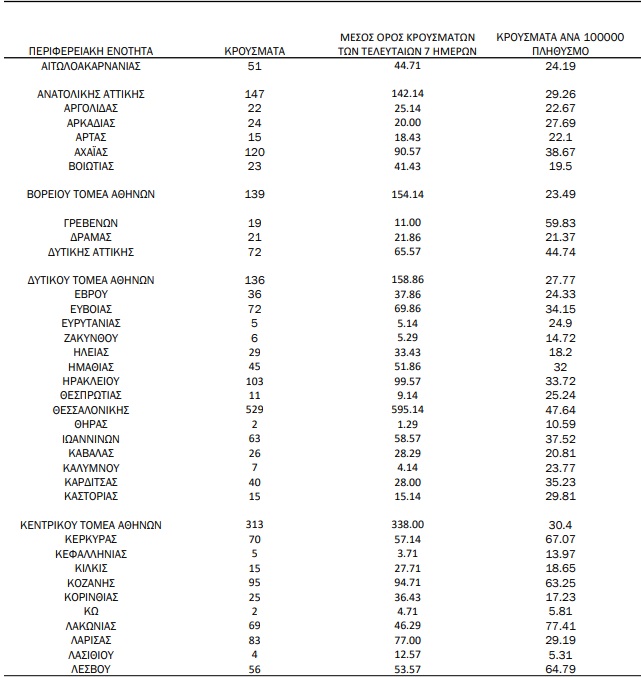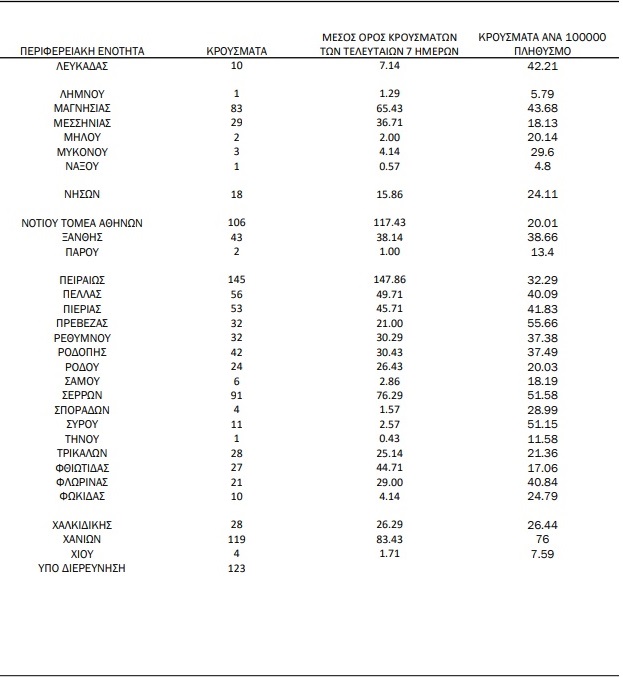 via newsit.gr
110 under investigation
MAP infections per 100,000 population based on last 14 days
Dec 20: same stand as Dec 14
EODY daily bulletin in Greek
here
.
More information on coronavirus in Greece on
KTG here
.