Greece Extreme Weather Warning: Barometric low "Diomedes" is forecast to sweep across the country with heavy rainfalls and thunderstorms, dense snowfalls and sharp temperature decrease as well as with stormy winds, National Meteorological Service (EMY) warned with its Red Alert published on Monday.
According to EMY forecast, bad weather front Diomedes will strike as of today, Monday, January 10, and continue in the next days, while the sharp temperature drop is expected on Wednesday, January 12.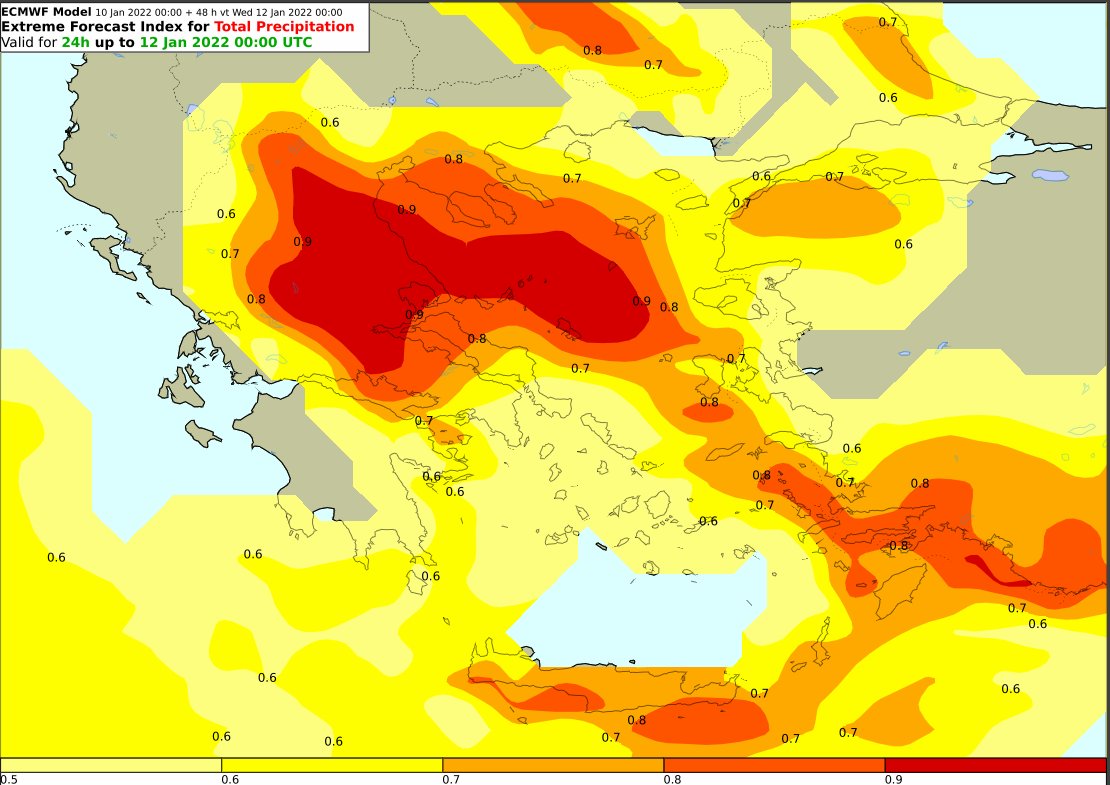 via chief meteorologist and head of EMY @ThodorisKolydas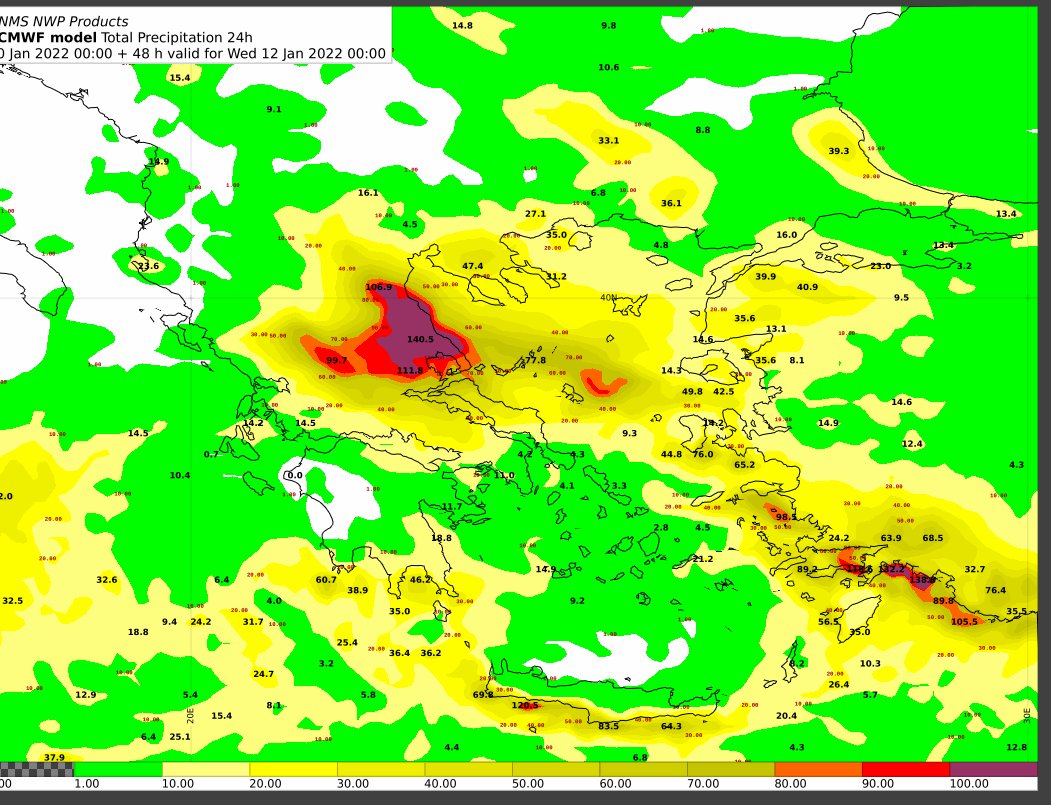 The Meteo Service of the National Observatory of Athens additionally warns of local hail falls.
Meteo Video: Forecast Jan 10-11, 2022 – Rainfall marked blue & green, Snowfall marked purple
Diomedes already hit south-eastern Greece causing huge damages on the island of Kalymnos that has been declared on "state of emergency."
Weather Warning by EMY and areas affected
Rainfalls and Thunderstorms
Monday, Jan 10: Dodecanese, islands of the eastern Aegean Seam southern Crete, coastal parts of central and eastern Macedonia.
By night: central and southern Ionian islands, eastern Sterea, Thessaly.
Tuesday, Jan 11: Thessaly, Sporades islands, south parts of central Macedonia, central and eastern Sterea (mainly Fthiotida, Evrytania), northern Evia.
Locally strong thunderstorms on the islands of the eastern Aegean Sea, the Dodecanese and Crete.
Wednesday, Jan 12: the Cyclades islands, Crete and the Dodecanese and until noon also Thessaly, Sporades, Evia.
Stormy winds
Very stormy northeast winds will blow on Tuesday, Jan 11, in the northern Aegean Sea. On Wednesday and Thursday, Jan 12-13 in most of the Aegean Sea.
The winds are forecast to blow with an average intensity of 7-8 Beaufort, locally 8-9 B and also up to 10 B.
Light weakening of the wind is expected from Thursday night.
Heavy snowfall
From Monday night, Jan 10, in the mountains of western and central Macedonia and
Thessaly.
On Tuesday, Jan 11, in the mountainous and semi-mountainous areas of Macedonia, Thessaly,
central and eastern mainland and gradually in lowland areas of Thrace and eastern Macedonia.
On Wednesday, Jan 12, in the above mentioned areas as well as in Evia.
There is snow forecast also for Athens and Attica on Friday, Jan 14, even in the south suburbs of the Greek capital. In the northern suburbs snowfall is expected from Thursday night and continue until Saturday.
Temperature drop
Temperature will significantly drop on Wed, Jan 12.
On Thu and Fri, Jan 13-14, strong frost is forecast in the morning and the evening in northern Greece.
Indicative Maps Jan 10-14