A 21-year-old truck driver from Belorussia was rescued from the still burning Euroferry Olympia on Sunday morning. "Tell me I'm alive," the man told his rescuers unable to believe that he managed to survive over 50 hours in the burning ferry with high temperatures and toxic fumes.
The man was located in the stern of the ferry, on the left rear side of the Euroferry.
According to Skai TV, his name is Kyril Kirilenka.
He was reportedly located in the area which firefighters were cooling. He managed to move from the burning garage to the upper deck from where rescuers helped him evacuate. According to latest reports, rescuers are following his path backward, because he said he was heating the voices by other survivors.
Rescue video
He is apparently in good health given the circumstances and managed to climb down the stairs without help. He has been transferred with a boat ambulance from the ferry to the hospital of Corfu and is currently undergoing full scale for medical checks.

The man told rescuers that "until a while ago he was hearing voices by other survivors," state broadcaster ERT reported.
This gives hope to the families of another 11 people who have been recorded as missing and the rescuers who keep trying to locate other survivors.
Following the rescue of the young man from Belorussia, the wife of one of the three missing Greek truck drivers made a dramatic appeal to firefighters to go into the vessels and rescue her husband.
With 239 passengers and 51 crew members, the Italian-owned Euroferry Olympia traveling from Igoumenitsa, western Greece, to Brindisi in Italy, when a fire broke out in the cars decks in the early morning hours of Friday.
280 people have been evacuated and were taken to the island of Corfu.
Two people were rescued from the burning vessel on Friday evening. One was a Bulgarian truck driver and the other a migrant form Afghanistan, reportedly not registered on the ship's passengers' lists.
The ship was slowly towed to the port of Kassiopi, in northeastern Corfu, by three tugboats, on Saturday.
Firefighters are still battling the blaze, which, although confined in certain spaces, reignites from time to time, and thick smoke is hanging over the ship, AssociatedPress reports Sunday noon.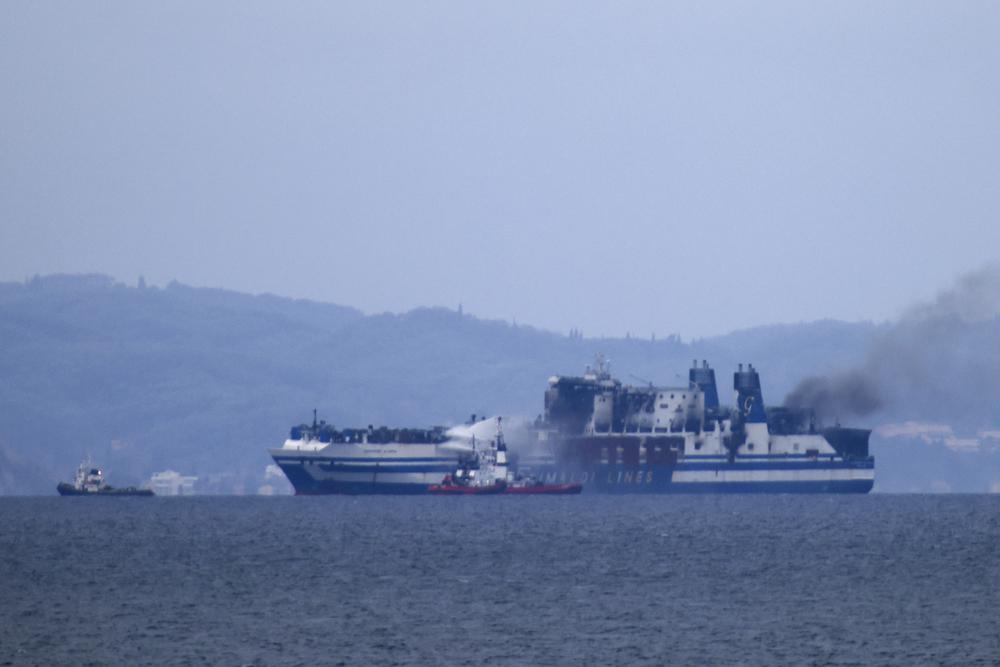 The extreme temperatures in some parts of the ship have impeded the rescuers, made up of the Greek fire service's Disaster Management Unit and a team of rescuers from private operators, from searching the whole ship.
The ferry is slightly listing from the tons of water poured into it, but authorities say it's not in danger of capsizing.
Meanwhile, units of the Greek and Italian Authorities investigating Marine Accidents have traveled to Corfu with the aim to investigate the causes of the fire.