Greece National Meteorological Service EMY issued a Red Alert on an upcoming bad weather front named "Bianca" forecast to reach the country from the West on Saturday night, February 26, 2022 and quickly move to the mainland and the islands.
Main features of Bianca care: heavy rainfalls and thunderstorms, dense snowfalls in central and north Greece, stormy winds in the seas and temperature drop.
ΕΚΤΑΚΤΟ ΔΕΛΤΙΟ ΕΠΙΚΙΝΔΥΝΩΝ ΚΑΙΡΙΚΩΝ ΦΑΙΝΟΜΕΝΩΝ
Καιρικό σύστημα με την ονομασία "Bianca", όπως ονομάστηκε από τη Μ.Υ. της Ιταλίας, κινούμενο νοτιοανατολικά, προβλέπεται να προκαλέσει κακοκαιρία από τη νύχτα του Σαββάτου στη χώρα μας @EMY_HNMS @GSCP_GR https://t.co/68a2pNm4sF pic.twitter.com/OMmLjyKRw9

— KolydasΤ (@KolydasT) February 25, 2022
Weather Warning Analytically & Affected Regions
Saturday/Sunday, Feb 26-27
Heavy rainfalls and thunderstorms as from the early morning hours of Sunday: North Ionian islands, Epirus, western Sterea. Gradually also Macedonia, Thessaly, the Sporades islands, the islands of the northern and eastern Aegean and Thrace.
Heavy snowfall locally on the mountains and the semi-mountainous areas of Epirus, Macedonia, Thessaly. From afternoon also in Thrace.
Stormy winds blowing with intensity of 8 Beaufort will prevail in the Aegean Sea.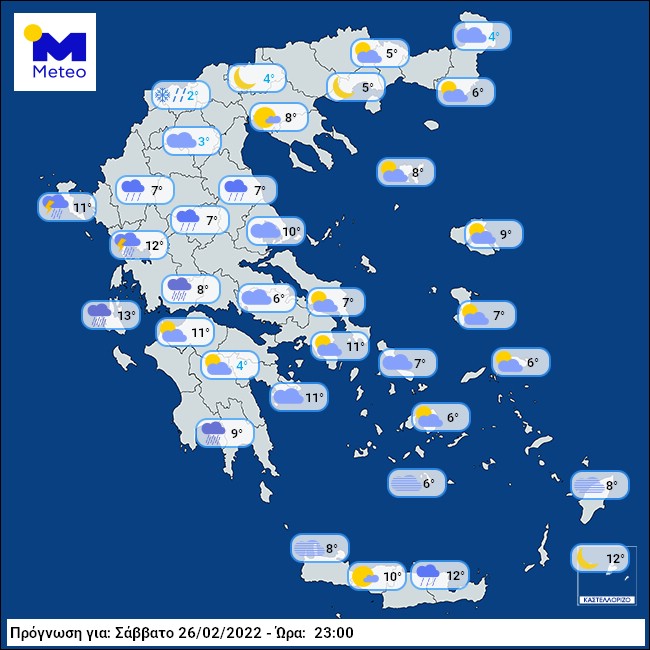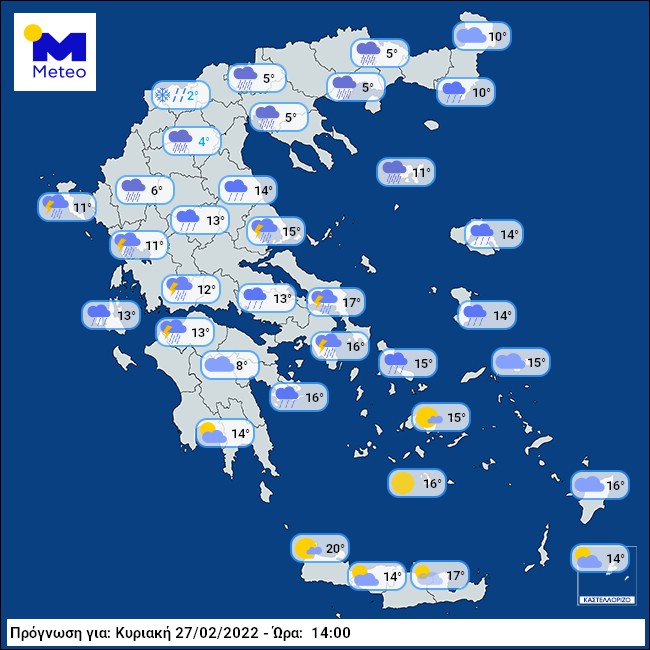 Monday, Feb 28
Heavy rainfalls and thunderstorms as of the early morning hours in the sea and and coastal areas of the eastern
Macedonia, Thrace and the islands of the eastern Aegean.
Heavy snowfall in the mountainous ares of the mainland as well as in the semi-mountainous areas of Thessaly and
eastern mainland.
Stormy North-North-West winds of 8 Beaufort will be blowing in the seas.
Significant temperature drop by 3 to 5 degrees Celsius in northern and central Greece.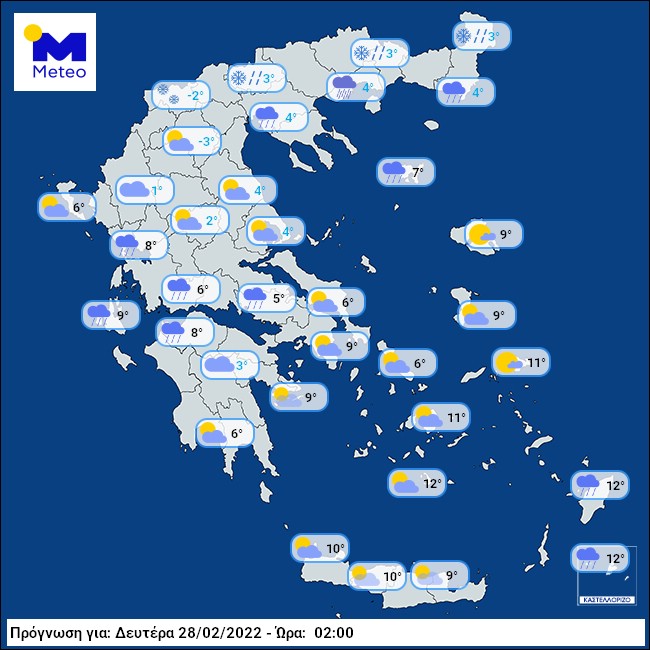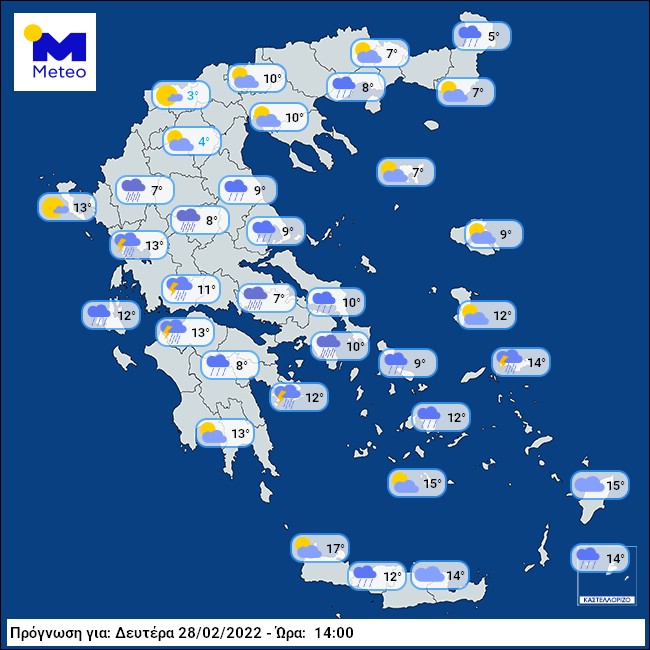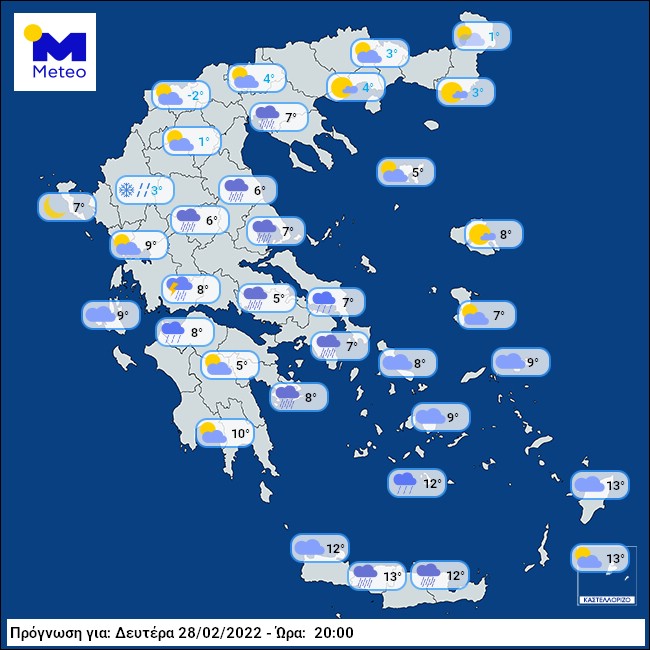 Tuesday, March 1
Heavy rainfalls locally in eastern and southern Greece, mainly in the Cyclades, northern Crete and the Dodecanese.
Heavy snowfalls until noon are forecast in the mountainous as well as in semi-mountainous areas of Thessaly, eastern Sterea and Evia.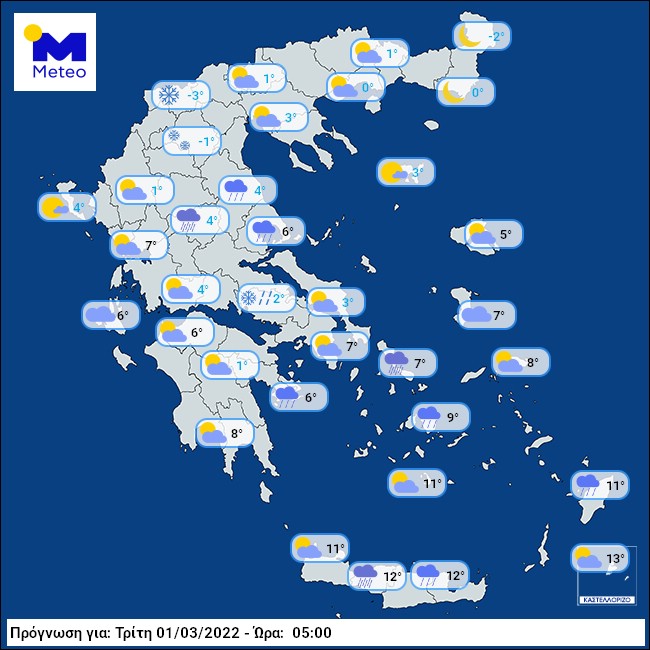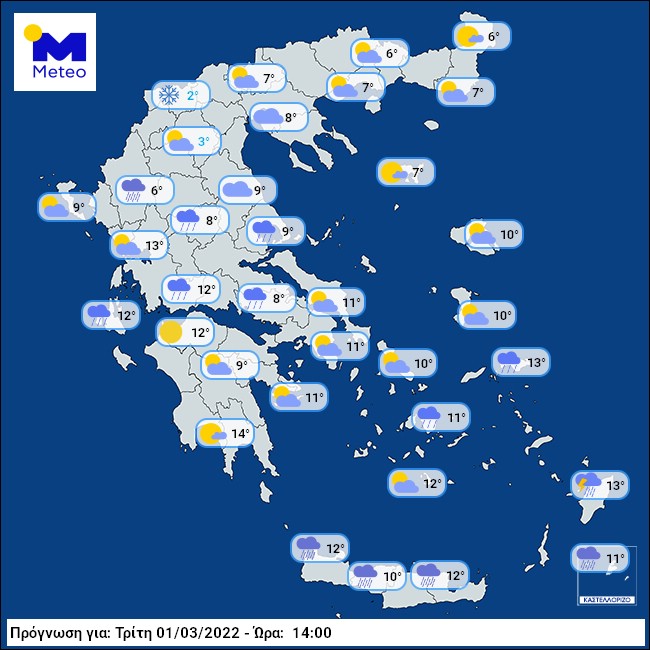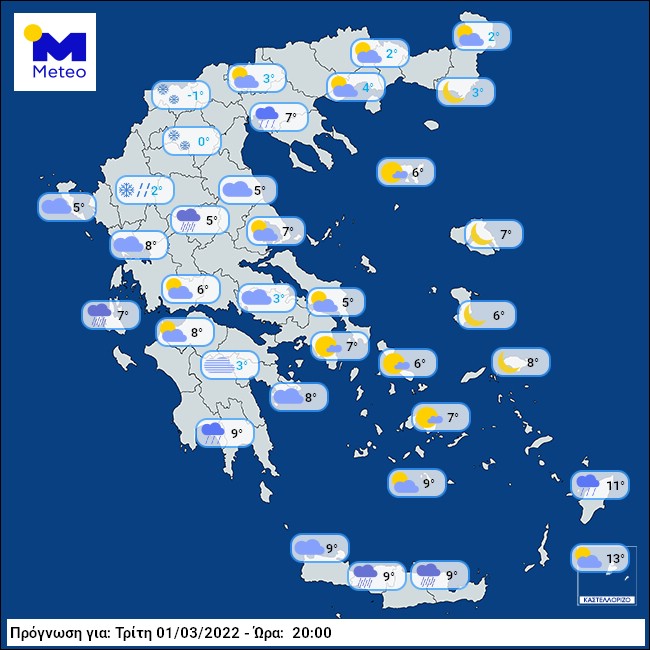 Meteo maps are indicative.