Prime Minister Kyriakos Mitsotakis, his counterparts from Bulgaria, Kiril Petkov, and North Macedonia, Dimitar Kovacevski, as well as the President of the European Council, Charles Michel, and President of Serbia, Aleksandar Vucic, inaugurated on Tuesday the new Floating liquefied natural gas (LNG/ FSRU) terminal in Alexandroupolis, northern Greece.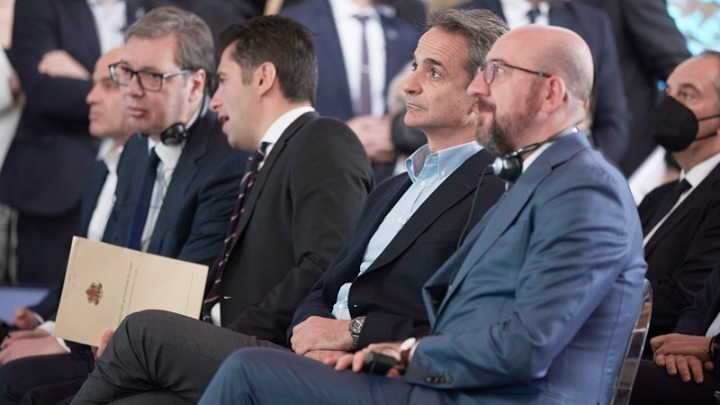 The LNG terminal in Alexandroupolis will be a "new energy gateway" that will help Europe and the Balkans become less reliant on Russian supplies, said Mitsotakis.
The Floating Storage and Regasification Unit (FSRU) is a "beacon sending a dual message: that with its completion we will soon be able to rid ourselves of gas coming from Russian sources and that our countries are assuming a common role on the new energy map," the PM added.
"Moscow's recent blackmail over natural gas makes cooperation not only necessary but, I would say, urgent. Greece is a pioneer and has already taken care for its own national energy sufficiency and is of course willing to assist neighboring countries like Bulgaria," he stressed.
The new terminal, slated for launch in December 2023, is expected to bolster Greece's energy security and enhance its regional strategic role, while also providing an alternative natural gas supply route that does not pass through Turkey and will reduce dependence on Russian gas.
It is also expected to prompt closer cooperation in the Balkan region in the field of energy.
The FSRU is located 17.6 km southwest of Alexandroupolis and 10 km from the nearest coast, and will be able to deliver up to 5.5 billion cubic meters of natural gas per year.
According to energymag.gr, the FSRU has extends over 153,500 sq.m. The LNG, will be connected to the national natural gas transmission system of Greece with a 28 km long pipeline, through which the gasified LNG will be promoted to the markets of Greece, Bulgaria and the wider region, from Romania, Serbia and the North. Macedonia, as far as Moldova and Ukraine.
The total investment for the new terminal amounts to 410 million euros and has fully secured funding from European and national resources but also through the participation of its private shareholders.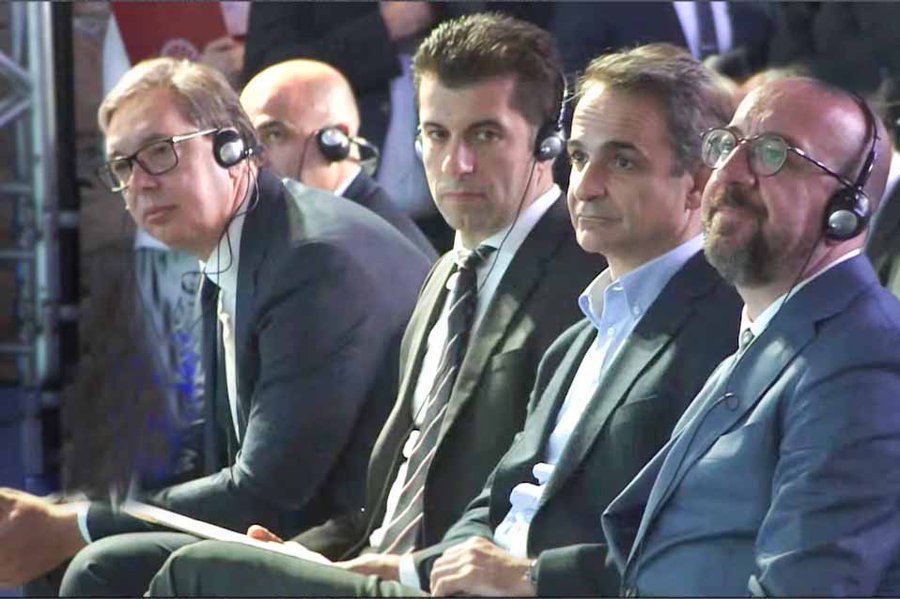 EU Council President Michel hailed the project saying it is "a milestone in Europe's energy development." He added that the FSRU "is very positive for our joint political projects, as it will help us to diversify our natural gas sources, to strengthen our energy infrastructure, and we will therefore reduce our dependence on Russian gas, making us stronger, more independent."

This "geopolitical initiative reflects what we need to do from now on, as it will supply natural gas to Greece, Bulgaria and North Macedonia," Michel underlined.

Bulgarian PM Petkov noted that Russia's invasion in Ukraine and "the pressure exerted by Russia on Bulgaria by cutting off its natural gas supply can only be dealt with in common, as we are independent countries and we pursue policies that are in line with International Law."
Serbian President Vucic said he is "grateful that we will be able to secure significant quantities of natural gas, and for that to happen projects like the Greece-Bulgaria Gas Interconnector (IGB) will have to be strengthened, and when these projects are completed we will then be able to receive large quantities."
PM of North Macedonia Kovachevsky pointed out that phasing out of lignite dependence for electricity production and its replacement by natural gas "is a strategic goal." He added that "North Macedonia's interconnection with the energy infrastructures of central and southeastern European countries is very important."
The project has the full support of the USA and outgoing US Ambassador to Greece, Geoffrey Pyatt told state-run news agency amna that the FSRU in Alexandroupolis is a project "critical to the security of all countries in Southeastern Europe."

It should be recalled that the idea for the creation of a FSRU terminal in Alexandroupolis was initiated with an agreement signed in August 2016 by then PM Alexis Tsipras and his Bulgarian counterpart Boiko Borisov
According to daily kathimerini, Tsipras and Borisov signed a series of bilateral agreements, most importantly regarding construction of the Interconnector Greece-Bulgaria (IGB) gas pipeline and the creation of a liquefied natural gas (LNG) terminal near Alexandroupolis.